May 24, 2013 08:00 PM
Festa dos Tremoços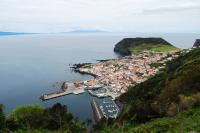 We begun our day with a walk in the Velas old town. It is the capital of Sao Jorge Island with only 5.000 habitants. The center is very small and cosy, with Igreja Matriz do Sao Jorge as a main building. From the road leading to Calheta just outside Velas is a wonderful view point on the town (with Pico and Faial in the background). The Road from Velas to Calheta is spectacular. You can easily stop every few kilometres for a great views. In Manadas we wanted to see Santa Barbara church (stunning baroque interior) but it was closed (open from monday to friday). Calheta is a second town on the island, it has nice harbour and old houses. From there we went to Faja Grande, where was to be a local fiesta. And it was the best thing that could happen. Festa dos Tremocos is a local event. There was a longe queque to get in but we were served all the time by local people (we could eat as many cheese, bread and wine as we were able). Then we enter to a place where the main food was served - tasty fish and other delicacies.... and all was for free, even for us strangers. It was a wonderful experience!


May 23, 2013 08:00 PM
Six pack!!!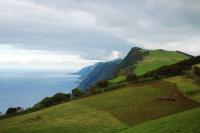 Travelling is not a race or challenge, but today I had a chance to beat my record. I saw six island of Azores in one day (although four of them only from the sea). In the morning we had a walk in Ponta Delgada. This Azorean capital is a pleasant city with very pictoresque old town and marina. Portas de Cidade and Igreja de Sao Sebastiao are the best known city buildings. The port in Ponta Delgada undergone lately a reconstruction works and now from the Portas de Mar (a concrete construction) is a wonderful view over the town. Then I took my Sata flight to Sao Jorge Island. It is one of the least known of Azores but extremely beautiful. We rented a car and went to see western part of the island. Our host told us that is possible to see our island from the central group (Pico, Faial, Graciosa and Terceira) from the most western point called Ponta dos Rossais. Unfortunately our Fiat Punto didn't make the road. Eventhough we could see all of those islands!!! Amazing. Then we went to view point in Sete Fontes from where is a stunning view on the northern cliffs. Then we saw Faja do Ouvidor (Faja is a small piece of land next to high cliff, that appeared due to land slides) and had tasty dinner in Velas!


May 22, 2013 08:00 PM
Royal dinner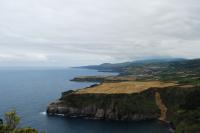 Today we decided to visit norteastern part of the island. There is a brand new road between Ponta Delgada and Nordeste (via Ribeira Grande) but we decided to take an old one along the coast. We started in Ribeira Grande, second biggest town in The island. The town has many historical buildings and churches. It is definetely worth a visit. Then we went to Santa Iria view point (great view over the northern shores of the island). After we had a short visit in Gorreana tea factory (the only one in Europe, visit is free of charge). Along the road are many view points with stunning landscapes. We stopped in a small fishing villages like Achada, Porto Formoso, etc. After few hours of slow driving we reached Nordeste, smalles town on the island. It has really small but cosy center. We finished the trip in Ponto d'Arnel (with very steep road to the lighthouse). On our way black we turned into island interior and saw hot springs of Caldeira Velha, and stunning lake - Lagoa do Fogo. But the best was during the dinner. Our frinds took us to a small tavern in Porto Formoso. We ate fresh and tasty sea food for hours. For me it was more than Royal dinner!


May 21, 2013 08:00 PM
Is it like this in the hell?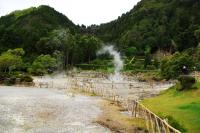 The smell of sulphur was everywhere, the ground water was boiling, they cook in the earth! That might sound like a description of the hell, but it was only the second biggest attraction of the island - Furnas. As São Miguel is still an active volcano, it is possible to find many hot springs and areas like Furnas. It is a small town in the southern part of the island, most famous for its termal activity. I watched (and tried after) how they prepare a special dish called "cozido". They put it for some hours in the ground, in special holes that are warmed by the underground heat. After 4 hours the food is ready and can be served. Then we had a bath in warm pool located in Parque Terra Nostra (entrance fee 5€). From Furnas we took a scenic road to small town Povoação. It is very cosy place with the oldest church in entire island (Povoação is a place where sailors landed firstly in São Miguel ).


May 20, 2013 08:00 PM
Four seasons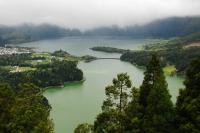 Unfortunately, I was not lucky with the weather when we were landing in Ponta Delgada. Otherwise I would have an amazing view over the island. After leaving the luggage we headed to Sete Cidades, to see this biggest attraction in São Miguel Island. There are a few view points, but the best one in my opinion is from Pico da Cruz. Two lakes located in an old crater, have blue and green colours! It is something unforgottable. Other and more popular view point is from Vista do Rei. After some minutes there it started to rain, and the view was completely covered by the fog. Then we took a scenic road along southern coast. We visited small town of Villa Franca do Campo (the first capital of the island). The town is full of wonderful architecture and it had still some decorations after local fiestas. On the top of the nearby hill is a shirne of Nossa Senhora da Paz, with a great view over the town of Villa Franca do Campo and its bay. I experienced today the Azorean weather - four seasons (except snow) during one day - sun, rain, heat and wind. But the views are worth every effort and inconviniences.


May 19, 2013 08:00 PM
In between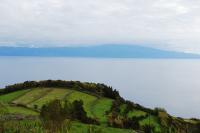 Time to go for a short journey again. This time I am going to see Azores Island on the Atlantic Ocean. As I have only 9 days I am not going to see all the islands. But Sao Miguel, Sao Joao and Terceira are on my list. I just hope that the weather will be great.


Mar 12, 2013 10:00 PM
Sri Lanka impressions
Today I finished my Sri Lanka journey. I must admit that the island won't leave you indifferent. Some things are irritating but generally it is a lovely place. It has all the package - great beaches in the south, stunning mountains in the central part of the country and old architecture in entire country. I didn't reach north of the island, until lately there were some fights there but now is safe to travel and visit North and Jaffna region. People are kind and helpful (even more in less tourist attraction). Can't wait to pack my backpack again :)


Mar 11, 2013 10:00 PM
More money than people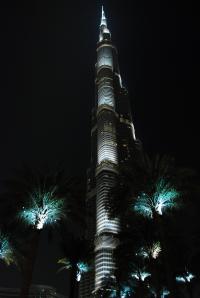 Today I left Sri Lanka. With a very good weather I could see some island of Maledives. My flight ticked allowed me to have almost 24 hours stopover in Dubai. Moreover Emirates Airlines are so kind that they offer me free visa and hotel voucher. Having entire afternoon I went to see Dubai. Many things has been said about the city and the truth is that city is very impressive and very modern. A lot of skyscrapers but also some signs of crisis (quite few unfinished building constructions). Dubai is very expanded, even if it has great metro system (with air con stations) distances are huge (from Burj Khalifa to Dubai Marina more than 30 kilometers). I went to see Dubai Marina but unfortunately I didn't get close to the artificial island then I went to see Burj al Arab hotel (also didn't get close to it). The rest of the evening I spent in Dubai downtown next to fascinating building of Burj Khalifa (entrance to view terrace 400 AED, booked via internet 100 AED). It was exhausting day.


Mar 10, 2013 10:00 PM
The best advertisement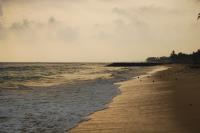 After few last days full of bus travels I had to rest little bit. So I decided to shorten my stay in Anuradhapura and in the morning I took a bus (again - but for the last time ) and around midday, after four hours ride I reached Negombo. It is one of the biggest tourist spots on the island and it has all infrastructure. It wasn't even that difficult to find a good not expensive accomodation. Another importance of Negombo is short distance to the airport. Negombo has a very long beach. Less spectacular than the ones in south of the island but still nice. So at the end of my holidays I spent some time on the beach - sunbathing and swimming in the Indian Ocean. When I came back to the hotel the owner saw some black sand on my feets and he said "it is probably because of the licking ships fuel" :) It was the best advertisement that I heard ! Swimming in the Ocean during sunset was wonderful experience.


Mar 09, 2013 10:00 PM
Spell it quickly - Anuradhapura :)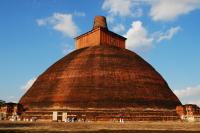 Only 110 kilometers and 3.5 hours in a bus. But finally in early afternoon I reached Anuradhapura (how many problems I had to pronouced it correctly on a bus station). At the first sight it is very unapealing town. The center is chaotic and there is absolutely no interesting architecture. But the treasure of Anuradhapura is hidden outside the center of the town. Just few kilometers further are ruins and remniscents of ancient Syngalese capital. Some historians says that during its heydey Anuradhapura could have even 2 milion habitants and was one of the biggest cities in the world. It was abandonned more than 800 years ago. Today it is hard to imagine this 2 milion but some fantastic architectural gems remain. The best preserved are dagobas: white Ruvanvelisaya, brick made Abhayagiri and the biggest one (also brick made) Jetavanarama (which now is about 70 meters high). Bicycle is the best way to discover all these places (as they are spread on almost 19 kilometres). On my way back I could see people having bath in the lake. The evening I spent listening worshippers praying to Sri Maha Bodhi (oldest tree in the world). Unforgottable experience...