Sep 09, 2010 06:00 PM
How many other things can do driver while driving the car...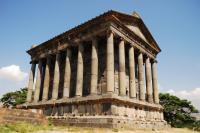 My taxi driver from today was able to do so many things while he was driving that after one hour I stopped to be worry/panic.shocked. While he was driving he was smoking, talking through mobile, talking to me, looking the guidebooks and he was also trying to show me something - all the things almost in one moment. But the day was great. Even if I wasn't sleeping yet I do not regret a minute. In the early morning I had the chance to see empty Yerevan. Honestly there is not that many things to do so I found the taxi driver (or more honestly he found me) and I went to see some highlights near Yerevan. We started from Khor Virap - beautifully located monastery near turkish border. Just after the monatery is wondefull Ararat mountain. Then he made me some extreme ride through the mountains with almost no road to Grani (place with reconstructed ancient temple - entry 1 000 AMD) and from there we wnet to Geghard monastery with some chapels carved in the rocks. And all that trip costed me around 35 USD. Evening I spen strolling around Yerevan and wondering why thaey have spent the fortune to built the stairs on the hills.


Sep 08, 2010 06:00 PM
This will be my first time in this part of the world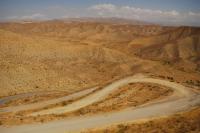 After few months of exhausting work I have a week (only) of a holidays. I bought the ticket in the very ocasional price to Armenia and now I am very excited to visit this part of the world for the first time. It is always this feeling of discovering something new - what will be the altitude of people, is it easy to travel etc etc. But I am more than sure that I will have great time here.


Jul 18, 2010 06:00 PM
I didn't notice that before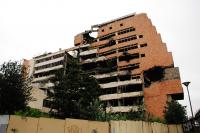 This morning was much cooler in Belgrade and cloudy. I had only half a day there so I decide have a walk through the city. While I was walking I saw some houses demaged during las NATO bombardments (as Olja told me they left them to remember), old streets with XIX centuries neglected builtings where the plaster is falling on the street and really fabulous Art Deco style (a lot of them near train station). But unfortunately most of them is in bad condition. And that was the last thing that I have done during this marvelous trip. Great experience, wonderful people and lovely weather - could I expect more ???


Jul 17, 2010 06:00 PM
I think I know how the chicken is felling in the oven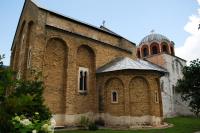 I wanted to spend some more time in Novi Pazar, city is amazing mixture of old and new (well maybe not that new, but post war). But unfortunately there is not that many buses from Novi Pazar to Belgrade. I took the one at 10 am (ticket 350 DIN) and after one hour I left in Usce. From here is the closest to Studenica Monastery, the oldest in Serbia. But for independent raveller is not that easy to get there. Nobody spoke english, no taxi, no timetable in Bus Station. Somehow lady in the restaurant told me that there is one bus at 11.45 (Studenicaa is only 10 kilometers from Usce). Then the bus driver showed me that way back from Studenica to Usce is at 13.10. So I had only 45 minutes to see famous monastery. But for me the biggest adventure was way to the monastery. I enetered to old bus, in which was around 45 degrees, none of the windows was open and as soon as bus left the station driver closed the doors. I think that after few kilometers it was around 50 inside. I really melted. Monastery was built in the XII century by the 1st king of Serbia, who is buried there. Complex contains three churches and deffence walls. Of course it is forbidden to make a pictures inside (I took two :). Way back was little nit more cooler for me as there was a storm coming, so I was not feeling as in the oven. I took the bus from Usce to Belgrad and after four hours ride I was again spending a great evening with the people from the hostel.


Jul 16, 2010 06:00 PM
Samir, German language and turbofolk
Again I spent half of the day in the bus. From Nis to Novi Pazar are only three busses per day, at 10am, 2pm, 7pm, ticket is 1200 DIN. Journey was wanderfull from hilly Nis through flat are and then through wonderful mountains. Of course journey instead of 4 hours took almost six but was very scenic and I was not boring at all. Novi Pazar is a city next to the Kosovo border and is a center of Sandzak, muslim region in Serbia. Some fine examples of Ottoman architecture are here as well as Serbian orthodox jewels (two monasteries - Sopocani and Studenica are on UNESCO list). But I came later that I wanted and I was afraid of not having a time to see everything. Moreover not many people speak english here. Lady from my hotel (hotel Vrbak) helped me to find the taxi driver and we fixed a price 10 eur for a lift to Sopocani monastery. Samir was very friendly but didn't speak english. He told me that he speaks German. I had to remember some german language bases from my high school and when I said something it turned out that Samir forgot the knowledge of this language. So we went to Sopocani and I had a pleasure to listen Serbian turbofolk...... Spocani is pretty but to discover all the treasures you should get inside, when the doors are closed go to the priest house. The doors were open this time and I was happy, I didn't had to disturbe to the priest who were actually busy to flirt with the nuns. Frescoes in the church are stuning but quite destroyed. On my way back, Samir took me to St Georg monastery (Durdevi Stupovi) another grat located nice place (of course with next CD of turbo folk to listen).
Now I am just relaxing in the old Ottoman town of Novi Pazar.


Jul 15, 2010 06:00 PM
Flat tire..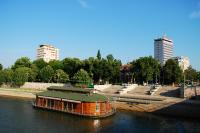 There are 4 buses per day from Novi Sad to Nis (ticket costs 1 600 DIN) I took the one at 10 am. In the bus station they told me that the journey took 4 hours, but it took 6 because we had few breaks and a flat tire during the road (poor driver had to change the tire in the temprature of 40 degrees). So I reached Nis only around 4 pm, I wanted to take a Nis hostel but it was full. The owner was so friendly that he called few hostel and found me place in Garden hostel which is located in the suburbs (but with good public comunication). The owner of the hostel even came to take me by car - welcome to Serbia, a country of a friendly people. Nis is not very touristic city and its main attraction are rather scary / skull tower, concentration camp.... and of course a fortress but I am starting to think that all the cities here have one. The evening I spent in the small street fulfilled with cafes and restaurant trying to eat some Serbian cousine specialities. Was yummy :)))


Jul 14, 2010 06:00 PM
How to survive in 40 degrees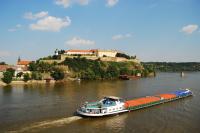 I do not know still the answer. I came today to Novi Sad (capital and main city of Voiwodina region) only 15 minutes of walk with my backpack caused that I was completely wet. Novi Sad is a very lovely city with well preserved center also city is rich in cafeterias and cultural life (a lot of theaters). Also here main sight is a fortress. Just across the river in Petrovardin is looking on the city. But unfortunately except the views there is nothing interesting inside. So I took the bus (there are two lines 61 and 62 - ticket 120 dinars) and I went to see small city of Sremski Karlovci - cosy baroque town. Also this place is famous for the wines - but the one that I have tried was not the best one. Now I am just preparing to participate in famous Novi Sad night life.


Jul 13, 2010 06:00 PM
All togheter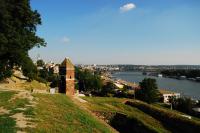 Today I started new short journey. Because I had a chance to have few holidays, I decided to see Serbia. I loved all neighbors countries so I was expecting a lot and I was not disappointed from the very beginning. Because of the heat it was not that easy to do normal sightseeing. I was always trying to find the shadow or be under the trees. Main sight in Belgrade is Kalemegdan fortress from where is great view over two rivers - Sawa and Danube then I was just strolling around the city - I saw Dorcol district with last remaining mosque in the city and at the end I went to Skardska street with dozen of great places to eat and drink. Then I went to my hostel and it was the best moment of the day, I was seating with people from different former Yugoslavia republic. All of them were so friendly and did not had any prejudice against each other. The only bad thing is that I celebrated to much this evening drinking to much strong rakija.


Jul 01, 2010 06:00 PM
Destination Bratislava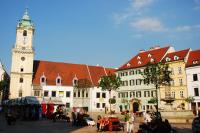 Finaly, l wanted to visit this city for many years, but never had an occasion. But now when LOT launched Warsaw - Bratislava I couldn´t wait more. I am going there for a weekend and also want to see some cities near Bratislava and try good Slovak wines :)


Jun 19, 2010 06:00 PM
Last divided capital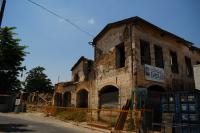 Nicosia is the last divided capital in the world. In the morning I was walking aroun Greek part and then I went to see Turkish part. It was sad when I was walking one street and in the middle street was divided by huge fence (wall) and soldiers with guns were there as well. In the middle of the city, in Leda street is official border crossing. I took my passport, fulfilled necessary papers received a stamp and went to Turkish part. The best in my opinion was the St. Sophia cathedral which is turned into a mosque. After I wen by car to see Kyernia. Just few kilomteres from old town is border for cars, everybody who wants to go to Turkish part needs to buy an insurance - 20 eur per 3 days, 40 eur for one week. Going to Kyrenia I decided to see St. Hillarion castle and it was a best choice I could made. Road to the castle was scary, St. Hillarion is located on the top of the mountain. It has few levels and top of it (St.John tower) is located on altitude of 752 meters - good condition is mandatory. Views were spectacular and I could see Kyrenia city and Mediterranean Sea. Then I spend few hours in Kyrenia with great old Venetian castle.