Jun 18, 2010 06:00 PM
At 4 pm we are switching on the alarm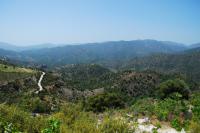 In the early morning I went to see some highlights of Paphos. Two of them are even on UNESCO list - tombs of the kings and ruins of old Paphos. Personally I liked much more the ruins of ols Paphos with fabulous mosaics in Dionizos and Thodosuis houses. Theses mosaics have already more than two thousands years. Then I went through interior of the island to see some Byzantine monasteries (also most of them are on UNESCO list). Crossing Troodos Mountains was unforgotable experience and views were amazing, being exhausted by heat I stopped for the lunch in very cosy restaurant. The owner of this place was playing cards but when I asked him how he was, he replied that very tired, because he has so stressfull bussines :)) Unfortunately I didn't check enough good and all the monasteries were already closed. When I was trying to call the guy who had the keys, he told me that at 4 pm alarm is autamtically switched on. Bad luck, but maybe it was a good reason to come back?
The evening I spent in Nicosia old town eating tasty meze (traditional food which contains around 15 dishes)


Jun 17, 2010 06:00 PM
Aphrodite were here or not?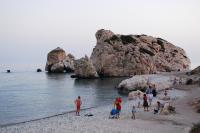 It was a pleasure change after cold and rainy Warsaw. Larnaca welcomed me with great weather (around 35 degrees). First challenge was for me to drive the car with the wheel on the right hand side :))) I was stressed for whole day, but finally it went Ok. As a first stop I choosed Limassol, old city which unfortunately don't have that much to offer for traveller so having great kebap for lunch we went further to Kolossi Castle (entrance 1,70 EUR) and then to see old Kourion. When I was visiting the old, greatly located amphitheatre there were some preparations for Hamlet performance. Then I went to see famous Aphrodite rock and I had a chance to see the sunshine there and finallz reached tourist Paphos.


Jun 16, 2010 06:00 PM
Very deserved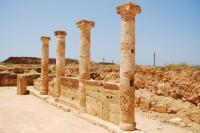 Last weeks have been very difficult at work for me. So I really needed a rest. Maybe it wont be long but tomorrow I am going to spend 3 days in Cyprus. I am fascinated about the history of this country and in the same time very curious about the future... Union or two separates countries.... Well during this few days I will be more in Greek part but I hope to see at least North Nicosia (Lefkosia) in Turkish part....


May 02, 2010 06:00 PM
Souvenir from flea market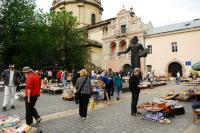 We are in Lviv third day and we still haven't seen a half of interesting places. So quickly after breakfast we went to see calmly the houses on the market square (with very interestin Black Mansion), then Dominican church and the church of the Assumption (no entry). Next to the Dominican chruch was a flea market with the old souvenirs coming from old times (I found even Polish newspapers from 1918). Just next to this churches is city arsenal and should be the ruins (as it was marked in my guidebook) of the Rose Synagogue. So don't look any remains of it - you won't find anything. Behind the corner is nice Bernardine Church, but unfortunately interior was closed. From there we had a long walk through Piekarska street to reach the Lychakovski Cementary (Cmentarz Łuczakowski). The necropole is beautiful, some of the graves are like work of art. But also here we can see how diffuicult is Polish - Ukrainian story and relations...


May 01, 2010 06:00 PM
Catch by the storm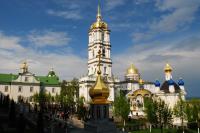 Area near Lviv is fulfilled with interesting places. But is not easy to see a lot of them within a day with public transport. So we decided to rent a car with driver (480 hrywnas - around 45b euro per day). The first stop was Olesko with marvelous castle on the top hill (place where two polish kings were born, entrance 10 hrywnas), then we went to see Palace in Podhorce. Palace during Soviet time served as a hospital, now is under long renovation. We could only see impressive St.John church which is oposite the Palace. When we got to the Palace huge storm has came. Was raining for 20 minutes and we have been trapped under the tree. We have been completely wet. But we decided to go further to Zolochiv where is next castle (entrance 10 hrywnas + 6 hrywans for entry to Chnese house). For the last place we chosen Pochaiv Monastery, located aroun 60 kilomteres from Zolochiv. Monastery is located on the top hill and is easy to see it from many kilomteres. Interiors are renovated is great example of Orthodox architecture. On the way back we could see how small Ukrainians villages looks like.


Apr 30, 2010 06:00 PM
Batiar Day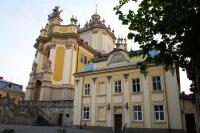 Lviv is a mixture of a many cultures and styles. And it can be clearly seen while walking around the city. During my walk I saw great Opera building (entrance 10 hrywna), Latin cathedral with beautifully painted interior (entrance 3 hrywnas + photos 20 hrywnas) then I climbed up to the Town hill tower from where is lovely view over the entire city. Korniatkowki Palace is just opposite the Town hill, inside is museum and courtyard built in Italian style. Also churches that I saw next were interesting - Armenian Cathedral (entrance is quite hidden from the street, fee - 2 hrywans), Transfiguration church with impressive interior. The last monument was St. George cathedral, which is very pretty from outside but inside is not that impressive. Also I stroll around the old Armenian district in the city. Today there were also the celebrations of Batiar Day in Lviv. So I had a chance to listen the live Ukrainians music and eat traditional food. And I forgot to add that "Batiar" was a popular Poland-interbellum name of lower-class inhabitants of the city of Lwow, typical batiar was usually poor, but honest and generous and with great sense of humor.


Apr 29, 2010 06:00 PM
Going to the Lion city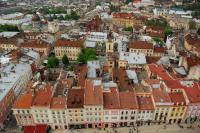 And it is not Singapore. In Ukraine, close to the Polish border is the city of Lviv. So me and my friend we decided to spend here long weekend in May. Lviv (the name of the city come from Lion, or other story says that it comes from the sons name of the city founder - Lew, means Lion) has great architecture and reach history, so I suppose that will be many things to see here. The old city centre is also on UNESCO list. I just can´t wait.


Apr 11, 2010 06:00 PM
Old beautiful capital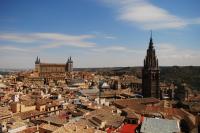 Toledo is stunning. It is even hard to describe all the wanders of this city. On the each corner great building, church or palace. We started our long walk with the Jewish Quarter and lovely old Synagogue Santa Maria la Blanca (from XII century) with wonderful interior then going further we went to the Puente de San Martin. Just next to it is located Church and cloister of San Juan de los Reyes. After we were wondering in the small streets of the city and we climbed to the towers of the Jesuit Church from where is stunning panorama over the entire town. Such exhausting morning we could only sit and eat great lunch. Next step was to see Toledo Cathedral. Entrance is very expensive and there is no chance of making the photos inside. Cathedral is very big, I think that it was the biggest church that I saw so far. I noticed that there is a small entrance to the limited part of the church (pretending to be the prayer) free of charges. As we had to give back the car we couldn't see more of the city highlights, and I missed the city view from the Mirador. That will be a great reason to come back there one day.


Apr 10, 2010 06:00 PM
Not enough time to see the all great places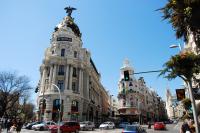 Gran Via is the best known street in Madrid. It was built at the beginnig of the XXth century when Madrid urban planners decided to connect the Calle de Alcala with the Plaza de Espana. Buildings along the street are the great example of early 20th century architecture. Most famous are Metropolis, Telefonica Building, seat of the Capitol theatre. And of course I spend some time near Don Quixote monument on Plaza de Espana. Then we went for lunch to Chueca - lively gay district in Madrid.
After we went to Toledo. There is a few ways to go to Toledo - by train (10 eur one way, quick train) or by car. As I wanted to see molinos in Consuegra we rented a car. Car rental company was located on the amazing Atocha train station. Road to Toledo was quick but when we got there was already dark, so we made a long walk during the evening (Toledo's cathedral is beautifuly iluminated) and we finished at Locum restaurant with great food and good wine.


Apr 09, 2010 06:00 PM
What a great and lively city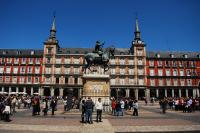 I love Madrid, from the very first moment. It is difficult to say what is the main city attraction (like Big Ben for London or Eiffel Tour in Paris) but I think that the main attraction is the city itself. Because we are sleeping at my friends home in Legazpi the best way to navigate the city is with the extensive subway line. We left on Puerta del Sol, great square on which is the symbol of the city - bear. Then we went to Plaza Mayor and after to the Almudena cathedral (building which don't have one style because it was built for 350 years). Just next to the Almudena is Palacio Real (entry fee 8 eur, guided tour 10 eur). Palacio Real has the greatly decorated interior but unfortunately it is forbidden to make a photos inside. Then we had a rest in Plaza Oriente just next to the Palacio and Teatro Real. In my opinion the highlight of Madrid are bars and restaurant, so stuck in one of them (I don't even remember the name of it) eating great tapas and drinking canas (beer) and wine. Evening we spent in La Latina district where are hundereds of Bars and restaurants.
Unfortunately today I also found out about the plane crash of the polish plane. Almost 100 people died. We never know what life is bringing to us.