Hi, it's all about the adventure... ((*_*))
Sep 10, 2009 08:00 PM
One fine day!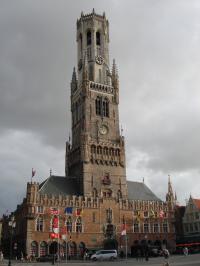 We took the second train out of St Pancras International and arrive in Brussels Midi 2 hours later. From there we caught the train to Ostend via Bruges and I think that took around another hour. By twelve we were already checking into the hostel and preparing for the day. Now as we didn't have an agenda we took the time just to walk around and enjoy the Grand Place and the Belfry.

We decided not to have a big lunch as we had breakfast on board and decided to have some chips served to us by one of the two competing stands outside the Belfry. Not sure which was the best but I was just surprised that I had to pay for the sauce, but I soon found out that this is what they do in Belgium even in restaurants.


Aug 07, 2009 08:00 PM
A day on the Isle of Wight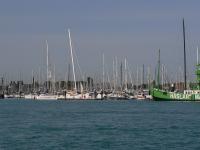 This is a really easy place to get to, for either a day or week.

I took my bike from London (Waterloo) to Portsmouth by train (£18) and then a ferry across to the island (£11), which included my bike. The total journey probably took around 2hours and 15 minutes

When the weather is lovely you just have to do as much as you can in the alloted time, and a day on the Isle of Wight is perfect.

There are lots of things to do, and I sincerely I had booked accommodation, as I didn't want to leave. But there are many bike rides around the island, one that takes you all the way around. A lot of them are off road, so it makes the journey more appealing.

What also make the day great fun, was that I was back in Portsmouth with an hour to spare to do a little retail theraphy in Gunwharf where a lot of the shops are factory outlets. We had something to eat and then headed back to London. All in all a great day out.


Jun 15, 2009 08:00 PM
Economic signs of the times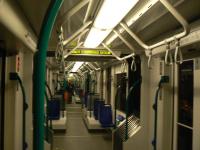 I'm not sure if it was me, but when I got back from Budapest as we landed in London I was surprised the amount of planes on the ground. Nearly every [what do you call it] gate had a plane sitting there. Is this truly the signs of the times. Companies must be losing money hand over fist. Now I hear that they are asking all employees to give up a month's pay to save the airline from going under. It's my favourite airline, I hope it makes it though these dark days.


Jun 14, 2009 08:00 PM
Short lived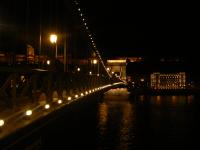 I started the day with such joy, as the weekend was blast. THe weather was perfect. I know here in London was nice but in Budapest there wasn't a cloud in the sky and I just enjoyed the sunshine.


Jun 13, 2009 08:00 PM
Chocolate Banana!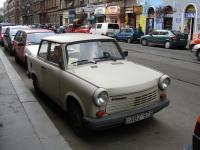 The thing to do in Budapest is head for a spa or swimming pool. There are so many all over the city; the one in Gellert Hotel is really brillant. It is in a wonderful surroundings and the water is source from a thermal spring.

It is time to head home now it has been an incredible few days. I love weekends like this, it feels like I';ve been away for a while and yet it is only a couple of days.


Jun 12, 2009 08:00 PM
Plane, Trains and Automobiles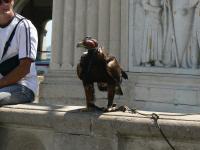 We caught a jet stream (or something to that effect) that brought me into Budapest half an hour before schedule, but what it did mean was that it was a bumpy old landing. I mean so much so that I starting feeling nauseous.


I took public transport from the airport as my aim was only to spend £50 for the weekend and that cost me 3700 HUF which is probably around £12. I know that was a lot to spend, but it ended up being a 3 day pass so I thought it was value for money, espeically when I found out where my hotel was. Firstly I had to take Bus 200E from the airport to the train station, then on to the metro, then tram and finally a bus (it took around 45 minutes. We each journey costing 260HUF it made sense.

The was spent at the Castle which really shouldn't be missed and then in the park


Jun 11, 2009 08:00 PM
Heading to where the sun is shining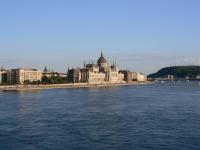 As I checked in for my flight online, there were various reminders that my flight was taking off from Terminal 5 Heathrow. There last time I was here they were just opening T5 and there were a whole set of problems with delays, loss of baggage etc. So in some ways I was excited to depart out of this terminal and for me it didn't disappoint. I thought it was well laid out and my departure gate was right next to the food hall, which for me was really suprising as I've never had such a short walk.

I like T5 whilst I didn't do much shopping there was a good range of shops, I especially like the sony store; but I did get myself a pair of snazzie concorde cufflinks - hmm my keepsake.


Jun 10, 2009 08:00 PM
Weekend outing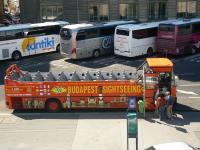 Finally a weekend away. I've only been back for a little over a month and going back to work has had its challenges; so the best way to work around this is to take a weekend away. I wanted to do Tallin, but got a really cheap flight with BA so I'm heading to Budapest.

As it is only a weekend I can't be bothered to do research so I'm just going to turn up and see what happens... This is as exciting as I'm sure the trip will be.


May 29, 2009 08:00 PM
It's hot hot hot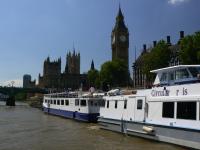 Second weekend in a row and the weather has been great in London. The temperature rose to a swelting 27 degress. When the weather is this hot, one of the nicest ways to spend time is on the river.

Now I know it is a tourist thing to do, but there were a lot of Brits doing the same thing. I took one of the river boats down to Kew.

These depart from Westminster Pier and it take an hour and 30 minutes to Kew Pier. If you stay on the ferry it continues to Richmond and then Hampton Court (which takes two and half hours). I'm not too sure how many services run daily; I think the times are around 10:30, 11:15 and 12:00 and the returns are at 15:30, 16:00. Acutally I'm not really sure when the last one departs. The vessels are a little old and not very attractive but the ride is really nice. The crew give a commentary of important buildings that you pass and there is a licenced bar on board. A few of the well prepared visitors had brought along their packed lunches and preceeded to have a picnic on board, which considering the length of the journey was a good idea. I'm not sure what the actual cost is, but as I had a travelcard I only paid around £11 return.


May 27, 2009 08:00 PM
Been back nearly a month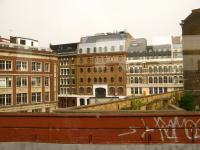 And my feet are really scratching me; I just had to book something. So I'm booking a weekend away. Take a few pictures, have a little dinner, see a few sights is all I've got planned. And then I have to organised something a little further afield.

Hoorahh!