Hi, it's all about the adventure... ((*_*))
Jan 30, 2009 11:00 PM
Where in the world next?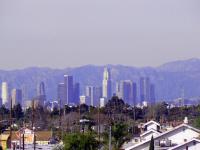 I've been watching the Australian Open and it got me thinking of where in the world I should go this year. I'm a little undecided but thought Australia would be nice - but I can't get away until June which will be the beginning of their winter; so maybe that is out of the question.

Bearing in mind that last year I had some plans that I couldn't complete maybe I should put them back on the list for this year. However, with the economic conditions it may not happen, but here goes: USA, Russia, Thailand, Veitnam, Cambodia Brugee and Switzerland. But these are all subject to change. I hope things changes and I can get most of them done.


Jan 29, 2009 11:00 PM
Raining cats and dogs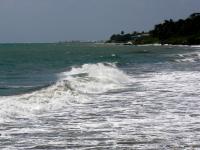 It started around 5am when the heavens opened, it rained like the monsoon, constant and heavy. I woke up and just watched it fall, but then began to worry 'how are I going to work today with all this rain'.

I decided to venture out, so got a drop to work instead of waiting for the bus; I had already got caught out yesterday, having to run for cover. But when I got to school it seems like most people didn't turn up. I suppose this is equivalent to 'pulling a sicky'.

I alwasy wonder how people could justify not going to work because it is raining and this is meant to be the dry season.

I only taught one class today and by lunch time it was over. We were allowed to go early - now that's the beauty of working in the Caribbean.


Jan 05, 2009 11:00 PM
Last Lap - taking an extra week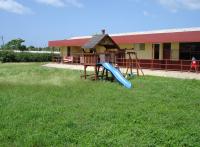 There haven't been many students out to school so far and I've been informed that the parents usually take an unofficial extra week. I was completely disheartened to hear this. As I'm thinking if my child is a slow learner then they need all the time they can get at school; and the more they go to school the more of an opportunity they have of learning something worthwhile, instead of being underfoot at home; but I'm not a parent, really not even a teacher but just an assistant.


Jan 04, 2009 11:00 PM
Back to school again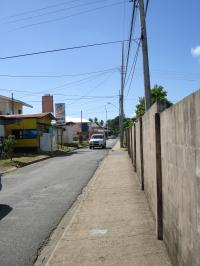 Well the three weeks have gone so quickly and what a wonderful time. Only the fifth day of the year and I'm already working. If I had to go back to the UK and it was cold and would have been so upset; as many years gone by – I've lamented on how quickly the end of my holiday was approaching and how cold it was in the UK now. It was complete unfair that I had to return; as surely this is the life. But oh has this year is different. I was looking forward to getting up on Monday morning and going to work. I actually missed the children, I missed all they antics that they got up to, all the temper tantrums – everything. It was joyful to see everyone and hear of all the magical things that they go up to over the Christmas period.


Dec 31, 2008 11:00 PM
Happy New Year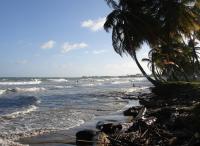 Happy New Year

This is the first year in a while that I didn't go to church on Ole Year's night. Instead I just stayed home and watched CNN with all the celebrations around the world. I went MSN and spoke to a few friends and family in the UK and celebrated with them since theirs was four hour previous to the Caribbean.

In Tobago they had the tradition of 'bussing bamboo' (this is something the men usually do i.e. get a piece of bamboo with some kerosene and a fire and somehow they get it to make a loud sound like a pop). Not so much a pop as a 'bang' like a car that back fires. It is something that is dying out now on the island as it is being replaced with fireworks.

So we had a wonderful vantage point on the flat roof to usher in the New Year and see all the fireworks around the neighbourhood. I love fireworks (I'm easily please) all those pretty colours and the loud noises. Our dog went absolutely berserk, it was far too much for him to handle. One of the large rockets were let off and he went tearing up the road and as much as I called he would come back until the house where he was heading also had an explosion, he then came back running back and we had to put him the back so he felt a little more secure.

Anyway at the stroke of twelve it was kir royals all around as we saw the dawn of 2009.


Dec 25, 2008 11:00 PM
Kite flying season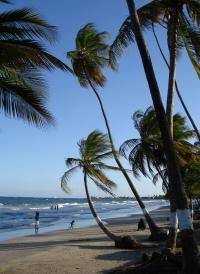 As Christmas is finished the winds tends to pick up here and it is no different this years. This is when a lot of the boys in the neighbourhood decided that they should fly their kites. They aren't usually that big or of some fancy design just usually home made, but they do like them to make a noise. If you get a good wind the owners will just tie the kites and they can be up there for days; you only know it is there from the sound it makes – it is so high in the sky that I wonder whether it affects the planes taking off. But I suppose those engines will just gobble them up and spit them out as confetti.


Dec 24, 2008 11:00 PM
Merry Christmas to all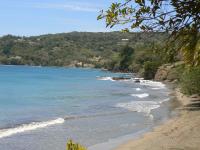 To all the people - friends, family and onlookers. I wish you the very best for the season and I hope you have a blessed day, remembering the reason for the season.

Merry Christmas
Amanda


Dec 10, 2008 11:00 PM
Good news...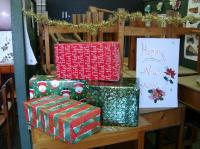 Well the acedemic year is now over and I must say I thoroughly enjoyed myself. I took a few children to have a last computer class and basically played games. I created another presentation with crosswords, word searches, sudoku, scrabble etc and allowed them to used the mouse and draw the answers on the screen. I have to say so my self but it went down a treat. It is really nice being the trendy teachers at school, who everyone wants to befriend because they know they will have time on the computer. I finally had one of the deaf students attend and it is really hard teaching and not being able to communicate well. I've still only learned about 10 different signs. They will be running a sign class next year. I will definitely put my name down.

This will be my last daily entry until school starts back on the 5th January. Oh yes, back to my good news. We heard from the principal of the school that the little boy who's foot seemed to be severed - actual the leg completely pulled out of the ankle, so all the doctors needed to do was push it back in and then try to reattached everything else. They beleive he will walk again but with a limp. He will probably have to have further surgery but for now he is out of bed, and has walked a little on it.

Season greetings everyone!


Dec 09, 2008 11:00 PM
Christmas party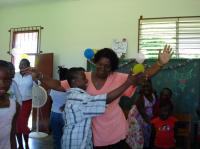 What an enjoyable day. I had to go out first thing but when I got in the party had already going.

The teachers have decorated the classroom and they were dancing. In the UK you ususally have the boys on one side and the girls on the other. But over her, the boys aren't shy, and they will dance with the girls even the teachers. Wow, that is so culturally different. Although I had to stop a few from going overboard and dancing like they were in some music video. But all in all it was good clean fun and I'm sure they enjoyed themselves tremendously.


Dec 08, 2008 11:00 PM
It's the ninth already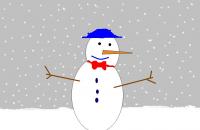 I can't believe how quickly the days are passing now. I having to start doing the Christmas shopping. And that's what the teachers did today. They are planning a little party for the children to send them off well. They are preparing gifts, Christmas cards, goodie bags and tomorrow they will be cooking a big lunch. Wow it is really nice to see people care.