Hi, it's all about the adventure... ((*_*))
Apr 05, 2010 06:00 PM
More retail therapy in Singapura....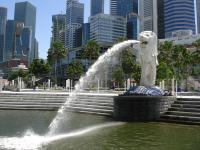 Ok I'm determined to get something. I must buy something.... Heading to little India and another electronics mall. Still no joy, all I eventually bought is some paper for my photo printer which was about £10 cheaper.

Afternoon, it is now time to see some of the famous buildings in Singapore, before heading down the coast for dinner.


Apr 04, 2010 06:00 PM
On the road again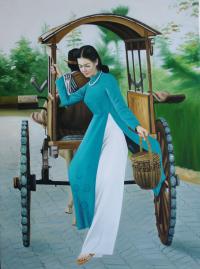 I am toying with the idea of doing a layover in Dubai. It will cost just £70 to adjust my ticket but I'm not sure what to do. I think I'm ready to go back home now, so I will make the final decision in Singapore.

Today an early start. Left the hotel around 5.45am to get the bus to the airport. The local bus cost just 3,000 reils (around 10p) for the 8km journey. Decided to walk to the bus terminal to wait for the 6am bus that didn't turn up. I was trying to ask in the office where is the bus, what time is the next one, what number bus should it be and where should I wait and whilst I was provide the answer to most of my questions, when I asked whether I should wait here, she said 'same same'. I'm not sure what that meant, as the bus stopped up the road and when I finally saw it, it was pulling away. And me, like a made woman ran out into the road, to stop bus. Luckily the bus driver had pity on me and slowed down long enough for me to throw my suitcase on board and jump on to the moving vehicle. You know what - I must start traveling premium class - I'm getting to old for this.


Apr 04, 2010 06:00 PM
It's time for shopping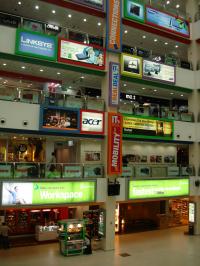 Now for a little retail therapy. I'm heading down to Orchard Road. I am so amazed that there are sooooo many malls; wow - every premium brand you can think of, is located here. Even hotels there is the marriot etc. But I'm also thinking of getting an Ipod so I wanted to head for the electronic mall. I found the experience a little like KL; obviously my bargaining skill aren't sufficiently developed even after Saigon), but I couldn't get them down in price to make it worth my while. Oh well not a big loss.


Apr 03, 2010 06:00 PM
Cu Chi Tunnels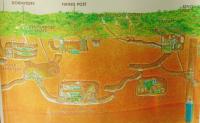 What to do? Today I decided not to take the tourist tour (even though it was very good value for money - ie $4 half day tour) but to take the local bus (No 13). On good side, I will be able to control my day and won't have to go to a firing range, on the negative side I don't speak any vietnamese which makes navigating around difficult. I have only learnt Chào anh (hello) in the last five days - which isn't good. The cost is just pence.

The Cu Chi area saw a lot of fighting during the Vietnam conflict with the US and it was these tunnels which assisted the Vietnamese win the war. The forces were meant to have stayed underground for up to ten years.


Apr 02, 2010 06:00 PM
Chinatown - Sai Gon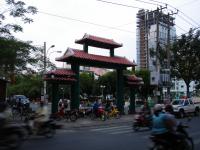 It seems every city has one, so today I will be heading there to see one of the temples in Saigon.


Apr 01, 2010 06:00 PM
Doing the delta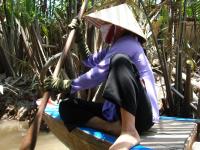 I meet up with this Geman traveller and he recommend that that instead of doing an overnight in the delta just do a day trip and after rejigging my travel plans to accomodate an overnight I was in a dilemma. In the end I listened to what he said and just did a day trip for $7. And it was a fabulous. Talk about value for money.


Mar 31, 2010 06:00 PM
The dawning of a new day
First completed day in Saigon, was meant to head for the dealt but have chosen to to hang around town and do a little sight seeing and just chill. Tomorow is another day.

I think I going to immerse myself in a little bit of culture and visit a few museums but that is it.

It was really amazing walking around the town last night - the sights and sounds were really amazing. I love the crazy moped riders and the crossing systems - it was like seeing a perfectly choregraphed dance production. with bikes weaving their way through oncoming traffic. It was truly magical to see.

I have ended up staying in the backpack area but found a really nice 2* hotel (which is a first) but there is a really great feel about this area with a lot of tourists around. A couple of the guys that I meet on the plane were also staying here, in fact in the hotel next door. In the enening my road converts in to restaurants, with alfresco dining. The evenings are so warm, no strike that hot! that you have to be either in an airconditioned building or on the streets.

The only worrying thing is the air quality. Most people wear masks and I beginning to cough so I wish I had one myself to use, as you can almost taste the polluiton in the air. But they promised me that in the delta every will be fine. But you know what, I just won't hold my breath on that happening....


Mar 30, 2010 06:00 PM
The end of March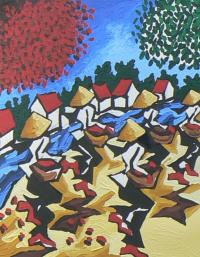 What a great month this has turned out to be. I have thoroughly enjoyed it. Now for Vietnam. This was on my list as a maybe; so while I was in Siem Reap I decided to make it happy and booked a flight for $100 on Angkor Airways - or some thing like that - it was run by Vietnam airways and the flight and service was great. I was a little afraid becuase I hadn't heard of this airline before, but I glad to report positive impressions.

I was surprised that in cambodia all prices are quoted in dollars. so much so that they give you the dollar price without even thinking which I find a little strange. So I'm not sure it things are cheap as I was always thinking in dollars. But the cheapest thing was the food. And you get really good quality food for the price.


Mar 29, 2010 06:00 PM
Hot as hell in Angkor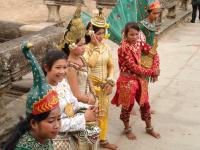 OMG it is really hot in Siem Reap. I was listen to the news and they said it was about 38 degrees. But I swear it was so much hotter.

I started the day really early and went to Angkor Wat. It should have been for sunrise, but with all the smog that is around, I really just couldn't bothered to wake up that early. The sunset the night before was so hazy, that I made a decision that it wasn't worth it.

But even at 8am the sun still had some nice colour so I hope my pictures came out ok - hey you just never know.

I could believe that the jungle could be so hot and climbing to the top of the temples was a real challenge. But you just have to do that sort of thing, because chances are I will never do this again.

They were doing some repairs so this is the first time I have seen scafolding on the site. It is being done in conjection Indian government, which really makes sense as it started off as an Hindu temple.

I really enjoyed Ta Phrom (I think that is the correct spelling); this is where they filmed the Tomb Raider film and it was really funny tho hear how since the release of the file, the country has seen a rise in tourism. Especailly after it was first released. It didn't quite understand the power of the media until then. But they say it is just amazing. I'm sure their government has some to say about that but it really is nice story.

The beauty of the Ta Phrom Temples complex is that it hasn't been cut out of the jungle and the trees are still displacing the stong/brickwork. It is really amazing to see. I am so happy that I came, even though it was for a flying visit!


Mar 28, 2010 06:00 PM
Sunrise - sunset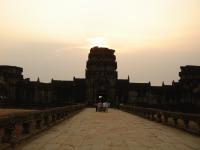 I was embroiled in a great debate of whether to see Angkor at Sunrise or Sunset. I know they are equally beautiful but I in certain situations sunset is better. But the decision was made that we were going to do both.

So instead of renting a tuk tuk for around $10 (well that was his starting price and bearing in mind that everything is negotiable!) or contacting my driver at a cost of $30 we decided to rent some bikes at a cost of $1.

I think it too us 45 minutes hour to cycle the 10km as the bikes weren't exactly new, But we chose the wrong road and ended up cycling all the way to the wat before being told that we had to go back down the road (3km) to the ticket office to purchase the tickets. This turned out to be a blessing in disguise as we have gotten there too early. The monument is free entry after 4.30pm if you have a valid ticket for the following day. so we had 30 minutes or so to wait.

I really enjoyed seeing the Wat but the sunset colours weren't that excitng. But I still managed to be one of the last people to leave the site. So much so I was cycling back down the road and it was pitch black in some area. It really felt like I was cycling with a blind fold on.