Hi, it's all about the adventure... ((*_*))
Dec 24, 2009 10:00 PM
Season Greetings for the sunny island of Tobago
Dear Globo Friends

Wishing you all a wonderful Christmas, may God keep you and provide for you at this time and for the New Year.

I look forward to chatting with you all.

God bless
Amanda


Nov 17, 2009 10:00 PM
I'm glad I'm a woman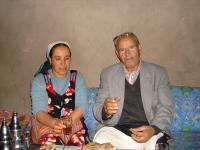 I enjoyed Marrakech, but I was very glad to get home. As a women traveling to a muslim country on her own is a little be off putting. I was harassed... But all in all I'm so happy to be at home and even going to work.

Only a few more weeks until Christmas.


Nov 16, 2009 10:00 PM
Finally a day to explore the city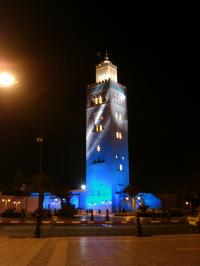 I then to two palaces, one that was in ruins and the other with wonderful moasics. I also walked around the souks, and bought a few things. I was a little afraid to buy anything as I know easyjet would charge me if it couldn't fit into my case. They say they don't really care what the weight is, but you are only allowed one peice of hand luggage and that includes your handbag. You know that is eally hard, but I made it - kind of.


Nov 15, 2009 10:00 PM
I just love birthdays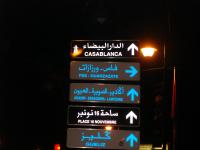 I just love birthdays when you can do just what you want to do. Normally I work on my special day, but this year I was very lucky; I ended up spending the day on the beach. I use the term very loosly as the beach wasn't great at all. In fact it was the worst sandy beach I've ever been to. The sand was so dirty that I didn't even want to sit on it much less lay down. But it is what it is.


Nov 14, 2009 10:00 PM
Hmmm, what to do?????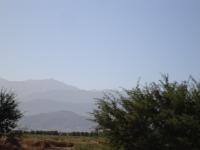 This is the first time that I'm travelling without a guide book. I was meant to do a bit of research and that maybe contact the local tourist office but the time was just running away with me. I felt like a little lost sheep. But then I decided to go to the Atlas mountains, I wanted to go to the desert but was told that I would have to spend over night and I don't really want to do that.


Nov 13, 2009 10:00 PM
Dinner in Marrakech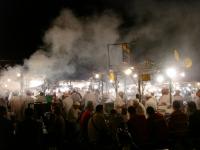 Well the flight was perfect. I got a great seat and every thing worked out well. I surprised that the flight was just 3 hours. So by early afternoon in was in the city. I took a bus from the airport which cost me 30MAD return. As thhe airport is on 4 km outside the city I thougt that was quite good. It was really amazing entering the red city; the first site was seeing the Mamonia hotel and casino, before the huge mosque greeted me.


Nov 12, 2009 10:00 PM
What a busy week...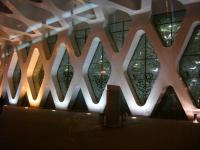 As the end of the year quickly approaches it feels like things are speeding up. And this last week has been so busy; what with two conferences a training day and one day working from home, it is surprising that I got anything done and I still need to book accommodation for tomorrrow night.

This is the first time that I'm using a low cost airline and I'm a little afraid. I'm travelling on Easy Jet, and I've been told that it is general seating, that as well scares me. So I thought of the worst that could happen and that would be me sitting in a middle seat right at the back of the areoplane; any other seat will be a bonus. So at least my mind is prepared.


Sep 20, 2009 08:00 PM
It's over and done...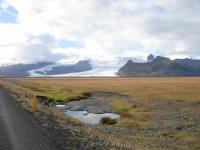 Iceland was great; even though I was a little disappointed with Reykjavik (no real focal point for the centre, not much to see etc) but actually the country really made up for any dissatisfaction with the city.

Honestly it is so beautiful and should be put on anyone's travel list. I was asked this so many times over the weekend 'why did you come to Iceland?' But I think it really goes without saying – the idea of fire and ice coexisting. The lack of people but when you meet them they are so friendly, the question should have really been 'why did it take you so long to come to Iceland?'

I think my nearest comparison would be the beauty of the South Island in New Zealand. But what makes this better is that it is only 2½ hours from London and is the same time as GMT.


Sep 19, 2009 08:00 PM
50 things to do before you die!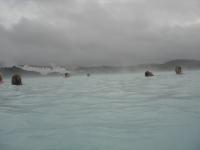 What an incredible journey! I love Iceland or Island was it is know locally. Nearly everyone I spoke with spoke English probably spoke many other languages. I think they pride themselves at being multilingual. But that is really great, it is a shame that the English aren't like that.

Anyway today is the day I leave and I'm thinking I will head to the Blue Lagoon. I've heard so much about it, that even though it is quite an expensive journey – I just have to go there. But I think I will only spend a couple of hours there.

Last night I went in search of the Northern Lights. It is something I would have loved to have seen but I didn't have much luck. I thought I saw something but there was so much cloud cover I couldn't make it out. As I had the car I headed out of town to the mountains but no such luck. One of the tour companies had cancelled the tour but the other went in search of the Northern Lights, but today at breakfast they said they were just waiting around and nothing happened. But I suppose it is just the luck of the draw trying to see natural phenomenon. But somehow I never really expected to see it hear, I kind of thought the conditions were right. But what do I know.

Back to the Lagoon, I had trade in my return Flybus ticket so I got a discount to go and I'm so happy that I went. The water was so warm and it was just so relaxing – I now wish I had more time there. But 2.15 came all too quickly and I had to head for the airport. But this is definitely on the top 50 things to do before you die.


Sep 18, 2009 08:00 PM
Searching for Icebergs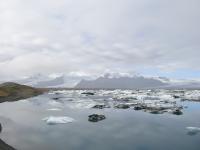 I really want to see some icebergs so I had not choice but to rent a car and drive there myself. I started the day off as the sun rose it was such a beautiful vista. It was incredible as the sky was so clear it was just wonderful. I decided not to pull over and take some pictures. Not sure why I made that decision, now I think it was a mistake. But oh well.

I must have drove 600-700 kilometres that day, but I just had to see those bergs and it was really worth it. I like the fact that it doesn't cost anything to go to the national parks. There are no gates, no queues to standing and not costs to pay. Mind you how expensive things are over here, it is just as well.