Within my last two weeks in China I couldn't resist another trip, this time to Sichuan, the biggest province in China and home of the national treasure: The Giant Panda
Two Giant Pandas enjoying the morning

My friend Nikki and I planned a 4 day trip to the capital of Sichuan, Chengdu. Our big plan was to visit the giant Panda Breeding and Research Panda where for $100 we could hold and play with a real, live panda. And, to boot, we got to hold and play with the much less intimidating red panda. My favorite Tibetan, once dubbed the Tibetan Love of My Life (Gonpo) met us in Chengdu. We had an incredible time because not only did we get to see the wonderful city, the Giant Pandas, and the Leshan Buddha, but we also got to see the city with a group of Tibetan Nomads. And, we met the *new* Tibetan love of our life, Tsebo (Gonpo's cousin). Oh yes, there is always fun wherever Nikki and Veronica go. Chengdu is a great city with lots to see and many places to explore, a good combination of old and new China (yin and yang almost). Plus, its made about a 100x better if you get your own personal Tibetan Nomad Escort. It was the perfect end-trip to my year in China.
Favourite spots:
The Giant Panda Breeding Reserve and Research Center & the Leshan Buddha (seperate report on this place). GPBR&RC was a half day long trip. Everything inside the center is over priced and if you want souviners it's best to use the merchants outside the gates. A panda that is 80 yuan inside is like 10 yuan outside. For $100 you can hold a yearling Giant Panda and the money is actually a donation to the breeding center. A yearling Giant Panda is really big, so we didn't really hold it, it sat next to us. For $50 you can get a picture with a 3 year old Giant Panda but all you can really do is stand behind it while your friends or family snaps pictures. For 25 yuan per person we got to hold a Red Panda. If you don't want to spend a lot but want to touch these exotic creatures, this is the way to go, they are cute and lapsize. They didn't start at 25yuan but at 200 yuan per person and Gonpo got it down to 25 yuan, probably because we went in winter, which is not tourist season.
What's really great:
Holding Red Panda, they are sooo cute.

Special huh? Well, we really liked our Tibetan escorts. Gonpo, a friend from my first trip in China to Yunnan, met us in Chengdu and acted as host and tour guide and friend. December is off season for tourism so all of the Tibetans were getting ready to return to their family to help with the yak herds over winter. Gonpo, his cousin Tsebo, and a group of nomads from their village met in Chengdu for a little vacation and get together before settling back down for the winter in Tibet. We learned a great deal more about Tibetan nomad culture from our hosts, Gonpo and Tsebo, because they spoke english. The other nomads didn't but most of our conversation was an ongoing translation from Chinese-English-Tibe-tan. The crazy part is that most Tibetans speak better English than Chinese. Nikki & I developed a little bit of a school girl crush on Tsebo. He was the strong, scholarly, quiet, gentle Tibetan cowboy type. His english accent sounded like a British John Wayne.
Sights:
Chengdu has lots of parks and a few temples. We visited a Taoist temple because, oddly enough, of all my travels to China I had yet to see a Taoist temple. It was pretty but Taoist statues aren't as pretty, complex or well, holy has Buddhist. At least, to me. When I walk into a monastery I am overwhelmed with a sense of calm and peace. We walked into this temple with a loud small amusement park next door and really didn't feel any kind of mysique or serenity or anything at all. Pretty pictures though.

This temple had a special goat that we probably desecrated by climbing onto and taking pictures with, Gonpo even rode it. It was a statue. If you touch its flank its supposed to bring you good fortune.
Accommodations:
Kangding Hotel. 028-85562106. Standard room= 160 yuan per night. REALLY comfy beds, good heat, nice showers.

This hotel is in the Tibetan district of Chengdu. Fancy that. It is surronded by Tibetan shops, a few decent Tibetan restaurants and wandering monks. Since, as you all can probably tell, I have Tibet on the mind always, I really enjoyed staying in this portion of the city. I feel like we were a 8 yuan cab ride from the center of town. Nikki & I hate public buses so we generally go by cab, Gonpo learned this quickly.
Nightlife:
We went to one club, again just off the Tibetan district, that was fairly western, had hard liquor and live music that was pretty hao ting (good to listen to). Gonpo and Tsebo were a little uncomfortable in this upscale, western club so we moved onto a quiet, secluded place. It was a pretty long bar street, so maybe its well known.

Prices weren't too bad, 25-50 yuan for mixed drinks and less than 25 yuan for beer (western). But, mixed drinks were a little off, Nikki and I wanted to jump behind the bar and show them the correct way to my cuba libres and gin/tonics. Other than that, we were fairly satisfied.
Hangouts:
The second night we joined Gonpo, Tsebo, Chinese friends at a Tibetan pub. All they had was beer, budweiser, so Nikki and I searched the surronding bars for hard alcohol to purchase and finally found Barcardi Limon for a steep 200 yuan. I mean, they had a lot of Chivas, Jose, and Jack but we are rum girls.

Add some sprite and we had ourselves an always full pitcher of mixed cocktails all night. We drank the entire bottle (750 ml) and left completely toasted. Tsebo (Gonpo was way drunk) sent us home safely.

Sometimes, depending on what kind of night you want, its cheaper to buy a bottle than pay for cocktails all night. At 40 yuan a pop, they add up quickly and are generally watered down in some way. Chinese is infamous for watering down their mixed drinks to save money. I had a bottle of vodka (purchased in Beijing) that froze in the freezer.
Restaurants:
Well, Sichuan hot pot is world reknown and it sucked. At least, the place we went to didn't suit our taste of hot pot, and we eat it a lot in Beijing. We just weren't pleased. It wasn't one of the Lonely Planet recommended places so maybe you'll have better luck with that.

I don't eat spicey food, which is also what everyone knows about Sichuan, so well, yeah I have no idea what real Sichuan food tastes like. Sorry.

I ate a lot of yak. Yak momo, rice w/ yak meat, yogurt with ginsing and yak milk. Well, yaks are male so it was the female cowof the yak species. You eat yak meat, the rest is cow.

Mcdonalds was good, the safe Gongpo Jiding, tomate & egg, and any kind of potato. Eggpland & Potato is always a good combination that all cooks will make for you, regardless of it being on the menu.

There IS a starbucks in Chengdu and you better believe we went there once a day. We even took Gonpo, who tried to order a nescafe because I stopped him and took control of the situation.
Other recommendations:
Taoist Temple, pretty yellow trees and gold posts

Funny story. Nikki and I had this crush on Tsebo. And, despite our very obvious doe eyes and the fact that we hung onto every word he uttered, he didn't seem to realize it. He looked at us with kind, gentle eyes and joked with us playfully but I don't think it connected that we wanted him to ask us to marry him and run away to Tibet. Our last night, with a really awkward goodbye, we walked away from the Tibetan of our dreams.
Thinking that we would never see him again, we told Gonpo our little secret. That we were waiting for Tsebo to ask us to marry him (yes, both of us). Gonpo, who had mixed reactions to this news, called him to tell him that he had two potential American wives. I even confessed everything on the phone to him on the way to the airport.

Long story short, we missed our flight bc I'm dumb. We had to stay another night. And, after all of those confessions had to go back to a waiting, laughing Tsebo. He gave us Tibetan names & promised a tibetan mastiff pup.
Published on Tuesday December 6th, 2005




Publish on Facebook
Tue, Mar 06 2007 - 12:20 PM

by
esfahani
seems like you are our ultimate china guide. great!
Sat, Dec 17 2005 - 04:55 AM

by fredcheak
very frank for a lady. truly a world citizen.
Tue, Dec 06 2005 - 03:17 PM

by davidx
What a splendid finale to your China reports. I shall miss them but I'm sure you'll entertain us all with great reports from other places. I hope your stay there achieved all you wanted in your studies as well
Tue, Dec 06 2005 - 03:06 PM

by nedkelly
Heheheheh again another great story that you definatly wont find in any L.P. Very entertaining. Keep up the great work S.P.C.
Tue, Dec 06 2005 - 03:06 PM

by rangutan
Again, very well written memories from possibly our best female explorer! Marvelous pictures and the Panda Reserve is certainly a hot tip.
Information:
Login if you are a member, or sign up for a free membership to rate this report and to earn globo points!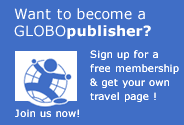 Qufu

- sumantbarooah