Welcome to my travellog. Here you can read about my journeys day by day.




Aug 10, 2012 08:00 PM

Asuncion - the capital city of Paraguay

In the morning we took a taxi from Samaipata to Viru Viru airport. We arranged it with the driver who brought us to Samaipata. He couldn't drive us himself but he sent a friend. Taxis are very cheap in Bolivia. For ca. 140 kms we paid 180 Bolivianos only (US $25)!
We arrived at the airport at midday - well before the departure time. The line to the check-in counters was long and processing of passengers very slow. There is an international departure tax that has to be piad at the airport - it's US $25 or equivalent in bolivianos.
At the airport we had sandwiches at Subway (tasty and cheap) since the next meal was to be had as late as in Asuncion. The service onboard was good - it even included a hot meal which is unheard of in Europe on flights of 1,5 hours in economy class.
We arrived in Asuncion at 5 p.m. - 30 mins later than scheduled. Pick-up from the hotel was already waiting for us. The driver gave us a ride around the city centre showing places of interst. We paid him 100k guaranies (US $1 = 4300 guaranies).
In Asuncion we are staying in a centrally located and comfortable Asuncion Palace Hotel housed in a nice colonial building. The room, although comfortable (with minibar, air conditioning and large flat-screen TV), has no style. The rate is 220k guaranies. We got upgraded from a double room to a spacious suite.
In the evening we had a walk around central Asuncion. There are many nice colonial buildings. The most imoressive one is the government office with impressive illumination.
We had dinner at El Bolsi, justifiably located on the first place in Tripadvisor ranking.






Aug 09, 2012 08:00 PM

El Fuerte - one of themost famous Bolivian ruins

We went to Samaipata not only to relax but also to visit one of the most famous Bolivian ruins called El Fuerte. In late morning we took a taxi to the ruins. They are located 10 kms from Samaipata. Most of the distance is on a dirt road so it takes around 20 minutes to get there. The fare is 80 bolivianos return, including two hours waiting. Admission to the ruins costs 50 bolivianos (no students discount). The sight is interesting to see, but not very impressive after visiting Machu Picchu less than two weeks ago. The location is very nice - in lush green mountains, so there are viewpoints to see the landscape.
Today the owners of the hotel arrived at the Posada. They are very nice people - caring about their guests and assuring everything is alright. Trent (the owner) brought a router from Santa Cruz thanks to which we finally have wi-fi here and don't have to go to the town to use the internet. He also was teaching the staff how to prepare drinks and I was lucky to get a mojito on the house. Otherwise drinks are cheap here - around US $3 - and of high standards. Recommended!


Aug 08, 2012 08:00 PM
Relaxing in Samaipata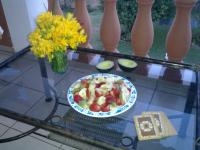 We started our day late with tasty breakfas at Posada del Sol. The complimentary breakfast is fairly basic but you can upgrade it at very reasonable prices and there are plenty tasty options.
We spent the day playing cards, walking a bit around the town and savouring food served at our hotel and talking. We also went again to the local market to stock up on fresh fruit. It's very cheap here - a large pineapple costs only 6 bolivianos (US $1 = 7 bolivianos), 3 avocados - 5 bolivianos, 2 bananas - 1 boliviano. In the afternoon we prepared a large plate of tasty fruit salad that contained (apart from the above) kiwi and strawberries.






Aug 07, 2012 08:00 PM

Finally in the lowlands

We took the morning flight from La Paz to Santa Cruz. It took only 45 minutes (instead of 20 hours by bus). Previously we booked our flights in Bolivia with Aerosur but it collapsed in May and we had to buy new tickets. So we booked with the largest airline in Bolivia - Boliviana de Aviacion. The operated a fleet of old Boeing 737-300, but we felt safe fkying with them. The service on board (cabin crew) was one of the best I ever experienced - swift, responsive with sense of humour and personalized. Most of the airlines could learn from them.
We took a taxi from Viru Viru airport of Santa Cruz to the office of the company that operates shared taxis to Samaipata, a laid back village 120 kilometres from Santa Cruz. The weather here is much nicer than in Altiplano - around 25 deg C during daytime and over 10 at night.
We are staing is a very relaxed Hotel Posada del Sol. A double room with bathroom costs only 150 bolivianos. There is a great garden to relax in as well as a splendid view from the terrace. There is also a restaurant that serves tasty fare (mainly Mexican food - the owners are from Texas). We spent the afternoon walking around the village (we visited the local market where among others fruits are sold - a medium sized papaya cost 4 bolivianos only - like 60 US cents), reading books and playing cards. It's high time to relax after almost four weeks of travel!






Aug 06, 2012 08:00 PM

Back in Bolivia

It was possible to buy tickets from Puno to La Paz and the journey required a change of buses in Copacabana. They advertised travel time of only 7 hours, but we didn't believe them. We decided to buy tickets to Copacabana only and catch the first departing bus. It was a good decision after we arrived in Copacabana at around midday it turned out the connecting bus was leaving at 1:30 p.m. We managed to catch one that departed at 12:30 p.m. and arrived in La Paz at 4 p.m. La Paz isn't a very pretty city so we didn't do much sightseeing there. We walked to Plaza de San Francisco where a church of the same saint is located. It's beautiful from both inside and outside. Otherwise La Paz is rather ugly though you can catch grat views of the city going from El Alto (the district where the airport is located) to downtown.
In the evening we took a taxi to Sopocachi district where there are the best restaurants in La Paz but all of them were open from 7 p.m. which was too late for us since we were starving after the long journey from Peru. We went back to downtown area and had nice dinner there.
In La Paz we are staing in Hotel Cordillera Real - a reliable three star option with adequate heating, which is essential in La Paz where night temperatures drop below freezing in winter.






Aug 05, 2012 08:00 PM

From Arequipa to Puno

We spent almost the whole day on the bus leaving Arequipa at 10 a.m. and arriving in Puno before 5 p.m. The ticket cost 35 sols (semicama). This is our second time in Puno but we are staying in a different place - Hotel Camino Real Turistico which is much nicer and even slightly cheaper - we pay US $40 for a twin room with bathroom and heating. We went for dinner to Mojsa where we dined last time. Again the food was delicious, but the service lacks a lot in quality.


Aug 04, 2012 08:00 PM
One of the deepest canyons in the world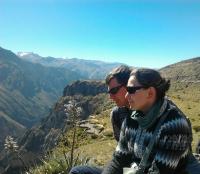 We started the day early with a delicious breakfast at Killawasi lodge. Then we travelled towards Cruz del Condor viewpoint for more than two hours stopping at several points of interest including a village of Maca where a nice colonial church is located. We met a Polish couple there. There aren't many Poles travelling in South America - this was the second couple we met during the last three weeks.
At Cruz del Condor we saw several big birds but we aren't sure these were condors. But it was interesting to see one of the deepest canyons in the world whose deepness was discovered by a Polish expedition 30 years ago. Entry to the canyon area cost 70 sols and there is no student discount.
Having spent more the one hour at the viewpoint we drove back to Chivay where we had lunch and then we returned to Arequipa. We are staying again at Flying Dog Hostel.






Aug 03, 2012 08:00 PM

Arrived in Colca Canyon

The minibus picked us up before 8 a.m. It took us almost 5 hours (including several stops on the way) to reach Chivay, the main town of the Colca Canyon region. The tour was pretty disorganised - people from our minivan had lunch in three different places which ment long waits. The guide doesn't seem professional - he's talkative but not informative and he's talking in a very monotonous way. After 2 p.m. we arrived in our hotel. The room is very comfortable and has all the necessary amenities. There is a balcony attached from where a great view opens. In the afternoon I joined a hike to nearby attractions, the most important of which are Uyu Uyu ruins. Today the local people are having a kind of festival with lots of music, dancing and alcohol. However, everything is kept in a quite traditional way so I had many opportunities to take pictures of local folklore. Edytka was a bit tired and preferred to stay in the lodge and relax soaking the view from the balcony.
In the evening we had dinner at the lodge. It's quality was very uneven - from below average to tasty. I found a chip of glass in my food which was a bit scary and cast a dark shadow on the overall experience in the lodge. Had I swallowed it I would have probably been on my way to the hospital rather than writing this entry.






Aug 02, 2012 08:00 PM

Colonial Arequipa

We started the day from looking for an agency that could organize a tour to the Colca Canyon for us. We checked several options but none of them looked attractive enough. We decided to get the tour from the hotel in the canyon we contacted before. This hotel is located in Yanque and called Killawasi Lodge. They offer a 2 day/1 night trip (without trekking) for US $65 per person. It's slightly more expensive that prices quoted by agencies in Arequipa but we will stay in one of the best hotels in the Colca Canyon area (ranked first on tripadvisor).
We also did some sightseeing in Arequipa, mainly around Plaza de Armas which is the centre of the colonial part of the city. The streets in this part are nice to walk - there are many interesting churches and grand colonial mansions. An hour before sunset we took a taxi to the viewpoint in Yanahuara district. When we were getting into the taxi a policewoman approached the taxi to note down the driver's details and asked us where we were going. Security is on a high level here after there were muggings in taxis. There is strong police presence throughout the city too so we feel safe here (as well as in other places in Peru).
We went to Yanahuara because it's a great place to see El Misti volcano towering Arequipa. There is also a ice plaza (square) in this residential district.
We also visited the cathedral but it's more impressive from outside than inside.






Aug 01, 2012 08:00 PM

Ten hours on a junk bus

When we arrived at the bus terminal at 6:40 in the morning the kiosk in which we bought our bus tickets three days before was closed. We proceeded to the counter of the company whose name was written on the ticket (this was only when we realised we bought the tickets not from the bus company but from an agent) to find out the bus was leaving not at 7:00 a.m. but at 7:30 and it wasn't to be a comfortable semicama bus for 50 sols (this was what we had paid) but 'bus normal' a junk bus stopping many times an the way to pick passengers or let then off. Such service costs only 25 sols which means we were cheated for 50 sols. Tourist trap - this happens sometime.
The trip wasn't very comfortable - the bus was packed for most of the time and some passengers haven't seen shower for a couple of days what we could smell. Fortunately the bus had several pee stops and there was even a toilet on board, though stinky.
To our surprise the bus arrived to Arequipa in slightly more than 10 hours which means less than an hour delay. The taxi to downtown area cost 10 sols - no driver wanted to go for less. We went with Tourismo Arequipa - one of the best corporations. It's recommended to use only reputable taxis here as robberies in taxis do occur in Arequipa.
In Arequipa we are staying in Flying Dog Hostel housed in an old colonial building. We pay 81 sols per night for a double room with bathroom, breakfast is included. Heating isn't necessary here - nights aren't very cold and days are warm - more than 20 deg C.
In the evening we went for dinner to an excellent gourmet restaurant recommended by both Lonely Planet and Tripadvisor members. It's called Chicha. It isn't cheap (we paid 100 sols for two main courses and two juices) but the food is delicious and well presented. Service is impeccable. Highly recommended.