Welcome to my travellog. Here you can read about my journeys day by day.




Jul 21, 2012 08:00 PM

Salar de Uyuni

We woke up before 6 a.m. to catch the sunrise on the salar. It wasn't very impressive especially when compared with what we saw later. After the sunrised we drove to Isla Incahuasi - a mountain on the salt desert full of cacti (admission 30 bolivianos). I managed to take nice pictures there. We also had breakfast there and then moved on to find a secluded place to take funny pictures playing with the perspective. After that we drove to Colchani to have lunch. The salt desert is great for driving since it's completely flat and relatively smooth. We could speed more than 100 kph.
Our driver, Denis, did his best to make sure we catch our bus from Uyuni to Potosi at midday and we succeeded. After saying goodbye to Denis and Pamela and thanking them for great experience we had with them we boarded the bus. The ticket was only 35 bolivianos and the journey took only 4 hours including a 25 minute stop on the way. The road is paved now all the way which reduced travel time by at least 2 hours.
In Potosi we are staying at Hotel el Turista. It's a bit worn and quite expensive by Bolivian standards (240 bolivianos for a twin room ensuite) but it has one huge advantage - heating which was a blessing for us after bitterly cold nights during the trip. Our room (34) provides great view of Potosi with Cerro Rico in the background. Good choice.






Jul 20, 2012 08:00 PM

Birthday in the outback of western Bolivia

Todays is my wife's birthday. For a long time it was clear that we will be travelling in South America on this very day, so we celebrated it with friends before leaving Poland. Today's celebration was limited to wishes and a pack of Edytka's favourite Haribos: tropi frutti.
We started the day from visiting rock formations including the most famous one - Arbol de Piedra (rock tree). They resembled the formations found in the White Desert in Egypt we failed to visit during our May trip to this country due to very hot weather in this part of Wgypt.
Later on we stopped by a couple of beautiful lakes, the most staggering being Laguna Hedionda, where many flamingos breeded and snow-capped mountains reflected in its waters. By the time we reached the salt hotel located on the edge of Salar de Uyuni we stopped at Mirador de Volcan Ollague where we had lunch. The salt hotel turned out to be the nicest accommodation we had so far during the circuit. There was even a hot shower that cost 10 bolivianos - well spent money after two days without hot water and bone-chilling temperatures. First we (only my wife and me) were put in a room that had one double and one single beds as private one, but then it turned out there weren't enough beds for everyone and one French guy was put in our room. It wouldn't be bad at all since we got used to shared accommodation during this trip and didn't expect to be given a private room, but this guy must have had a serious quarrel with soap and water so he smelled badly. His odour was making it difficult to sleep. Fortunately this was the last night of this otherwise excellent trip.


Jul 19, 2012 08:00 PM
Colourful lakes and snow-topped volcanoes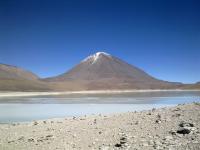 I didn't sleep well this night but it wasn't the low temperature that deprived me of sleep (I have a sleeping bag and warm underware and there were plenty of blankets provided) but the French who smoked in the corridor until late night and the smoke permeated into the room. Most of the smokers don't respect the preferences of those who don't share their habbit!
We started the drive around 8 a.m. Today we saw quite many lakes some of which retained their fabulous colours, some not (the frozen ones). The highlights of this day were: Llicancahur volcano rising to almost 6 kms over Laguna Verde (Green Lake), geysers and bloody-red Laguna Colorada rife with flamingoes. We also stopped by thermal spring, but didn't bathe - the water was just lukewarm at around 30 deg C.
The hostel we are staying tonight is slightly better than the previous one though equally cold.






Jul 18, 2012 08:00 PM

Driving for the whole day

We started the trip at 8 a.m. Our driver's name is Denis and his wife, Pamela is our cook. They only speak Spanish, so I rely almost completely on my wife whose Spanish is excellent. Hopefully I can understand quite a lot but don't speak at all. Command of this language seems to be essential when travelling to South America since very few people can communicate in English.
Our companions for the next four days are French students who spent some time on an exchange in Buenos Aires. We started the trip admiring the surroundings of Tupiza where there are deep canyons, ravines, high mountains and thousands of cacti. We soon climbed from less than 3000 mts above sea level to the altitude exceeding 4 kms. At some point we were close to 5 kms above sea level where we atarted suffering from mild altitude sickness, but then we descended to 4100 mts where we spent the first night. On the way we passed through a couple of villages with primitive huts, we met many llamas and seen the highest volcano of this trip - Uturuncu - topping at 6008 mts above sea level. In one of the villages we had almuerzo (lunch) that proved we had an excellent cook. Food prepared by Pamela turned out to be one of the highlights of the trip.
We arrived at the hotel around 8 p.m. It turned out to be very basic - dorm rooms, shared toilets, no hot water, no shower, no heating and the temperature outside was well below freezing at night. We didn't expect luxury and were aware of the accommodation standards, however the hostel turned out to be the most basic accommodation I have ever used. There were around 30 tourists at the hostel and we were the only non-French.






Jul 17, 2012 08:00 PM

Entering Bolivia

We woke up before 7 a.m. to catch the bus to the border town of La Quiaca three hours north of Tilcara. We arrived at the bus terminal in La Quiaca before midday, then walked for 10 minutes to the border and crossed swiftly to Villazon. Time in Bolivia is one hour back compared to Argentina. Casas the cambio in Villazon offer good rates (around 6,85 bolivianos per US dollar) so don't be afraid of using their services. Then we caught a bus to Tupiza that was just departing. The price was 15 bolivianos per person only. Journey time was less than 2 hours (the road seemed to had been upgraded recently to tarmac. We are staying in Hostal los Salares for 120 bolivianos only for a double room ensuite (hot water but the room doesn't have heating). The owners are very friendly and helpful. They also run a travel agency and we booked a four-day tour of southwestern Bolivia with them. The cost is 1150 per person with 5 persons in a jeep. The adventure starts tomorrow and we aren't supposed to have any Internet access when in this remote area.






Jul 16, 2012 08:00 PM

Colourful Quebrada de Humahuaca

In the morning we took a bus to a tiny village of Purmamarca where the Mountain of Seven Colours is located. Morning is the best time to visit because the light is best and colours are most vivid. The view was really breathtaking and pictures don't fully show it. Purmamarca is a very touristy place but more than 95 per cent of Tourists are Argentinians. There is a large market with reasonably priced stuff like pullovers, caps, scarves, caps and many others. We bought two pairs of gloves (its going to be really cold in the morning during the circuit in Bolivia) for 45 pesos only. Then we headed for Humahuaca - a nice but tourist crowded village north of Tilcara. The views along the way were great - lots of colourful mountains and picturesque little pueblitos. During the day it was warm - more than 15 deg C but at night the temperature drops below zero, so pack warm clothes!






Jul 15, 2012 08:00 PM

Bussing to Tilcara

The journey to Jujuy was comfortable as we travelled on a cama suite bus, which means a seat that reclines to fully flat. In Jujuy we changed for a bus to Tilcara. Fortunately there are plenty of them so we didn't have to wait long. The journey took 1,5 hours and cost 18 pesos per person. It's high season in northern Argentina now so we booked a double room in El Andariego hostel. It costs 180 per room per night with breakfast. The bathroom is shared. It's a very simple place but nicely decorated and the owner, Victoria, is very friendly and helpful. You can book via their website that can be found online.






Jul 14, 2012 08:00 PM

San Telmo market

Today we spent almost the whole day in San Telmo area. We explored the market for a few hours. If it wasn't the beginning of our 5 week journey we would have definitely bought lots of souvenirs. We again visited Freddo - one of the best Argentinian ice cream parlors. In the evening we boarded a bus for a 20 hour and 1500 km long journey to San Salvador de Jujuy. Bus travel isn't cheap unfortunately. We paid almost 800 pesos per person (ca. US $180).






Jul 13, 2012 08:00 PM

First day in BA

We landed at the international airport Ezeiza early in the morning. You can change money there but only the National Bank has good rates. Argentina isn't cheap anymore. A taxi to the city costs 190 pesos (more than US $40) so we took a public bus for 2 pesos only. You need coins to buy a bus ticket!
We are staying for one night only in a very nice boutique hostel called Bonito B&B in San Telmo. A double room is Us $54 only (booked in advance via booking.com). Today we visited La Boca district with its colourful houses and tango shows in the streets. We move around by public transport which is cheap. Bus rides usually cost 1.2 pesos while underground 2.5. Taxis are expensive. My wife was in Argentina on a student exchange 4 years ago. Since that time everything has become more expensive by around three times! But the city is great - excellent colonial architecture, nice atmosphere and - most important - its sunny here, althought it is winter now and the temperature is below 10 deg C.






Jul 12, 2012 08:00 PM

We are going to South America!

We bought the tickets to Buenos Aires last year which means waiting for a long time for this moment. Today we are leaving for Buenos Aires via Frankfurt with Lufthansa. We plan to visit Argentina, Bolivia and Peru during this trip. We will also cross into Paraguay and Brazil for a moment. Keep your fingers crossed please!