Welcome to my travellog. Here you can read about my journeys day by day.




Jul 31, 2012 08:00 PM

Again in Cuzco

Our train to Ollantaytambo was departing at 8:53 in the morning so we could sleep longer than the previous night. This time we were travelling during daytime and could see the breathtaking scenery along the way. The route is very scenic and it is worth to pay more for the train that travels in the day.
In Ollanta we had almuerzo at Puka Rumi which we liked last time and that caught a collectivo (local minibus) to Urubamba (30 minutes, 1,5 sols) and then onward transport to Cuzco (1,5 hours, 6 sols). In the afternoon we visited Qorikancha, a sight highly recommended by Lonely Planet. It's a church built on Inca ruins. However we didn't find the place very interesting. We also went to a market where handicraft and local products are sold. Edytka got a sweater for herself while I bought an alpaca scarf. These will probably be the only souvenirs as almost all other stuff offered to tourists seems junk to us.






Jul 30, 2012 08:00 PM

Wandering around Machu Picchu

After getting up I could see from our window the queue for the Machu Picchu buses forming in the street. When I got down there were roughly two hundred people queueing but the buses were departing one after another so we got to the gate slightly after 6 a.m. The site is really huge but we didn't have time to explore it then since we were in a hurry to get to the entrance to Wayna Picchu hike. Wayna Picchu is a steep hill towering Machu Picchu from where a great view of the ruins extends. It took us more than an hour to get to the very top, but we were making many stops for pictures and rest on the way. The views from the top are definitely worth the exercise. We spent around two hours on the top resting in the sun (don't forget sunscreen and a hat!).
After climbing down we spent quite a lot of time wandering around the ruins. The Inca city was really huge and it is hardly imaginable they managed to build it in such a place.
We left the site before 4 p.m. and walked down to Aguas Calientes. There is stepped path, so you don't have to follow the bus route but due to high steps it may make your knees overburdened. The hike down took us more than an hour.
Some practicalities:
Water in disposable bottles and food are theoretically banned from the site but nobody checks your backpack - just remember to take all the rubbish with you.
Wayna Picchu hike is great but go in the first group (7-8 a.m.), later on it is too hot to climb up.
Take plenty of water (at least 1,5 liter per person for a full-day visit) and snacks - these are 7 times more expensive at the entrance to the ruins than in Cuzco.






Jul 29, 2012 08:00 PM

Towards Machu Picchu

We started the day with the visit to the Cuzco Cathedral. The interior is simply breathtaking - the cathedral is huge and beautifully decorated with sculptures and paintings. The cathedral is connected to its sides with two other churches. Admission fee is high - 25 sols (half of that for students) but its well spent money.
Later on we visited tourist information and it turned out it was possible to buy bus tickets from Aguas Calientes (village with tourism infrastructure closest to the ruins) to Machu Picchu in Cuzco. We want to take one of the first buses early in the morning so it is better to have the tickets before. They are very expensive - US $9 for 15-minute (8 kms) ride uphill to the ruins.
At 1 p.m. we left Cuzco by a shared taxi for Ollantaytambo from where we travelled by train to Aguas Calientes. Train tickets are a rip-off too. We bought one of the cheapest tickets in the lowest (expedition) class and still they cost US $89 per person return for 43 kilometres only!
In Aguas Calientes we are staying in Hostal Varayoc located 5 minutes walk from the train station. It's location is good and bad at the same time. The train tracks run just un front of the hostel which means trains may disturb sleep. On the other hand it's just a few steps from where the buses to Machu Picchu leave. The hostel itself is nice - clean room with bathroom, breakfast, as usually, included. It costs US $40 which isn't much for this quality in Aguas Calientes.






Jul 28, 2012 08:00 PM

From Puno to Cuzco

In the morning we took a bus to Cuzco. We chose Transzela company because they have one of the best buses - double deckers with plush reclinable wide seats (only three per row). Ticket cost 50 sols (other companies offer tickets for 20-30 sols but less comfort). They promised 6 hours journey but it lasted almost 7 hrs, however brethtaking views on the way made up for this inconvenience.
In Cuzco we are staying in Hostal Huaynapata. A comfortable double room with bathroom, cable tv and heating costs only US $35. It's located 5 minute walk to the central square (Plaza de Armas). In the afternoon we had a walk around Plaza the Armas looking at the churches located around it as well as picturesque houses on the Plaza. We had great dinner in Marcelo Batata that apart from delicious (but pricey) food offers unparalelled views over the old town of Cuzco.






Jul 27, 2012 08:00 PM

Famous reed islands

We arrived in Puno before midday (Peruvian time is one hour behind Bolivian). Wanted to withdraw money in the bus terminal but gave up since it wanted 12 sols of commission (1 USD = 2,6 sols). There are many other ATMs in Peru that don't charge this ridiculous commision. After lunch in an excellent Mojsa restaurant located on Plaza de Armas right across the cathedral we went to the port to catch a boat to famous Uros islands made of totora reed. We expected the islands to be very touristy and even somewhat tacky and they lived up to our expectations. However, it was interesting to see how the islands are constructed and there were nice views of the area from the top of our boat. 2,5 hours is completely enough to see Uros including 2 x 30 min transfer there and back. When we were going back to Puno it started raining - it has been the first rain since we arrived in South America. In the evening we went again to Mojsa for dinner which was excellent. Definitely one of the best restaurants we have been to during this trip.


Jul 26, 2012 08:00 PM
Isla del Sol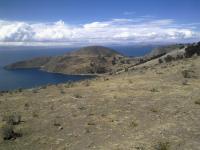 We came to Copacabana to sea Lake Titicaca. One of the top spots there is Isla del Sol (Island of the Sun). We bought return tickets for 30 bolivianos. It pays to shop around as some agencies sell the same tickets for 40. We decided to go for the whole day trip leaving in the morning at 8:30 and returning at 5 p.m. The boat brought us to the north of the Island from where we hiked southwards where to boat picked us up. The walk took 4 hours and was of medium difficulty but the altitude (around 3800 above sea level and strong sun make it more difficult. There are several minor sights on the way but we decided to walk the lenght of the island for the views. These were really nice (see the pic). All the fees and admissions to walk from the north to the south add up to 30 bolivianos, but it's worth the money.
In the evening we bought tickets to Puno in Peru, so the next stage of our journey begins tomorrow.






Jul 25, 2012 08:00 PM

Arrived in Copacabana

We go up before 6 a.m. to catch the morning flight to La Paz. Only Aerocon serves this route directly and the fare is high. On the plus side it is operated by small Metro 23 aircraft which means flying closer to the ground. After reaching La Paz we took a taxi to Cementerio area (50 bolivianos) from where buses to Copacabana leave (15 bolivianos + 1,5 for the ferry, 3,5 hours).
Copacabana is a very ugly place. Hope the lake trip is nicer. We will see tomorrow - we bought return boat tickets for 30 bolivianos.
In copacabana we are staying in Hotel Gloria. It's overpriced (450 bolivianos) when compared to quality (worn three star hotel) but we failed to book Las Olas and La Cupula which are the best value for money places in town. Gloria is the only affordable place that offers heating (temperature drops below 0 at night) and spectacular views over the lake. The hotel also features a very pleasant lounge with sofas and armchairs where we relaxed in the evening sipping tea.






Jul 24, 2012 08:00 PM

Relaxing in Sucre

We didn't have specific plans for today, so we woke up late and headed for breakfast to Cafe Mirador. They make excellent chicken sandwiches - one is enough for a big breakfast.
Later we wandered around the city and spent nice time sitting on a bench on the central square. We had huge and tasty lunch at La Taverna. A set menu is particularly good deal. They also serve true espresso coffee which isn't so easy to find in Bolivia.
We spent the afternoon in our favourite cafe looking at the panorama of the city and sipping delicious juices.
Temorrow we have to get up early to catch the flight to La Paz from where we want to go directly to the Titicaca Lake.


Jul 23, 2012 08:00 PM
Pretty Sucre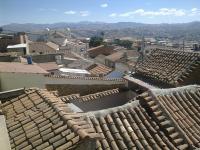 In the morning we asked the receptionist at our hotel to get us a shared taxi to Sucre, but she didn't manage to contact any driver. We were advised to take a taxi to the old terminal (10 bolivianos) where the shared taxis to Sucre wait for passengers. We didn't have to wait as we were those who filled the car that already had 2 persons. The ride cost 40 bolivianos per person and took 2,5 hrs only. The way from Potosi to Sucre is almost completely paved and there are only a few very short sections without tarmac. So far we haven't experienced the notorious roads of Bolivia and it seems many have been upgraded recently making the journey time much shorter.
In Sucre we are staying in Casa al Tronco. We booked the room with the best view of the old Sucre (look at the picture). The rate is 230 bolivianos only for a large ensuite room but without breakfast.
We had our almuerzo in Cafe Gourmet Mirador that serves excellent food and probably the greatest juices we've ever had. You can choose up to three fruits they make your jouice from, eg. pineapple, passionfruit, orange, kiwi, banana, strawberry and many more. As the name suggests there's excellent view over the city from the cafe.
Later on we looked around the town. It was outdoor sightsreing since many churches were closed for renovations. It seems there a big restoration project going on all over Bolivia.
In the evening we returned to our Casa to admire the panoramic view of Sucre by night from our huge window.






Jul 22, 2012 08:00 PM

Potosi - the highest city in the world?

Some say it's the highest city in the world located at 4 kms above sea level. Today we looked around the city. Its center is very nice with colourful colonial architecture. We visited the cathedral with a guided tour which included climbing one of its towers for the perfect panorama of the city.
For almuerzo we tried saltenas which is a local version of Argentinian empanadas. There is also a nice atmospheric Cafe La Plata located on the central square serving tasty fare and good coffies, where we had cena and postra (dinner and dessert).
Today we also bought tickets for Sucre - La Paz flight. Unfortunately BOA flights were sold out and we had to pay as much as 790 bolivianos per person with Aerocon (instead of only 500 for BOA). But there are several advantages - we fly early in the morning and directly to La Paz and Aerocon operates small 19-seaters which means more fun and adventure.