Hi, it's all about the adventure... ((*_*))
Nov 24, 2016 11:00 PM
The open sea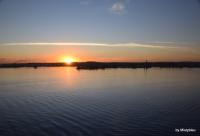 Nothing to do. I'm not usually bored when I travel, but oh my, what a boring day.
I complained about having to sleep in a room that someone has smoked in for 21 days straight. It really isn't fair when some is so inconsiderate. I swear I worry about the health and safety of cruise liners when the company allow their passengers to smoke in cabins. I mean there is a reason they shouldn't allow this. So upset with them :)


Nov 23, 2016 11:00 PM
Cuba - Che, Havana Club, Cohibas and Salsa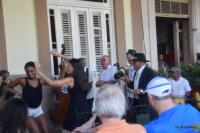 A great experience being in Havana, even though I missed going to Trinidad being the old city so many things to experience. I had to visit the Havana Club and get some of that rum. This is the cheapest souvenirs I've purchased in years. A bottle was CUC$7.90


Nov 22, 2016 11:00 PM
To go to Tinidad or not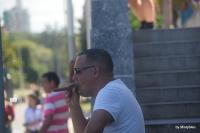 I have always wanted to go to Trinidad, but found my self in a predicament I wanted to rent a car for the day, but apparently this wasn't possible they only allow 5 days at a time. To rent a taxi it would have cost $150 each way or I could take the bus, but it is hard to use a bus for a day trip. I found a tour for $129 but for more than one person that was too expensive so I decided not to go. I very much regret that decision because now I have to return to Cuba as its a brilliant city to visit.


Nov 21, 2016 11:00 PM
Cuba - First day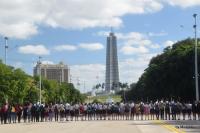 I'm so excited, I just cant hide it. Cuba had ben on my buck list for so many years it so cool to tick it off now. I was really pleased with the B&B we stayed in. Slightly more expensive than the other ones on Homestay, but whilst basic it was really nice and the family who ran it was so friendly. My Spanish isn't that good so had some challenging moments, but all in all it was a great experience. Spent the day in new Havana seeing the new sights. It was in revolution square where I though I saw the flag flying at half mast.


Nov 20, 2016 11:00 PM
Havana by night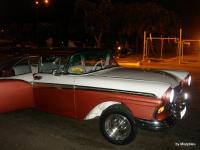 Arrived late into Havana not by choice. I traveled with Virgin direct from London. However it would have been better if we had left earlier and so we could have arrived early afternoon, similar to other Caribbean destinations. But as it happens it was dark by the time we cleared immigration. the queues were so long and there were only two scanners which increase the waiting time especially as a flight arrived in from France at the same time. I was so excited to see Cuba and Havana by night.


Nov 15, 2016 11:00 PM
Gotta love November
Some times its nice to take advantage of deals which come out. I saw an advert for Eurostar offering a trip for 19.50 one way.

For me that was cheaper then taking a train in England. I would have paid more than that just going to Manchester. So with annual leave sorted I head for Paris in comfort.

I'd ever been to the Palace of Versailles so that is where I headed. From Gare du Nord I had to buy a return ticket for the SNCF which cost 3.55 euros each way. There are may types of entry tickets to purchase, but I felt the Passport for 18 euros was the best option, as it allowed me to visit nearly every thing that was available. I think there is a grounds entry for 13 euros also available.

They recommended that I spend the day and it went by so quickly I didn't even realised I'd been there for some many hours.

A really enjoyable day in the Palace . Tick


Nov 10, 2016 11:00 PM
Tour ending finals
After a long season, it is coming to the end of the tennis calendar. The finals have been held in the London O2 for the last seven years.

The match was between Djokovic vs Raonic and it was hard fought. No doubt Novak won but it was very competitive. Now for the main event, can Andy Murray finish off the year as number 1.


Oct 31, 2016 11:00 PM
Pinch Punch...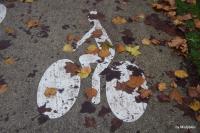 Last couple of trips for the year is now planned. Whilst I won't be traveling over Christmas as I usually do, at least I can have something prior.

On the cards is France and Cuba. Paris for a day and I so hope the weather is favourable and then Cuba. Yet again I hope the weather is favourable as November isn't meant to be the best month to go to the Caribbean. I haven't heard of any hurricanes recently and we are at the end of the season so I could be lucky.


Sep 30, 2016 10:00 PM
Barcelona - They are kicking me off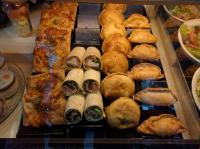 The home I have know for 8 days is no more and they at kicking me off.

I had an amazing time, and enjoy being on the cruise, however the service at times was a little questionable at times.

But over all things were good.

I have another day in Barcelona and gonna do some shopping.

I took the cruise shuttle for 3 euros to the bottom of La Ramblas and walked up. right to the main shopping area. Had a late lunch and then got the airport bus.


Sep 29, 2016 10:00 PM
Palma De Malloroca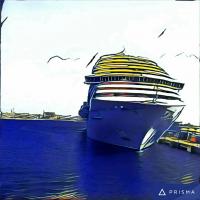 I think I just needed a sea day, but instead I'm exploring Palma.

For the final time we split again and I ended up renting some bikes and cycled up the coast. I think this was the best way to spend the day. I probably could have bargained a little harder but to rent a bike is between 5 and 10 euros.

The nice thing is that there is a cycle path all the way and it just makes you feel a little safer. Its the first time I've cycled without a helmet and funny enough it was a little scary.

On the way back to we stopped to see the Cathedral but didn't manage to go inside. but the outside is very unique.