Hi, it's all about the adventure... ((*_*))
Nov 15, 2016 11:00 PM
Gotta love November
Some times its nice to take advantage of deals which come out. I saw an advert for Eurostar offering a trip for 19.50 one way.

For me that was cheaper then taking a train in England. I would have paid more than that just going to Manchester. So with annual leave sorted I head for Paris in comfort.

I'd ever been to the Palace of Versailles so that is where I headed. From Gare du Nord I had to buy a return ticket for the SNCF which cost 3.55 euros each way. There are may types of entry tickets to purchase, but I felt the Passport for 18 euros was the best option, as it allowed me to visit nearly every thing that was available. I think there is a grounds entry for 13 euros also available.

They recommended that I spend the day and it went by so quickly I didn't even realised I'd been there for some many hours.

A really enjoyable day in the Palace . Tick


Nov 10, 2016 11:00 PM
Tour ending finals
After a long season, it is coming to the end of the tennis calendar. The finals have been held in the London O2 for the last seven years.

The match was between Djokovic vs Raonic and it was hard fought. No doubt Novak won but it was very competitive. Now for the main event, can Andy Murray finish off the year as number 1.


Oct 31, 2016 11:00 PM
Pinch Punch...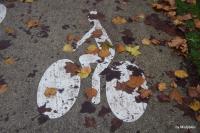 Last couple of trips for the year is now planned. Whilst I won't be traveling over Christmas as I usually do, at least I can have something prior.

On the cards is France and Cuba. Paris for a day and I so hope the weather is favourable and then Cuba. Yet again I hope the weather is favourable as November isn't meant to be the best month to go to the Caribbean. I haven't heard of any hurricanes recently and we are at the end of the season so I could be lucky.


Sep 30, 2016 10:00 PM
Barcelona - They are kicking me off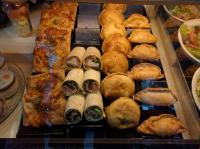 The home I have know for 8 days is no more and they at kicking me off.

I had an amazing time, and enjoy being on the cruise, however the service at times was a little questionable at times.

But over all things were good.

I have another day in Barcelona and gonna do some shopping.

I took the cruise shuttle for 3 euros to the bottom of La Ramblas and walked up. right to the main shopping area. Had a late lunch and then got the airport bus.


Sep 29, 2016 10:00 PM
Palma De Malloroca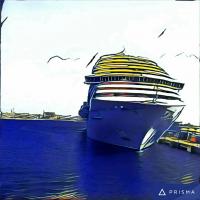 I think I just needed a sea day, but instead I'm exploring Palma.

For the final time we split again and I ended up renting some bikes and cycled up the coast. I think this was the best way to spend the day. I probably could have bargained a little harder but to rent a bike is between 5 and 10 euros.

The nice thing is that there is a cycle path all the way and it just makes you feel a little safer. Its the first time I've cycled without a helmet and funny enough it was a little scary.

On the way back to we stopped to see the Cathedral but didn't manage to go inside. but the outside is very unique.


Sep 28, 2016 10:00 PM
Marseille - Time to practice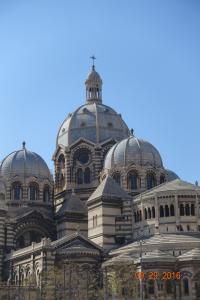 Finally a chance to practice my French. Yet again the transfer from the port was costly - $17 and I really couldn't understand the reason why. I believe cruise ships plants seeds of doubt in people minds so that it scares passenger to use their shuttles. But I always maintain that workers have to get to work so there should be public transportation. Turns out there is a free shuttle just out side the cruise ship compound so it was so easy. It didn't drop us in town, but had no really need to go into town.

I ended up in Carrefour (which I love), getting some supplies for back on board. But then I headed to the cathedral. Such a nice building inside and out. The area seems freshly redeveloped and it was great being around there. We explored the fort and museum and then headed back to the ship.

Maybe next time I will see the town centre.


Sep 27, 2016 10:00 PM
Firenze - 2 birds with one stone

Yet again we split up, so that we could make it to Florence on a shoestring.
Getting out of the port was a bit of a con. They had shuttles at a cost of 5 euros to the main town centre or 12 euros to the station. Bearing in mind how small Livornio was I believe that was daylight robbery.

We took the first shuttle to the train station and then a train in to Firenze. My idea was to go to the furthest place first. Definitely the old town has the wow factor. Especially the main church - Florence Cathedral - Cathedral of Saint Mary of the Flower.

I need to return to Florence to spend some more time as definitely a day isn't enough.

In the afternoon we headed to Pisa I was so amazed that you could see everything with out paying an entrance fee. Another icon clicked and ticked. Perfect


Sep 26, 2016 10:00 PM
Roma - 3 times in 3 years

I don't think it was ever my ideal to return to Rome so many times, but I must have tossed a penny in the Trevi Fountain. But this is the first time I'd seen it in full glory and it really has the wow factor.

I heard that they completed the renovation to the church behind the Spanish Steps as well, but unfortunately I was unable to get there.


Sep 25, 2016 10:00 PM
Capri - Sea legs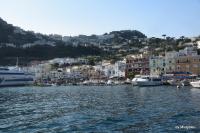 Arrived into Naples early and the ferry to Capri was located really close to where we docked.

The fare was around 19 euros to head across to the island and on the fast boat and takes around 45 minutes. I got the 8.05 ferry and was very timely for me. For me this was the worst journey every and was so sick that by the time I got there I had to sit down for an hour just to recover. I was just so thankful that I didn't eat any breakfast as it could have been so much more.

But Capri is really wonderful and I thoroughly enjoyed being here. The shopping great and so was the restaurants. It felt a lifetime away from Sicily.


Sep 25, 2016 10:00 PM
Pompeii - an alternativeday trip from Naples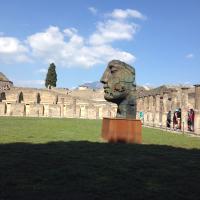 My alternative day would have been a trip to Pompeii and has always been a desire to get there and it really doesn't disappoint.

I went there a couple of years ago and was really amazing. This time around my group split again and some headed here.

It is so easy to get to from Naples, once getting to the train it is a direct train to the site. I mean maybe five minutes to the ticket office.

An afternoon in Sorrento was suggested but alas everyone wanted to return to Naples instead.