Hi there! Welcome to my travel log. Usually, I don't take notes or keep a journal on my trips and travels. I rely completely on photos as they are self explanatory and are the best memory log. I hope you will enjoy them.




Jan 27, 2008 09:00 PM

Australia 2008

Since my last trip I had not had a chance to write a single report or update my travel log. It was ages ago that I visited Cambodia to see the Angkor Wat and set my sights on the largest natural lake in South East Asia - the Tonle Sap Lake.

A year has passed and I am once again planning my next vacation. I will be going to Australia again, to further my explorations north into Queensland, from Surfers and into Brisbane.

I plan to stay a month this February and try new adventures, like gold mining or something. We will see. Watch this space for updates.

Cheers.


Feb 20, 2007 09:00 PM
Hanging out in Down Under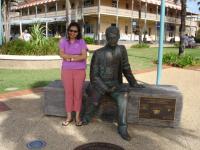 I left in a hurry on Friday 16th Feb to the airport to catch the 6am morning flight to Sydney. Thats right, Its my holiday down under. The plan is to meet my friend in Sydney and we would drive up through the country up to Surfers. We made stops in Port Macquarie and Coffs Harbour and drove anoter 400km to Surfers yesterday. It was interesting and I felt that the long drive was very much worth it. It was so nice to travel and view all the nice ocean scenery and mingle with the locals. I'm in Surfers now at a friends apartment in Chevron Island. Soon, we will be exploring the beach! Cant wait! Hope to have more opporttunities for an update! cheers all!


Dec 29, 2006 09:00 PM
Siem Reap - Taking a break before Ton Le Sap Lake Tour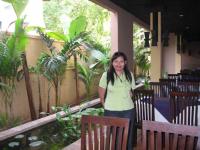 We arrived in Siem Reap and finally checked into our hotel. The Journey from the airport to the town and then to the hotel was interesting. Clear contracts between porch restaurants and hotels and old dilapitated houses on dusty roads. We had lunch at this restaurant before our tour to the largest lake in South East Asia - The Tonle Sap Lake


Dec 29, 2006 09:00 PM
Salakhet Siem Reap - Tourist Boat Arrangement
After a long drive a very dusty and bumpy unpaved road we did a stop at this tourist boat arrangement center to charter our boat. The journey brought a feeling of humility as I observe the living conditions of the people here.


Oct 22, 2006 06:00 PM
Trip to Cameron Highlands.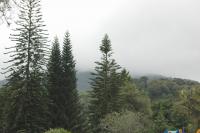 Malaysia has many public holidays and Hari Raya Aidil Fitri was one of the longest ones. We had a long weekend and I took the opportunity for a quick get away not far from my hometown, Ipoh.

Driving there and taking the Tapah Exit was a breeze on the 23rd as roads are clear of traffic. I guess the masses were all back at home with their families celebrating the festivities. I was with my family too and We all drove up to the highlands for our short holiday.

We spent the night at the Heritage Hotel, Tanah Rata. Just 5 Km from Brinchang. The rooms up in 5* Equatorial Hotel, was completely booked. Thats to indicate how many people were up in the highlands during these holidays.


Oct 22, 2006 06:00 PM
Why Heritage Hotel ?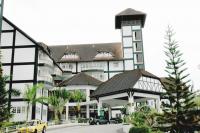 We had to drive down the congested town again and pass by the busy vegetable markets to get to Heritage. It was the only place where we managed to get a room for the night. It seemed liked 50% of the KL population was in the Highlands. Every car registration plate originated from Wilayah Persekutuan. Beware! If you plan to travel up Gentings or any of the cool highland resorts, do not do it during festive seasons. Not only will you have to brace traffic all the way, you will be subjected to unnessary surcharge on your room rates and breakfast.


Oct 22, 2006 06:00 PM
Rain rain go away...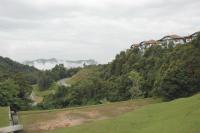 As soon as we checked into the hotel, it started pouring outside. I was not prepared for such cold weather only having sleeveless blouses with me. So the whole nite was spent in the room and watching tv. A thing to note is that weather in the tropical highlands are very unpredictable. Nov- December are rainy seasons and there can be many landslides in the highlands. Always be prepared with the appropriate clothing when going into the highlands.


Oct 22, 2006 06:00 PM
Morning of Hari Raya Puasa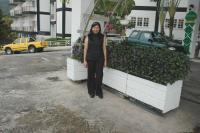 Right after breakfast, my mom and brother wanted to explore the towns. Mom was only interested in orchids and flowers, being an ardent fan of continental blooms. The highlands have a lot to offer, from wild orchids, to hybrid roses, cactuses and much more. I was glad that we didnt have to fit too many pots into the car boot!

Dad on the other hand wanted to go for his morning walk. There were many jungle tracks along brinchang, just 4 km from the Court house. I didnt have proper shoes and feared the notorios leeches in this wet weather, so I skipped the jungle tracking.

And soon... of to town we go!


Oct 22, 2006 06:00 PM
Tropical plants in the Highlands.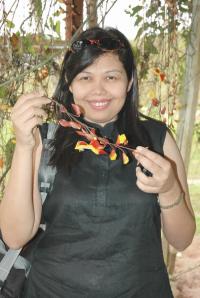 One of the interesting things to note up here is that there are no mosquitoes. It could be that the weather is too cold for them but I had not encountered a single one over the last 2 days despite the heavy rain. The other thing of interest are the exotic plants. You don't see them anywhere, except for the highland dipterocarp rainforests. As cameron highlands are inhabited by many aborigines, many of these exotic plants are sold by the roadside. It could be good for earning some money, but I cant say so for being environmentally friendly. These plants should remain in the forest, in their original habitat, then discovering them would make it all the more exciting.
I asked one of the farmers, and he told me that these plants are only exotic to the newcomers and visitors of camerons, but are common to the native and dwellers in Cameron highlands. Most of the ferns and orchids are in fact planted in nurseries and are not harvested from the forest.
I wish I could believe that. In this photo, I held close an exotic rambling plant which I have not discovered before. It was nice and was planted in the gardens of Heritage hotel.


Oct 22, 2006 06:00 PM
Brinchang Coronation Park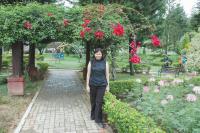 I forgot to mention that our hotel was located in Tanah Rata which is about 5km from the town of Brichang. So we had to drive to Brinchang to get our supplies and also to go to the bank. As usual, business thrives during these festive seasons, with so many tourists.
Our first stop was the Coronation park. It is a small lake garden with most of the essentials. I could say that it was well maintained but with the heavy downpour the previous night, its muddy everywhere. There goes my black trousers and shoes. Yuck!
Anyway, this garden looks nice, just be sure to stay on the footpath!