Hi there! Welcome to my travel log. Usually, I don't take notes or keep a journal on my trips and travels. I rely completely on photos as they are self explanatory and are the best memory log. I hope you will enjoy them.
Aug 12, 2004 06:00 PM
Chasing Butterflies ...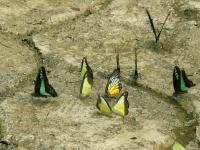 Log entry is as per the date of the photograph. I planned to visit the adjoining orchid garden but had to miss it due to bad weather.

The Butterfly Park houses some 6,000 butterflies of over 120 species. The park is an imitation of the butterfly's natural habitat. It includes more than 15,000 plants from 100 species that have been used to recreate a Malaysian rainforest atmosphere. There is a nursery and breeding area for the butterflies. Visiting hours are from 9am to 5 pm on weekdays. Admission fees are RM4 for adults and RM2 for children.

In addition to the butterflies which are so difficult to photograph, I found that landcaping in the park is impressive. They are nice subjects for photographs of a tropical garden and of course the butterflies are the stars.


Aug 11, 2004 06:00 PM
KLCC Skybridge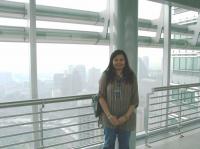 It was a really well organised trip up the KLCC towers. Like i mentioned we queued for about an hour after arrived at the counter at about 9.30am. Groups are divided into 20 persons or so and are allocated a time when the visit should take place. There are waiting rooms available where introduction and information are given about the towers and its construction. The guides are very experienced and are abled to answer any question thrown at them.


Aug 11, 2004 06:00 PM
View of KLCC Suria and the KLCC Park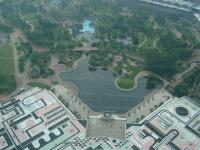 The KLCC park is a 2.5 acre wide of indigenous trees and plants. Its quite pretty and perfect for a jog in the evenings. Theres a children's swimming pool and play area too. This photo captures the entire landscape and a bit of the famouns KLCC Suria shopping complex.


Aug 11, 2004 06:00 PM
Up the Skybridge we go!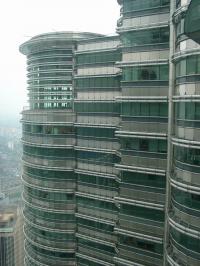 It's embarassing enough to admit it so I'll just mention this once! I've not been up the Twin Towers even though I work just 5 minutes walk from there. I took it for granted that I could visit it any day but never did till someone made fun about it! Yep! so 12th August is the day I first set foot on the Skybridge! Pretty awesome.

The only sad thing is that August-September Months are the worst months for viewing the city from such tall places as the thats when the Haze problem is at its worse. I could not even get a good picture of the city. This cam shot is just short distance from the sky bridge.

I'll try again next year maybe in April or May. Remember to avoid going there during school holidays and queue for the free tickets before 9.00am .. or you'll just have to come back the next day!


Jul 31, 2004 06:00 PM
400m.a.s.l and the Haze!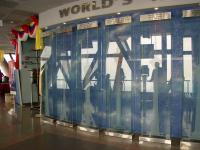 I planned to visit the T.V tower.. also known as "Menara Kuala Lumpur" and everything went as planned, except for one! The uninvited haze that cloaked the city. I got there at 11.30 am and already visibility was so bad. I could barely take a decent picture from the observation deck. Remember! August and September months are dry months and are usually affected by the Haze coming from forest fires in Sumatra and Kalimantan.

I knew I should have gone shopping instead!!

NB: Literature states that KL Tower is 421m.a.s.l and is the 4th tallest in the world.


Jul 27, 2004 06:00 PM
Perth City Walkaround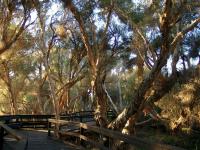 At 6 am, Kerry asked if I wanted to go with her to the city while she went to work. I of course jumped at the idea. 6am is crazy but its necessary so that we would not get caught in the rush hour. Bedford is about 35 minutes drive from the city centre. She left me near Kings Park just walking distance from Perth Zoo. She handed me with a map and told me to take a Ferry to the city. I thought it was too early to go to the city, so I decided to explore the park and go for a little morning walk.

It was great. I found this little bushland in the middle of Kings park .. it looks like swamp.. but seemed dry. The Sunrise made this spectacular shot possible. Its amazing and when I look at this picture, i'm just awed by the golden color of the leaves and branches. Sort of like touched by King Midas.


Jul 27, 2004 06:00 PM
City Side and the Courthouse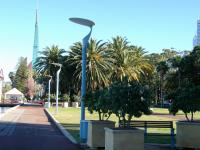 Ok I got to the City Centre at about 8.30 am after getting some change. I only had notes and the ticket vending machine wants $2.30 in change. So I bought some postcards and a map which I didn't really need (but later helped a lot) and I was off. Just after getting off the ferry, I headed to the garden to get a snapshot of the south city. In this photo, is the Bell Tower and the garden. Behind me was the gardens of the Courthouse, which in turn was my next stop.


Jul 26, 2004 06:00 PM
Fun in the Farm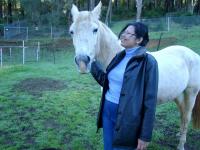 Kerry lives in Bedford. There is a huge amount of wildlife in the forests there and including possums and kangaroos. On the compound there are also horses. Like this picture taken of me. Horse feeding at dawn before we headed to the city.


Jul 26, 2004 06:00 PM
An Old Relic Found.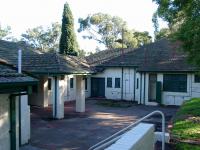 Just a few minutes walk from the place I was staying in Bedford is a property belonging to the Perth Zoo. It is an area of 120 acres and here they grew gum trees and other trees as fodder for animals at the Zoo. Kerry helps with looking after the 10,000 gum trees from time to time. What was really exciting for me was that at night we would go with spotlights and look for kangaroos in the wild. It was really fun for me to see them hopping around.

This photo is a house which was built in 1937 and was used as a rehabilitation centre in the last century. Now it is just abandoned though looked after as part of the property.


Jul 26, 2004 06:00 PM
Lunch in Freemantle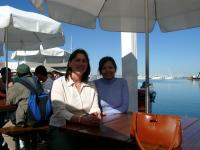 I travelled a lot with Kerry. I followed her to work and other places so I got to see much of Perth. She had an appointment with a lady in Fremantle and we went to her house for a while. Later we decided to have fun. The lady referred to a book, sort of like a guide book that was sponsored by most restaurants in Perth highlighting their best and all the attractions. Seems to be very handy but we couldn't find the restaurant that we were looking for.

Apparently, one of the best restaurant in Freemantle is Cicerellos. They speciality are seafood. Its a self service restaurant, you order and can take you your food anywhere. Theres ample space all the way to the pier.

Fish and chips seems to be the best choice but there were so many kinds of fish to choose from. Kerry suggested that I try the Barramundi and so I did. Absolutely delicious!

Overall it was a nice experience for me. I even caught glimpses of dolphins when I was sipping my coke and having my fish. Indeed very memorable!