Hi there! Welcome to my travel log. Usually, I don't take notes or keep a journal on my trips and travels. I rely completely on photos as they are self explanatory and are the best memory log. I hope you will enjoy them.
Jul 26, 2004 06:00 PM
Lost our way did we?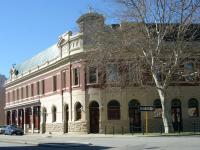 Did I mentioned that we got lost on our way to the restaurant? I had no complaints and I was enjoying the ride all the way. I got a nice view of Freemantle by car and made many stops to take pictures. It was really funny, I'm hopeless with maps and it would seem I'm not the only one. Fortunately, Kerry had some memory of getting there as she had been there before. Phew.! ... lol


Jul 26, 2004 06:00 PM
AQWA - Undergound Aquarium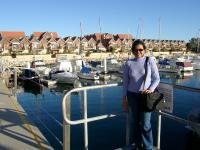 Initally it was planned that we would visit the AQWA. The ticket price was a whopping AU$25.00 and would take about 1 hour to walk around it. We waited for a friend to join us for the trip but something came up and we decided to do the visit on another day. We drove to Hillary's complex and took a long long walk. My eyes were getting sore, the sun's glare was so bright. Both Kerry and I left our glasses at home and so we had to get new pairs. Right after it was fun all the way, with a few cool drinks by the sea watching seagulls and enjoying the sunset.


Jul 25, 2004 06:00 PM
Spontaneous Trip to Perth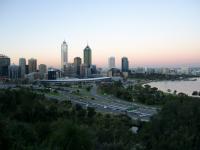 I least expected that I would be visiting Perth. I had to do a presentation in Murdoch University and deliver some important materials to Science and Veterinary Dept. It took just a few hours of the first day there and I stayed with Kerry, who looked after me very well. The next three days were all fun and R&R.






Dec 29, 2003 09:00 PM

Siem Reap - Taking a break before Ton Le Sap Lake Tour

We arrived in Siem Reap and finally checked into our hotel. The Journey from the airport to the town and then to the hotel was interesting. Clear contracts between porch restaurants and hotels and old dilapitated houses on dusty roads. We had lunch at this restaurant before our tour to the largest lake in South East Asia - The Tonle Sap Lake


Jul 06, 2003 06:00 PM
Elbe River in Summer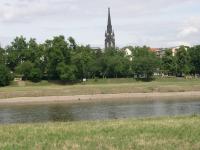 Its a lazy saturday morning and I decided to take a short walk into Dresden and do my normal thing, a visit to the Dresden Flohmarkt (Fleamarket). This is a shot of the Elbe river, calm and pleasant. Just about 100 metres away from the fleamarket grounds.


Jul 06, 2003 06:00 PM
Dresden Flohmarkt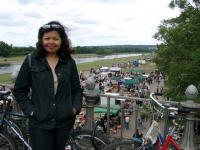 My routine every Saturday Morning at 9.am is to visit the Fleamarket. There are all kinds of bargains and interesting items sold. I bought quite a number of beautiful porcelain cups some from Bavaria and Hamelin, even Meissen. There are also many silver made items, like spoons and other table ware. Interesting also are old postcards and records that are being sold for a low price. Its always easy to bargain, in fact the extent of my vocabulary is only useful for bargaining at these markets.


Jun 27, 2003 06:00 PM
Visit to the Volkswagen Manufaktur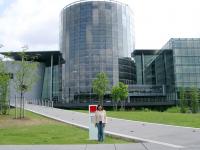 This is a very interesting excursion that was planned by the group. After passing the VW building everyday to Dürer Strasse we wondered what lies within this glass ensemble. How could a car assembling plant look so clean and high tech. I was very impressed at the technology used here. The guide explained many things to us about VW and its mission. They are throughly environmentally friendly.


Jun 21, 2003 06:00 PM
Altstadt Walkaround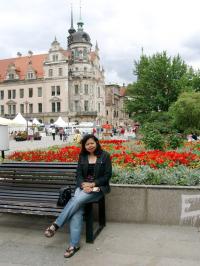 It's mid summer and Dresden exudes with beauty of colorful gardens and blooms. The city is full activity with cafes emerging alongside the sidewalks of Altstadt and the Zwinger.


Jun 21, 2003 06:00 PM
Street Musicians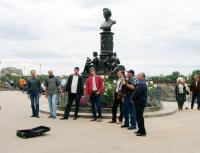 One of the interesting things in Dresden its its reputation as a city of arts and culture, very similar to Liepzig. This tradition continues with several orchestras and performances that are conducted at the Semperoper and in the museums. Here just outside of the Albertinum I found this group of gentlemen making great music with just vocals.


Jun 15, 2003 06:00 PM
Sightseeing in Dresden in Summer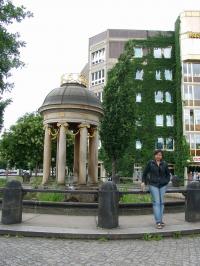 Final Paper Presentations are over and we are just laying back before the last days of June and enjoying the beautiful Summer. This picture is taken aken in Altstadt, just a few minutes from the Zwinger.