Hi there! Welcome to my travel log. Usually, I don't take notes or keep a journal on my trips and travels. I rely completely on photos as they are self explanatory and are the best memory log. I hope you will enjoy them.
May 25, 2003 10:00 PM
No! We are not Miners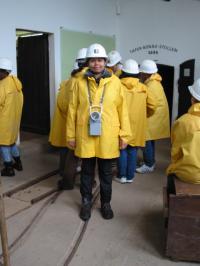 Ever wanted to wear miners gear and enter long tunnels into the depths of the earth ? Well, I must admit that it isn't one of the top activities that I had in mind when travelling in the Ergebirge Mountain Range but there was an opportunity to experience what miners go through every day for years and years even till today. This picture shows the visitors getting ready before going into the tunnels.


May 25, 2003 10:00 PM
Light at the end of the Tunnel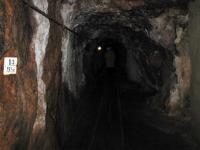 Surrounded by Darkness and guided only by our senses of touch and limited vision with the help of the torchlight on the hard hat, you will wonder down this 2 1/2 mile deep mine. In this photo, Everything is pitch black except the little light at the end of the tunnel.


May 25, 2003 10:00 PM
Checkpoint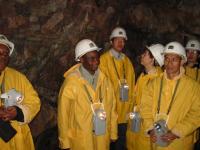 We stopped at a checkpoint after walking about 10 minutes into the tunnel. This is to rule out anyone with claustrophobia as it will be the last point where the tunnel is big enough for the visitor to turn back. From this point forward the tunnels get narrower and darker and has only enough room for one person to go through in only one direction.


May 25, 2003 10:00 PM
Briefing Session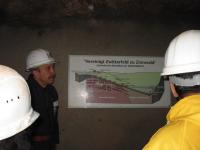 Along the tunnels we made many stops to get information about the tools and areas where tin is mined. In this photo, the guide (and he is a real miner!) showed us the map into the mine and explained to us a bit about the history of mining there.


May 25, 2003 10:00 PM
Treasure Chest or Not ?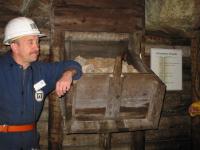 At this point, we stopped to look at the collection centre where the tin is stored before it is being sent to the surface. They are kept in tresure chest like boxes and are covered when sent out.


May 25, 2003 10:00 PM
National Borders of Germany and Czech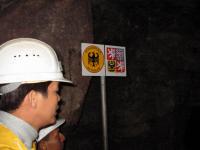 I would not have guessed it but it all seems quite plausible that the miners have mined in areas that has gone passed the border of the Czech Republic. It is funny to see this sign at the depth of 2.5 miles below the surface as you would never know what is going on unless you checked the compass and I think compasses don't work when surrounded by minerals such as tin and iron. They must have just measured the distance and estimated that on the surface the tunnel has crossed the national borders.


May 25, 2003 10:00 PM
Rotherbach and Mines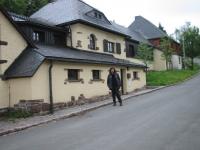 It is very interesting to observe the surroundings of this mine. Located in the middle of the forest with very old trees and a brook thats just a few footsteps away. One look at this building you could easily mistaken it as a villa or a restaurant. In fact the upper level is a restaurant for visitors. The lower level is the entrance to the Mine. This photo is taken just outside the Mine Entrance.


May 15, 2003 10:00 PM
Prague - President's Residence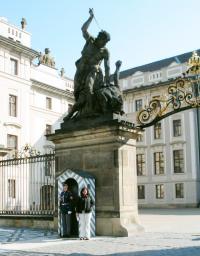 This is one of the most popular spot for tourists. This photo was taken at 9 am where most tourists are still having their breakfast. At 12 noon, a huge crowd, comprising of hundreds, gather at these gates to watch the guards march into a formation and do a switch at the gates. The march display is for about 10 minutes and very interesting to watch.


May 15, 2003 10:00 PM
Picture of the adjoining complex to the Castle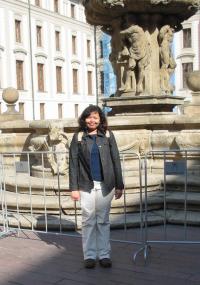 Visitors are allowed into the castle for free, there are several courtyards in this preserved castle with fountains. Behind me is a statue with a covered well. I could not see the water but I could see a handful of coins on the cover, indicating that some people have made their wishes here.


May 15, 2003 10:00 PM
City Square a few minutes from Charles Bridge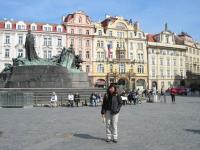 This square was our meeting point at the end of the day. After roaming around the high and narrow streets of Prague, we met here at 4.00 pm thoroughly exhausted but extremely happy. More shopping was possible but things had the touristy price tag, if you know what i mean. I somehow found that things were cheaper in South Bohemia, even in Cesky Krumlov. I dropped by a shop owned by a Bulgarian and bought a bunch of souvenirs. It was just so exciting.