Hi, it's all about the adventure... ((*_*))
Mar 26, 2016 11:00 PM
Belize - I'm finally able to understand people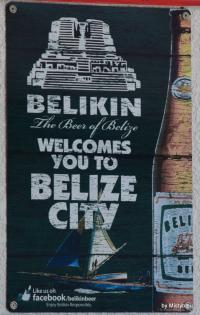 Just cross the border and a stones throw from Guatemala is the site of Xunantunich one of the most well known Mayan site in Belize. To visit the site you will need to cross the Mopan River, by a little ferry which you pull to get across. You can also go tubing here. Life is at such a slower pace it is really wonderful.


Mar 25, 2016 11:00 PM
Tikal - Didn't know it was so far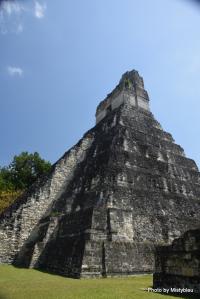 This is an amazing complex. Temple iv really can't be missed but the other are also interesting too. I claimed everything I was allowed to. The locals really like this area, the pack a cooler and food and head in to the jungle for a picnic. The day was incredible hot and even carrying a bag was difficult. As a lady I was glowing, but as a woman I was sweating with all the heat and climb these tall pyramids didn't make it any better. I did climb one and was told that it was a scene from Star Wars, but I'm not film buff.


Mar 24, 2016 11:00 PM
Copan - my run for the border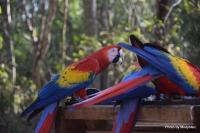 I got caught in a bush fire today. It was scary and exhilarating at the same time. Visiting the ruins I could have the flames eating through the dry vegetation and then the fire truck whizzing its way through the bush. Men yelling and being ordered to pull back it was really dramatic, well as much as it could be while keeping me safe. The locals suggested it was arson and that the person it did this was a criminal. I do hate when people are careless and this happens and even worst if it was deliberately done. It was so nice to hear the shouts of joy when they seems to have controlled the flames and everyone retreated.


Mar 23, 2016 11:00 PM
Antigua - Volcan Pacaya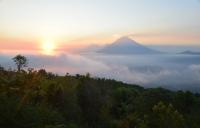 Turns out this was the worst and best day. Climbing with horses is not great when you are allergic to them, There was now way I could breathe and climb at the same time. So half way up i decided not to go any further and from there I have some great sunset shots of the three volcanoes opposite - Volcan de Feugo, Volcan de Agua and I forget the third. I think I could have made it if I was allow to go at my own speed but they kept on saying it wasn't safe and people get mugged so I needed to stay with the group and not do it alone. :(


Mar 22, 2016 11:00 PM
Antigua, Guatemala - Semana Santa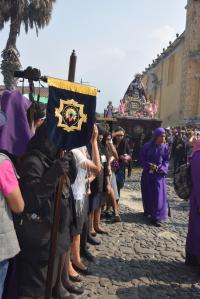 Holy week or Semana Santa is best seen in Antigua as they take their celebration really seriously. Each church in the city will parade the streets with floats of Christ and the virgin Mary. They create sawdust carpets where you see foreigners and locals working together to create these wonderful carpets that just gets trampled on and is cleared up as soon as the floats passes.


Mar 21, 2016 11:00 PM
San Cristobal de Las Casas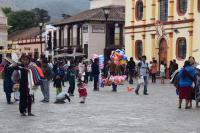 I love some of the little Mexican villages the you come across when travelling around. Its always amazing seeing the locals and indigenous people getting on with every day life, Yet a again they provided plenty things to buy, hand crafted or woven so really unique gives.
I had one of my best Mexican meals here and was just simple nachos, beans, and cheese. Somehow being in a country just makes it tastes better. I never considered myself a lover of Mexican food, but I seem to really be enjoying here.


Mar 20, 2016 11:00 PM
Teotihuacan - Forecast overcast with a high of 29 degrees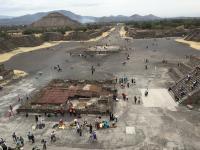 I was so happy for the cloud cover when exploring the pyramids of Teotihuacan as the kept the day bearable without the prospect of heat stroke. There was so much tourist around huge queues on the sun temple but yet an enjoyable day. The only negative was the amount of people selling stuff - they lined the routes and it was impossible to walk pass with out buying something as they were "almost free',


Mar 18, 2016 11:00 PM
Mexico City - boy its cold!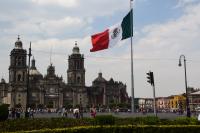 I was surprised how cold it was in Mexico City, I suppose it because it high. It had similar temperatures to London, so I shouldn't have complained but yet I did. I had signed up for warm Caribbean weather and the low temperatures I'd expected would be on the buses traveling around the country. The old city is awesome - I partiucaly enjoyed hanging out in the Centro Historic and being around the Zocala - the main square.

I stumbled across the Gran Hotel Ciudad de México which features in the opening scene of Spectra - James Bond and it was as grand as it looks.


Mar 17, 2016 11:00 PM
USA - Aerial shots of Lake Michigan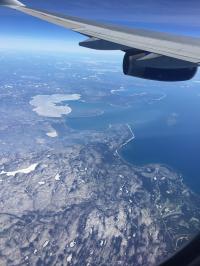 Heading to the Caribbean I always head over the Atlantic and down. Basically sea all the way. You can imagine my surprise when I ended up over Canada and down over the states to Mexico. I saw such great views of the ice roads which I had only ever seen on TV. I just love travelling its amazing what things surprise you.


Mar 16, 2016 11:00 PM
Changing plans now for Central America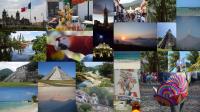 I had my heart set on going to Easter Island and the Galapagos Islands this year, but things have a way of changing; unfortunately I couldn't get the time required off work. So instead I'm heading to Central American. I really want to back to the Americans as it had been over 12 years since I holidayed in this region. So instead of Chile, Ecuador and Argentina. It turned into Belize, Guatemala, Honduras and Mexico.