Hi, it's all about the adventure... ((*_*))
May 30, 2016 10:00 PM
Bram Stoker's Count Dracula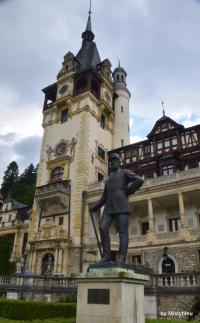 My last day and I can't wait to get home. When bad things happen it is sometimes so hard to shake off.
But for my last day, I must enjoy myself as I will never, ever, ever, ever go back to Romania and I would go as far as saying to my friend never to do the same. It's not worth t. There are far nicer places to visit without someone trying to cheat you.
I booked a tour and headed for Peles Castle. And the castle was well worth the visit. The carved wooden pieces into were really nice.
After that I went to Bram's castle and it was fun uncovering the story of count Dracula and the reference to Vlad the Impaler. Really from my understanding is that the two are very different and Bram didn't even visit Romania before writing the book. And Vlad didn't even stay in the castle so it was all lies. But a great story.


May 29, 2016 10:00 PM
A bad feeling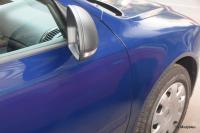 The antics of yesterday just left me feeling down. I can completely understanding paying more is I had caused a problem while driving but to be scammed is just not one. The car was hit on both sides and that just seems more than coincidental.
Any way I put it out of my mind and headed to the old town to take in some of the major sites. I saw so churches but all of them were being renovated so they were boarded up.
Still not happy with that silly car rental firm.


May 28, 2016 10:00 PM
Bulgaria on a budget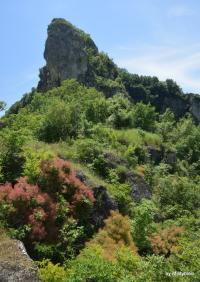 Well I wanted to spend the day doing a Bulgarian tour which was said to cost 99 pound but as I was traveling alone they were going to charge 160. I thought that was far too much so I came up with the idea of renting a car as it would only cost 25. For some reason I thought I would get it cheaper inside the country so I didn't book anything.
I got my hotel to book the car and had a really nice day with no incidents.
However when I got back to Bucharest I noticed the car had been keyed and I believe it was scam a way of exhorting money. I would say BEWARE OF RENTING A CAR FROM AMS (Automotive Mobility Solutions) as I don't think they are honest. My day turned out more expensive then it should have been.


May 27, 2016 10:00 PM
OMG its early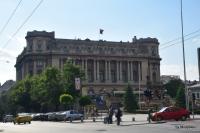 I decided to have a cheap getaway so thought I would head to Bucharest Romania. I booked a flight with Ryanair which was fairly cheap but the only thing was that the flight was 6.30 in the morning. Instead of booking a taxi as I was on a budget I decided to get the bus to Liverpool street and then get the Stansted express to Stansted airport. I left my house at 2.45am and then got the 3.40 train to the airport, This a new service they now offer as they recognize it had for people to get to the airport for these early flights and the train was full.
I think I slept all the way but arrived early just before 12pm. I had already research that the 783 bus would talk me into the city and if I got off at bus stop 9 my hotel would be just across the road.
I made a mistake and missed my stop and ended up by the old town. So instead of heading back to the hotel I walked around and had lunch in Hanui cu tei and then took the slow walk back to my hotel.
The day was so hot, it caught me by surprise as the weather forecast for the weekend was 20 degrees but it felt really amazing to have the sun on my face.


May 01, 2016 10:00 PM
Geneve - Jet d'Eau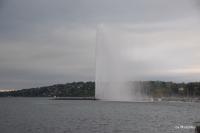 The city was cold as the day was very rainy. The stray from the Jet wasn't welcomed but it really did make it look prettier.


Apr 30, 2016 10:00 PM
Zurich - Rhine Falls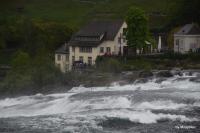 Just outside of Zurich the Rhine flows towards Germany and where it meets just outside Schaffhausen it forms Europe's largest plan waterfall. After a rain shower the falls were amazing to see that amount of water gush down the falls - it really was worth a visit.


Apr 29, 2016 10:00 PM
Leichtenstein - something to do
After not having any firm plans decided to head for Liechtenstein - the smallest country in Europe. It is so easy to get there, more or less one straight drive. Once again the scenery was great. Everything in order very clean. Vaduz was buzzing with the run so I'm sure for a Saturday afternoon they hadn't seen so much people there all at once for a long time.


Apr 28, 2016 10:00 PM
Geneva - heading for Heidi country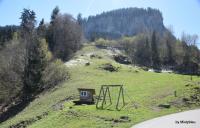 Flew into Geneve and headed for Lucerne, omg the drive was so beautiful. I couldn't imaging the Switzerland could be so beautiful. The mountain tops were snowcapped and the lake still creating perfect mirrors the grass the greenest I'd ever seen.


Apr 25, 2016 10:00 PM
New 7 Wonders of the world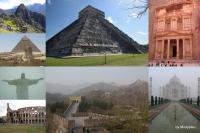 I have finally completed my list and visited all new 7 wonders of the world and off course the Egyptian Pyramids.

Pyramids - Egypt
Great Wall of China - China
Macchu Picchu - Peru
Christ the Redeemer - Brazil
Taj Mahal - India
Petra - Jordan
Coloseum - Italy
Chichen Itza - Mexico

Now I seem to want to create my list of the 7 wonders; to include the likes of :

Angkor Wat - Cambodia
Sigiriya - Sri Lanka
Galapagos Islands - Equador
Rapa Nui - Chile
Tikal - Guatemala
St Peters Basilica - Italy
Stonehenge - United Kingdom
Parthenon - Greece

But to be fair that are so many places I could actually include on my list and I still have two to go.


Apr 03, 2016 10:00 PM
Mexico city - the world wind that was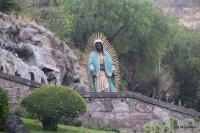 So many experiences so many people and places this has been incredible and so worth the visit. I still wish I'd went to Chile but maybe next year. A long flight home is scheduled and the airport is so close to the centre of Mexico City and transportation is so cheap. I took the metro to the airport for only 5 pesco.