Hi, it's all about the adventure... ((*_*))
May 23, 2018 12:00 AM
Morning has broken - Bagan (Myanmar)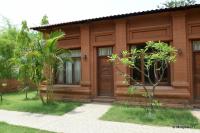 Being lazy, I chose to watch the sunrise on my rooftop but it wasn't mesmerising but having breakfast up there was great. We were the only guests in the hotel so they gave us a feast for breakfast. I asked them for some mango and it felt like they just went in the back-garden and picked it from the tree, it was just perfect.

Now I had a chance to explore the old town on foot. I hired a taxi for a couple of hours and went around to see the main sights. It was so intersting to be there, but it was very dusty.

After a while I found a hotel located on the Irrawaddy River and stopped for a drink. It was a lovely 5* hotel with two stupas/temples on their grounds, we stayed there until it was time to head onto the airport. It was a really nice day.

The airport was tiny, had to sit in front of the air-condition unit to keep cool until my flight was called. When we entered the airport yesterday we were forced to buy a entry ticket to the area and it appeared that this was something new which was introduced.


May 22, 2018 12:00 AM
The ancient capital of Bagan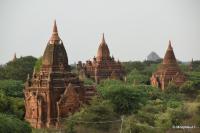 My hotel put on a lovely spread for breakfast. It had more of the Asian feel but they cooked me an incredible omelette with a bowl of noodle soup was good. The restaurant was on the 7th floor so I had some nice views of Mandalay. The room I had was a duplex and it was very modern. The funny thing was it had the largest window I'd seen in a hotel it was literally floor to ceiling over two floors. Really amazing.

After breakfast I headed back to the airport. Initially I wanted to take a boat down the river but owing to the time of the year, there service had stopped for the monsoons so instead I flew into Bagan. Yet again, I couldn't have done my hot air balloon ride for the very reason. But I was still excited to be here.

The little hotel I stayed in was on the bounds of the old town, so had a great view of the stupas and pagodas and coupled with their flat roof it seems like a nice place to watch the sunset.

Another incredibly hot day. I stayed inside for most of the day, and then took some pictures from the roof before walking to a few stupas that were local. I meet a lovely guy who opened one up so we could see the Buddha in side. It was so very insightful. Then just before dark I went for a walk to do some shopping.


May 21, 2018 12:00 AM
Let the games begin...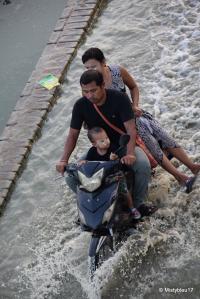 I had a full day of sightseeing planned but what I didn't anticipate was how we were going to deal with the heat. I lathered on the sunscreen and armed with my fan, and umbrella I headed into the centre of town to see the palace. I took one of the local buses and ended up travelling in the back of a pick up truck sat on a piece of carpet. I wondered whether my insurance was still valid with this mode of transport.

After running from the sun in the palace and falling asleep on the step I let the heat of the day pass and then headed to Mandalay hill. I wanted to walk to the top and the amount of taxis which tried to get me to take them was unreal. Somehow they knew more than me as all the tourist arrived by taxi and only a few locals walked up with me. But I felt like I earned it. The views were great and definitely worth the walk.

I took a taxi back to the hotel to get some dinner. But the hotel restaurant was empty so opted to go to a convenience store and get a cup of noodles. To be fair all I wanted to do was drink and replace the liquid I'd lost during the day.


May 20, 2018 12:00 AM
Another day another plane - Destination Mandalay (Myanmar)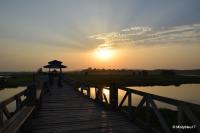 Last night seemed a blur. As all I had time for was a little bit of Thai street food and wifi access so that I could check in with friends.

I booked a flight with Air Asia which initially seemed like a good deal, but actually turned out quite expensive as I have to pay for luggage and meals. Not sure if you paid me that I would travel with them again. I do love their logo and marketing, but its just not worth it.

My flight was around 11am and to be fair my body couldn't reconcile the time change so felt a little tired. I got chatting to a few people in the queue to hear about their adventures so it made the time pass quickly before I was due to depart.

The flight was short into Mandalay and luckily I have already got my visa in London before I left so going through immigration wasn't difficult. I ended up taking a taxi from the airport after I had purchased to local currency. There was an airport shuttle bus available but sharing a taxi worked out only a little more expensive and was a small price to pay for the convenience.

I didn't do much until late afternoon when I took a taxi to the U Bein Bridge which was only 6 km away and watched the sun go down. It was really beautiful. But oh my was it hot. The temperature during the day was 39 degrees and the night time temperature only went down to 30.

The people of Mandalay were so very friendly and had a chat with a very charming monks as we sat on the bridge.


May 19, 2018 12:00 AM
Mumbai Layover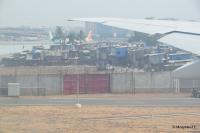 It was a long flight into Mumbai; the food was very nice and I was happy to be touching down and was able to walk around for a couple of hours. I have always wanted to travel here, but will have to return to get a better opinion of India's richest city and 12th richest city in the world. It was so large, and you could see the sky-scrappers mixed in with the shanty towns. Its very unusual but I suppose this is what makes in Incredible India.

Also soon I was back on the plane to do the next leg of my journey and a 4 hour flight to Bangkok. The food onboard Jet wasn't as good on this leg and I got a little sick eating the chapati, but thankfully the time didn't drag. They didn't have any screens at the back of seats and relied on you downloading the app before departure so that I had in flight entertainment. As I hadn't realised I only had my Ipad to keep me company, so all wasn't lost.

Once I arrived into Bangkok I took the free shuttle bus from Suvarnabhumi (BKK) to Don Mueang (DMK) as my fight was early the following morning. It's like 32+ km between each airports so definitely saved money by not taking a taxi all the way to the airport. I chose an airport hotel so that I could have a late morning. The only thing was that breakfast wasn't included. Well you can't have everything.


May 18, 2018 12:00 AM
Late departure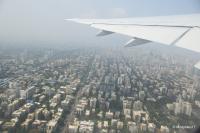 I always find heading east can be a little daunting, as I'm not really accustomed to plus hours to started my holiday. My body clock gets really messed up. But that is a small price to pay to have an incredible journey. This time I'm heading to Myanmar, Laos and Thailand. I was initially hoping to do the golden triangle, but after my initial research it was described as the opium route and that sounded a little less interesting as well as I wasn't sure about the visa situation. So my aim was to head to Mandalay, Bagan and Yangon. I thought I'd miss out the new Capital and maybe see it on another journey. Then head on to Laos and visit Vientiane, Vang Vieng and Luang Prabang followed by Chiang Mai.

So after a mix up in schedule I ended up flying with Jet airway and it was a late departure from Heathrow Terminal 4.


Apr 26, 2018 12:00 AM
Excited dreams...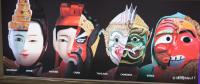 I'm about to embark on my first journey for 2018. I'm so excited as had nothing planned until the beginning of April. So I'm heading back to Thailand and looking to explore the hill side community of Chiang Mai. I know its going to be incredible hot and rainy, but it will be great to get out of London.

I have mapped out my route and arranged internal transportation now just need to get my jabs sorted out. Off to the doctors. Just hope I don't need to take Malaria tablets.

But I suspect I will have to as well as a course of JE. Good job I should be up to date with everything else, fingers crossed.


Jan 14, 2018 12:00 AM
Way too quickly its over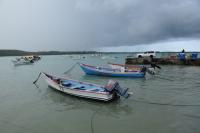 I had an amazing holiday in the Caribbean. It seems like for the last two years all I've been is going to the Caribbean, but its such a nice place and all the islands are so different.

My last visit to the beach, I headed down to Buccoo Bay and explored the new facilities they had there. Another rainy morning but a nice place to hang out.


Jan 06, 2018 12:00 AM
Such a perfect day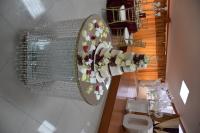 The day started early as I headed to the hairdressers. Just a quick do for me today to look good at the wedding. Had I known I would have brought some formal clothes and shoes so that I had the appropriate attire along with me so I could feel good but as it happened I wear a hand me down dress with flip flops.

But the day was amazing. Although we have too much rain this holiday so it rained and rained and rained.

It was such a good day


Jan 05, 2018 12:00 AM
Dance Recital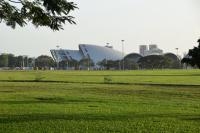 I had a wonderful time on the island, doing so different things. I went to a dance recital and it was so lovely to see everyone enjoy themselves and to appreciate so of the local dance routines.

Before the performance started I went to watch the cruise ship which was in town depart. It was great watching to world go by and imagining that I was departing on that very cruise ship. WHen I got home I had to check where it was going. Maybe next year i will go on a cruise and enjoy some of the thrills also.