Hi, it's all about the adventure... ((*_*))
May 30, 2018 12:00 AM
Another aeroplane ride - Chiang Mai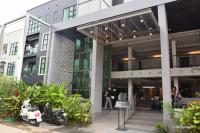 I had the most amazing breakfast. Well I had banana pancakes and honey. It wasn't really amazing but I enjoyed it so much.

I then took a tuk-tuk to the airport. As I traveled, a motorcyclist was riding behind me. As we boarded the aeroplane, it was the same man directing the captains. Sometimes the world can be small.

I chose a new funky hotel (opened only 3 months ago) which was a little techy. I know it isn't a big thing but the rooms had door bell and at a touch of a button allows your room to be cleaned. They provided a nice breakfast and anything left over they would leave in the fridge so that guests could help themselves to. They also provided bottled water all day which was unusual but everything was well considered. I loved staying then.


May 29, 2018 12:00 AM
Templed out... Luang Prabang, Laos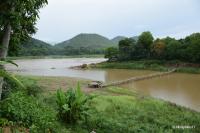 Today I was a bit tired so after breakfast I just retired to my veranda to watch the world go by. I was feeling a little templed out, after visiting so many Stupas, pagodas and temples over the last couple of weeks.

After the heavy rain yesterday and last night a sink hole has emerged across the road from my guesthouse and you could see ministers come and go to see the damage.

The Mekong River seem a lot higher and I noticed that it was pushing water upstream on the Nam Kham. Little boats trying to get across the Mekong was pushed way downstream before they managed to cross the river.

There are two popular waterfalls to visit here: Kaung Si and Tad Sae, and there are a lot of people around town who'll encourage you to visit one of these. Plus there was Pak Ou caves.

Later on, I went to the night market; where they closed off the road to ensure everyone was able to display they wares. I headed off for dinner and that was the end of an incredibly enjoyable day.


May 28, 2018 12:00 AM
Short sharp shot - Vang Vieng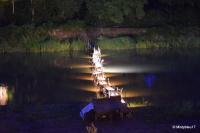 It was only a short time in this wonderful little town and I will really need to return and spend a little more time on my next visit.

The rains finally came, over night and this morning, but the place never looked so beautiful. The morning was bright and I managed to see men fishing on the river. I didn't see the catch but it was so interesting to see them.

The rain followed us all the way up the mountains on our journey to Luang Prabang. We stopped at this wonderful stop high on the mountains and it would have been brilliant as they have a lookout, but all I could see was the low cloud cover. I was very disappointed as it was so cold as well.

As we came down into Luang Prabang the weather improved and it became sunnier and warmer. We arrived just after lunch as the driver done a pit stop just outside town for lunch. It was very cheap on 20kip per plate.

After a short tuk-tuk ride from the bus station we ended up at our river view guesthouse for couple of nights. The town is situation at the intersection of the Khan River and the Mekong. I believe its a world heritage town for cultural importance.

After a bit of shopping, the sunset on Mount Phousi, the best view in Luang Prabang I'm told.


May 27, 2018 12:00 AM
Road trip - Vang Vieng, Laos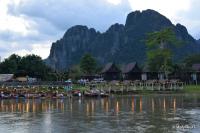 After breakfast decided to get a bus to Vang Vieng, but this was coming up to 6 or 7 hours, so decided to take a van which as only 3 hours. It's a little more expensive but well worth it and the brilliant thing is that they picked me up from my hotel.

I arrive into the town and headed for the tourist information centre, but it turns out that its closed today. The funny thing is when you're travelling its hard to remember what day of the week it is.

I think my hotel was only 1 km from the centre as was going to get a tuk-tuk. He decided to charge me 10kip per person, which isn't a lot but it seems a lot for being in the centre of town. So decided to walk around before heading to the hotel and we just happened on the river and saw some bungalows. It turned out that was right where we needed to be

So on the cards for the rest of the day is tubing down to river and a hot air balloon.

Gosh I love this place already. My bungalow was right on the river bank and to the back lovely mountains. It was so idyllic.


May 26, 2018 12:00 AM
Lazy day in the capital - Vientiane, Laos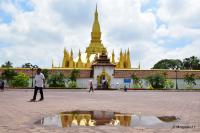 Mad dogs and Englishman are out at the heat of the day. I headed for the market to get some local produce. I ended up trying mangosteen which doesn't look anything like a mango but it was really love. I know I'd heard of this before but I don't ever remember trying it. Once you've peeled away the outer shell the actual fruit is so small and eating one seems a waste of time, you need at least three to get the taste.

On the list for the day was visiting Pha That Luang - the gold buddhist stupa; That Dam - bell-shaped stupa; Talat Sao - the morning market; Patuxai - the war memorial built 1968, and really just enjoy the day.


May 25, 2018 12:00 AM
The tiny capital of Vientiane - Laos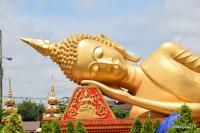 Had an early flight to Laos and my hotel was nice enough to pack up our breakfast so that we could have it at the airport.

We flew with Air Asia again, and have the flight went via Bangkok so didn't arrive until early afternoon into Vientiane.

We went to the night market along the Mekong and there was such a hive of activity.

I loved seeing the different groups exercising as the sun went down.


May 24, 2018 12:00 AM
Final stop in Myanmar - Yangon/Rangoon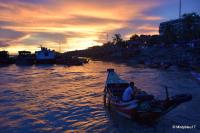 We got in late last night and took a taxi from the airport. This was the longest journey from the airport and you can tell that Yangon is a large city. We drove to china town to get to our hotel but on the way we passed the Shwedagon Pagoda. It looked so beautiful against the dark sky and really couldn't wait to explore.

The room I booked was on the 7th floor and I was so annoyed that they didn't have a lift. I can't imagine that are not forced to disclose this on Booking.com. All the receptionist could say was sorree! I complained but they only had one floor down available so that's where I ended up on the 6th floor having to walk up all those flights of stairs.

We were close to the night market so went for a walk, its amazing to see the sights and sounds of south east Asia.

Today I headed to the Shwedagon Pagoda and decided to take a walk there as it seemed close to where we were staying. There are four entrances North, South, East and West and I chose to go in that entrance. It is an amazing complex with so many other things to see. I was people watching, bell watching stupa watching just very interesting. I had to take my shoes off and walk around bare feet and with the sun on the marble it was incredibly hot. I was sort of tiptoeing shade to shade.

We then had to pay to enter the people's park which I hadn't realised was a amusement park and it felt like I was trapped in there. Finally found the exit and walked back to the hotel.

I headed back down to the night market but instead crossed through and went onto the river to take some pictures. It ended up being the best sunset ever. Initially the sun just went down with no fanfare and was about to head to dinner, when the light began to change and all the motorised boats came to shore to take the workers home. It was so loud as the motors sounded like lawnmowers and as one boat came in filled up and left.

It was a perfect ending to the day.


May 23, 2018 12:00 AM
Morning has broken - Bagan (Myanmar)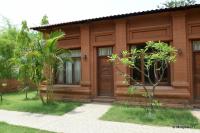 Being lazy, I chose to watch the sunrise on my rooftop but it wasn't mesmerising but having breakfast up there was great. We were the only guests in the hotel so they gave us a feast for breakfast. I asked them for some mango and it felt like they just went in the back-garden and picked it from the tree, it was just perfect.

Now I had a chance to explore the old town on foot. I hired a taxi for a couple of hours and went around to see the main sights. It was so intersting to be there, but it was very dusty.

After a while I found a hotel located on the Irrawaddy River and stopped for a drink. It was a lovely 5* hotel with two stupas/temples on their grounds, we stayed there until it was time to head onto the airport. It was a really nice day.

The airport was tiny, had to sit in front of the air-condition unit to keep cool until my flight was called. When we entered the airport yesterday we were forced to buy a entry ticket to the area and it appeared that this was something new which was introduced.


May 22, 2018 12:00 AM
The ancient capital of Bagan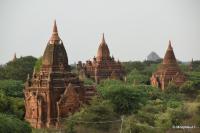 My hotel put on a lovely spread for breakfast. It had more of the Asian feel but they cooked me an incredible omelette with a bowl of noodle soup was good. The restaurant was on the 7th floor so I had some nice views of Mandalay. The room I had was a duplex and it was very modern. The funny thing was it had the largest window I'd seen in a hotel it was literally floor to ceiling over two floors. Really amazing.

After breakfast I headed back to the airport. Initially I wanted to take a boat down the river but owing to the time of the year, there service had stopped for the monsoons so instead I flew into Bagan. Yet again, I couldn't have done my hot air balloon ride for the very reason. But I was still excited to be here.

The little hotel I stayed in was on the bounds of the old town, so had a great view of the stupas and pagodas and coupled with their flat roof it seems like a nice place to watch the sunset.

Another incredibly hot day. I stayed inside for most of the day, and then took some pictures from the roof before walking to a few stupas that were local. I meet a lovely guy who opened one up so we could see the Buddha in side. It was so very insightful. Then just before dark I went for a walk to do some shopping.


May 21, 2018 12:00 AM
Let the games begin...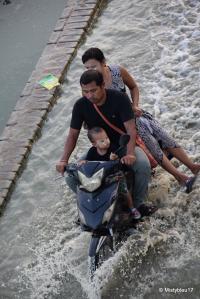 I had a full day of sightseeing planned but what I didn't anticipate was how we were going to deal with the heat. I lathered on the sunscreen and armed with my fan, and umbrella I headed into the centre of town to see the palace. I took one of the local buses and ended up travelling in the back of a pick up truck sat on a piece of carpet. I wondered whether my insurance was still valid with this mode of transport.

After running from the sun in the palace and falling asleep on the step I let the heat of the day pass and then headed to Mandalay hill. I wanted to walk to the top and the amount of taxis which tried to get me to take them was unreal. Somehow they knew more than me as all the tourist arrived by taxi and only a few locals walked up with me. But I felt like I earned it. The views were great and definitely worth the walk.

I took a taxi back to the hotel to get some dinner. But the hotel restaurant was empty so opted to go to a convenience store and get a cup of noodles. To be fair all I wanted to do was drink and replace the liquid I'd lost during the day.