You can lose everything, but nobody will take away what you saw and what you experienced...
............
Sep 10, 2020 12:00 AM
Bye, bye Baltic States!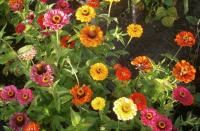 For the fall I was planning two voyages: to the Baltic States and to Lipari Islands. But the Baltic States due to COVID-19 do not accept now the tourists from my country (and most of other countries of EU). So I was forced to modify the plan. I will stay longer in Italy adding Mezzogiorno to Lipari Islands. All together it will be more than a month...
Beautiful flowers are still in blossom in my Wojtkówka, where I still work. New plan is ready!


Jul 25, 2020 12:00 AM
The birthday cake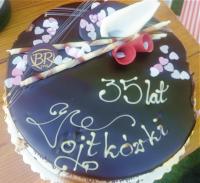 The birthday cace prepared for the 35th anniversary of my Wojtkowka was quite big - see photo - so it was only today when I ate the last piece! :)


Jul 22, 2020 12:00 AM
35th Anniversary of Wojtkowka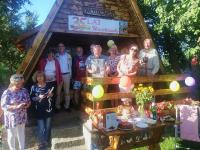 Those, who know my cottage built on the outskirts of Gdansk sometimes call it "The traveller's nest". Not only because I host here every summer travellers from all over the world, but also because staying and working in Wojtkówka every summer I invented here and outlined many plans of my voyages.
Wojtkowka was opened for guests in 1985. On July 22nd we celebrated the anniversary. There were champagne, birthday cake, open-air cinema and enen little dancing floor.
The evening was warm and we had a good time!


Jul 17, 2020 12:00 AM
Travellers in Wojtkowka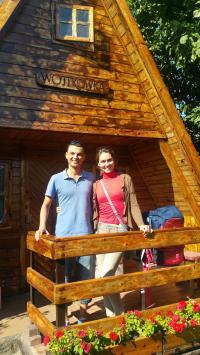 Staying during the summer in my cottage I am hosting again travellers from Poland and from abroad. Recently I had a pleasure to invite an interesting French-Russian couple. They are travelling already 7 years stopping for work different places on the globe. We had a chance to exchange the impressions and the ideas. They especially liked my video recordings from Antarctic on the big screen of the open-air cinema :)


Jun 27, 2020 12:00 AM
Pandemic time, but strawberry time...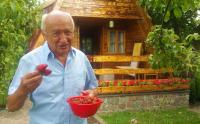 It is strawberry time in my Wojtkówka, where I am perfectly isolated. I spend the long days there working in the garden, picking and eating fresh vegetables and... dreaming about new travels.
How can I live without travelling?
So first emergency plans are ready: in mid-September I would like to drive by small car around Latvija and Estonia. I need a nice pilot to share the work and the cost. Are you ready?
Then I think about Italian Lipari Islands aat the beginning of October, if the low-cost carriers will fly to Sicily... Then... Let's be optimistic!


Jun 21, 2020 12:00 AM
Peony' time...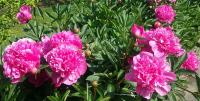 Days are long now, so working whole day in the garden in the evening I am quite tired. But everything around grows very fast (weeds too :) At the moment my peonies are in full blossom - see the picture - what a smell!
I eat a lot of chive and fresh, green salad, fighting with the plague of snails.
Not enough time to write, but it will change...
From time to time I have visitors - mostly from Poland. It seems that international visitors coming usually via Couchsurfing and Servas are afraid of coronavirus.
Do not be afraid, Wojtek awaits you in Wojtkówka! Wojtkówka is perfectly isolated :)


May 11, 2020 12:00 AM
Apple trees in blossom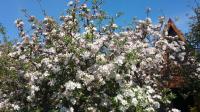 Apple trees are in blossom in my Wojtkówka. On the sunny day it is the great pleasure to be there and to enjoy the view and the smell. As you can see on the picture my cottage is hardly visible through the cloud of the flowes. I have a lot of work, returning in the evening to my flat very tired. But I like it! Let's hope that there will be no more frost in the night!


May 04, 2020 12:00 AM
Constitution Day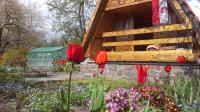 Yesterday we celebrated in Poland Consitution Day. I spent the day in my "Wojtkówka" - can you see the national flag on my cottage? There is more and more fresh spring green in my garden and plum and cherry trees are already in blossom.
It is the nice time. But I am still waiting for the message about opening of the borders...


Apr 25, 2020 12:00 AM
Spring works in my dacha
Spring arrived to Gdansk! So as soon as I finished my forced two-week quarantine, I happily started working in my Wojtówka. And as you probably guessed, there is a lot to do there - especially for only one pair of hands :)
After several days of solid work beds in Wojtkówka are ready. I've also planted all the vegetables that are sown in early spring. Now it is time to wait for the warming usually coming after St. Sofia day to plant tomatoes, cauliflowers and flowers into the ground. Unfortunately, drought has been going on in Gda?sk for over a month and I often have to water my vegetable garden. This clear blue sky is very pleasing, but rain is also needed... Let's hope!


Apr 23, 2020 12:00 AM
My name day in Wojtkowka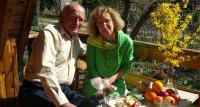 On April 23, I celebrated my name day and it was a sunny, beautiful day this year, so I could invite my closest friends to Wojtkówka (one by one, because the restrictions related to the prevailing epidemic exclude collective celebrations). I haven't seen many of them from the beginning of the year, which is why they were extremely nice meetings. In the photo I am with my dear friend Ela, who is so nice and looks into Wojtkówka during my long journeys.