You can lose everything, but nobody will take away what you saw and what you experienced...
............
Apr 20, 2017 12:00 AM
Mautitius to China voyage is completed!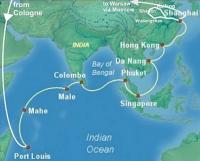 It was unusual route... Great escape from the cold in Europe. Chance to see again few Asian places from the different perspective given by ship. Finally, I was able to see numerous new places in China...
I met on the trail a lot of interesting people...
Now it is atime for big laundry, and for the preparation to the next voyage :)


Apr 19, 2017 12:00 AM
Delayed depature from China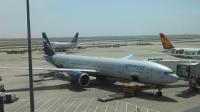 I was on time in the PVG airport. During the boarding of Aeroflot flight they did not check the size and weight of my carry-on pack. They even do not have special rack to do that.
We already fasten beltl when the captain announced that there will be delayed departure due to the excident in the airport. ???
I became little nervous because my short - time connection in Moscow. We were waiting 40 minutes for the permit to start.
During the 9h+ flight to Moscow they served two warm meals, but sorry - the good times are over - no beer, no wine on long distance Aeroflot flights!
Transit in Moscow Sheremetyevo is like a nightmare. Crowd of Chinese (and few Europeans) from our 777 attacked the narrow, one-officer channel to the transit lounge. He was patiently checking documents one by one. When I finally passed through it was the time to run from terminal F to terminal D, to board Warsaw flight. Corridors are narrow and full of people... Yes, the plane was still there. We landed in Warsaw almost on time - then I went to the Ryanair gate for the flight to Gdansk. Got it! It was only 3 deg Celsius when I landed in my city. Spring where are you?


Apr 18, 2017 12:00 AM
Last night in Shanghai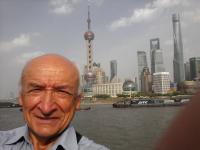 Already at 6.20 I was at the Zhenzhou aiport. Elegant building was almost empty. I did not have my breakfast... Too early... But in every station or airport in China there are distributors of boiling water. Chinese use it to made their noodle soups and green tea. I used it to make big cup of coffee. With some biscuits it was already something!
Two hours later I landed in SHA airport. Subway is the cheapest way to go to the center - it cost 7 juan - like a one dollar and take a bit more then an hour with obligatory train change on the way (same platform).
In the afternoon I had a chance to visit one more imoosing temple - The Jing'an Temple built between high buildings. 50 yuans entry fee.
Huge and gold-plated it was build rather to show the power of China that for the believers..
Weather was sunny so I decided to walk again to the Bund to take a better pisture of the famous skyline of Pudong - the new part of Shanghai built on the other side of the Huangpu river. Panoramic view is imposing - nicest than in Singapore or Hong Kong.
It will be my last night in exotic Shanghai. Tomorrow I will fly home...


Apr 17, 2017 12:00 AM
Kaifeng - China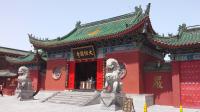 I stay today in Kaifeng, in the dirty youth hostel near the West Gate.
Hot and strong sun. A lot of pollution in the streets - many locals wear the masks. But I like Kaifeng. Now it has almost half a million inhabitants, in the past it was capital of China for some 200 years.
City walls and gates remained and are nicely restored. You will find here many historic buildings including 55 mhigh Iron Pagoda and atmospheric Chief Minister Temple. Old city area is quiet big, so it is worth to use city buses (1 yuan) to move around. Kaifeng seems to be little off the main Chinese tourist track, so I did not experienced here such herds like in thd other places...


Apr 16, 2017 12:00 AM
Legendary Shaolin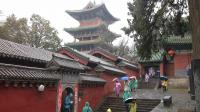 Long distance bus transport in China does not work well. Trafic congestions, road works, not reliable timetable, long delays before you get to/off this dinosaur cities... Better relay on trains... But sometimes you will have no choice - like me today.
No rails to Shaolin... I took a bus from Luoyang (19 yuans) but it took us more then 2 hours to get there. Rainy day. Limited visibility of the surrounding mountains. Bad luck! I decided to get in anyway. No discounts for the foreigners! I paid 100 y entry fee and started a walk along long alley heading to the Main monastery buildings under pine trees. Buddhist monks in the grey costumes checked the ticked again. They do not meditate? Crowd of Chinese tourists with umbrellas and rain coats. Gold-painted statues of Buddha. Then the other buildings and "forest of pagodas" - the cemetery of high-ranking monks.
Shaolin is the birthplace of kung-fu. Yes, there are still academies of this art. But now it is more like popular tourist place (even in the rainy days there are crowds of Chinese... Sorry, it does not make any sense to take one of two cableways up to the mountain...
But I have noe the idea how one more UNESCO site looks like...


Apr 15, 2017 12:00 AM
Thousand images of Buddha, maybe more...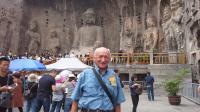 Luoyang, China. Very hot and humid weather. The main attraction of the city are Longmen Grottos located on the outskirts of the town with enormous collection of carvings from 6th-7th century. To get there you can take the bus 81 from the station or 99 from the centre - it will take you there just for 2 yuans.
Then there is a 1 km well-marked walk to the gate, where you have to buy the ticket for 100 yuans ( no discounts for the foreigners!). Then the stree will take you with the crowd of locals to the bank of Yi River. They built there 2 bridges to connect the monuments on the both sides of the river. So be prepared to walk like 3 kms loop, starting from the West bank where the monuments are more interesting. I was walking patiently in the cowd of Chinese, upstairs, downstairs. The most impressive statue of Buddha is 17m-high. The smalest images has mayby 10 cm only... UNESCO World Heritage Site - worth to see...
I am lucky because since today in Luoyang they celebrate Peony Flower Cultural Festival. The main action goes in the Wangcheng Park - close to my YH. I spent there lovely but hot afternoon enjoying flowers and the people. Is seems that I was the only European in the crowd :)


Apr 14, 2017 12:00 AM
China: hard sleeper to Luoyang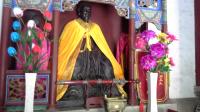 I need a rest after yesterday's trekking. I spend again all day on the trains. First took me to Xingyang 2 hours, second - to Luoyang famous for the Bhuddist Grottos. The secon train was hard sleeper - with a 6 bunk beds in the open compartment. I hah a feeling that I was the single foreigner on the train. After 6 hours we arrived to Luoyang. With a help of young girl I found opposite the station bus stop for 103 trolleybus. It cost here just 1 yuan.
Luoyang is "middle" town with only 1,5 millon inhabitants. The centre after dark looks very bright...In the back street I found Heartland Hostel. They charge 150 y per night for the simple room with bath. Internet connection is horrible...


Apr 13, 2017 12:00 AM
Wudangshan - UNESCO world heritage site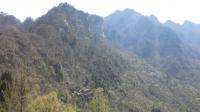 After 21 hours on Chinese train I landed in Wudangshan. It is not just a single mountain but picturesque range. Wudangshan is a birthplace of taichi. To get to the gate of the national park I took the blue city bus for 2 yuans. Then in the gate you have to pay entry fee, which covers also unlimited usage of park minibuses. Such a bus took me to Nanyan trailhead. Then I was walkind 3 hours to the highest summit of the Wudangshan range where tao monastery is located. Great views and smaller temples on the way. Return took me 2 hours. Stairs, stairs - it is not an easy trail.


Apr 12, 2017 12:00 AM
Train K 123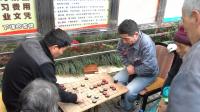 I am still in cloudy Shanghai, but ready for my 21-hours rail trip to Wudangshan. There is big demand for rail tickets in this huge country so you have to book well in advance. There are Chinese agencies on the net who are ready to do it for you for a small extra fee - say 5 USD. Sometimes if you book for the first time they reduce this fee. In the past booking for train seats was opened 60 days in advance. Now it is only 1 month. Agency charges your card and (if they are able to catch the seat) they send you booking number. With this number and your passport you go to the station in China to collect your paper ticket. Not easy, isn't it? But I was lucky to get the ticket and I will depart in the afternoon, I believe :)
In the morning I took a walk to People's Square - the main square of Shanghai. It is blossom time - spring arrived. But why these people do not smile?


Apr 11, 2017 12:00 AM
Walking around Shanghai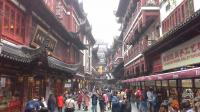 No rain today, but still cloudy. In the morning I went to the luxury hotel on Nanjing Rd to get free map of the city. Good method! There is INFO kiosk on the pedestrian zone, but they have only Chinese version. Nanjing Rd with luxury shops looks like Champs Elysees in Paris. But it is enough to walk 100 m to the left or right to see completly different image of the town - street eateries, bicycle workshops located just on the sidewalk and the poverty. On Nanjing you -the foreigner - will be bothered many times: massage? pretty girl? rollex?
What is new since my previous visit? Local police is warning guests against "consumption trap" Friendly locals are approaching you, they speak English, they show some knowledge about your country and they want to be your best friend. They invite you to have the meal in the restaurant or to the bar and then you are forced to pay extraorbitant bill...
I took a long walk along the Bund - the waterfront, where you still can see the monument of Chairman Mao.
Then I turned to Yuyuan bazaar. It is huge are of old-like architecture. In the labirynth of stylish buildings there are two things worth to see: The taoist temple of the God of the City (entry fee 10 yuans) and the traditional Chinese garden surrounded by high wall (entry 40 y).