You can lose everything, but nobody will take away what you saw and what you experienced...
............
May 04, 2022 12:00 AM
Spring break - just one week off!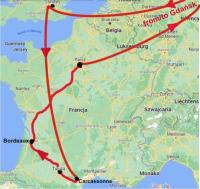 Spring break! In my Wojtkówka spring flowers bloom beautifully. My friends are visiting me and we enjoy my first vegetables together. Weary of the daily work on the beds (unfortunately there are no people willing to help), I decided to escape for a week to Southern France. Low cost airlines have just offered tickets at incredibly low prices - 10-12 euros per flight. And I'm flying! Via London to historic Carcassonne, and then by buses to Toulouse, Bordeaux and Paris. As always, you will find news from the voyage in my travel log. Keep your fingers crossed for the good weather, please!


Apr 17, 2022 12:00 AM
Happy in Wojtkówka
In Bergamo Airport everything was OK - they did not care about my oversized luggage on low-cost airline. Two hours later - in my Gdansk I experienced only 6 deg Celsius temperature. As a result I soon started coughing...
My son Adam collected me from the airport.
One more interesting voyage is succesfuly completed!
Today I went to my dacha to see first soring flowers in blossom. There is a lot of work waiting. Let's work, and dream about next trip!! :)


Apr 16, 2022 12:00 AM
Savona - Genova - Milano Centrale - Bergamo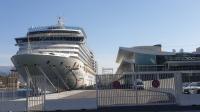 At the sunrise our ship docked in Savona. End of our epic cruise! Staff from the ship wanted us to go out of the cabins at 8 am! Good joke! I I went first for the breakfast and started to pack my carry - on at 9 am. Before 10 am I said goodbye to the crew and in the sun started half an hour walk to Savona Railway station... Oho! No seats available for the intercity train to Milan!
No choice - bought for 15,50 euro ticket for the regional train with the connection in Genova. I should be still on time for the 4 pm bus Milano - Bergamo airport... Direct flight Bergamo to Gda?sk departs only at 18.40


Apr 14, 2022 12:00 AM
Marseille in France...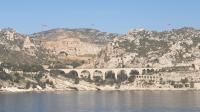 After full day at sea in the morning we saw the coast of France. Sun is shining and I feel the European spring in the air... :)
Tomorrow we will reach Italian port of Savona and my transatlantic sailing will be completed. It is time to take a walk to the city (I have been to Marseille three times already) and then it will be the time to pack all my stuff and yo have a farewell glass of wine with the friends! ;)


Apr 14, 2022 12:00 AM
Marseille cruise port - practicals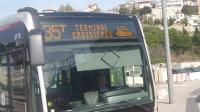 Cruise port in Marseille is quite far from the city center. You will see from the ship famous church Notre Dame de la Garde but very far - not a walk. Although in the past I dod it - via a bidonville... So how to get to the old town?
1. Our cruise line offered a shuttle bus frm terminal B to the city - paid 11 euro for roundtrip.
2. They are milking us so they did not say that from the port gate - 1 km from Terminal B every 30 min goes to the city center white, free port bus - till 5 pm to Hare Maritime Joliette
3. If you will go further out the port on the edge of the highway you will find the city bus stop no. 35 going to Joliette Square on the edge of old town. It cost 3,50 euro. If the cruise ship is in the port is in the port extra city bus 35T goes from Joliette to the outside port gate. Good luck!


Apr 12, 2022 12:00 AM
Gibraltar after years...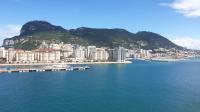 In the morning when we reached the port of Gibraltar it was cloudy, rainy and we experienced light showers, but later the sun appeared and I was ready for taking the pictures. The view of Gibraltar rock was quiet different from the ship - much nicer. But... They introduced 16 pounds tickets (no discounts) for those who want to climb up to the ridge and to see famous monkeys! I was walking instead to the cap lighthouse to see the monument of ge. Sikorski, who died here during the war. It is nice place. and a good exercise for walkers (the 6 kms distance one way) But I returned happy!


Apr 10, 2022 12:00 AM
El Teide by cable car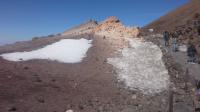 We finally reached Tenerife this morning. The weather was nice and promising so I decided to take the tour to the El Teide mountain - the highest summit of Spain. We were taken by bus through the pine and eucalyptus forest to the level of 2500 m and then - by a cable car to the level around 3500 m for the great panoramic views from the former volcano. Just great! The cable car itself cost 37 euro for round trip, but the problem is to go to the cable car station - it is 2 hours drive from Santa Cruz! That's why I decided to take the tour from ths ship. Te cruise company offered me some frequent passenger credit and this was the best target to spend it for... In the late afternoon we are departing to Gibraltar. Welcome to the sad Europe....


Apr 03, 2022 12:00 AM
Sunny Barbados again!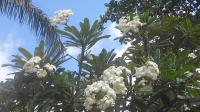 It is Sunday today and the streets of Bridgetown - the capital of Barbados are almost empty in the morning. It is even better and safer to walk around the city, to enjoy the flowers and light breeze blowing from the ocean. See frangipani flowers on the picture.
In the evening we will say goodbye to America, heading to Europe. During 6 days I will not have the access to the internet, so do not worry, please, if you will not find new messages for a while. Our next stop will be on Tenerife on Canary Islands on April 10th. Ahoy!


Apr 02, 2022 12:00 AM
Day at sea - heading to Barbados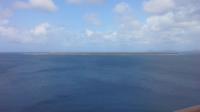 My second loop around south-eastern Caribbean is completed, so today we start our transatlantic journey, heading first to Barbados.
I spend somme time relaxing on the open deck.
Rum party in the afternoon with my friends.
In the evening we enjoyed nice show in the theatre with Caribbean songs and dances. The wind is blowing....


Apr 01, 2022 12:00 AM
La Romana in the sun...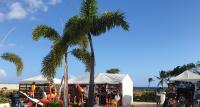 After a rough night at sea we are back in La Romana to disembark some passengers and to get ready for the transatlantic journey. Strong sun is shining. I have full day to explore the coast.
I took a local bus for just 85 pesos to the coastal township of Bayahibe. It has a nice beach.... Then I took a walk along the coast (there is 2-kmspath trough the bush to Playa Dominicus. What a surprise! They built here the line of modern hotels, not accessible to the public. People like me can entere this nice beach only near souvenir bazaar. But you can still walk the beach and enjoy the views from two piers!