You can lose everything, but nobody will take away what you saw and what you experienced...
............
Mar 10, 2018 12:00 AM
By bus to Merida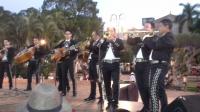 ADO is the main 1st class bus company in this part of Mexico. They are fully computerised but I think that it is better to buy tkt at their station than online. Why? You want to go A to B on day X. The cashier will show you the list of departures with prices. Suprisely the prices are not the same. Deciding to go two hours sooner or later you can save even 20 USD! They have dynamic price policy trying to fill empty buses...
It took me today 4,5 hours on comfy a/c bus to get from Canncun to inland Merida - nice colonial city. Can you imagine - I have been here in 1989!
Merida is now even nicer but still with the same lazy atmosphere of narrow, cobbled streets whith horse carts.
I went again to Parque San Juan, Santa Lucia an Zocalo - main square wherein the evening the Mariachis were giving great concert. 38 deg Celsius during the day. But what a place! A big 1l bottle of Mexican Rum costs here only 90 pesos. But not easy to find! Go to the 59th street between 60 and 62 - near Reforma Hotel. Cuba es libre again!


Mar 09, 2018 12:00 AM
Walking along Cancun Island
I have been years ago to Yucatan, but I never been here... 40 years ago more than 20-kms long Cancun Island was known only to the local fishermen. Now it is world-renowned resort visited by more then a million tourists each year. Cancun town, where I live in the cheap room is located on the continent. That's where Mexicans working in the island resorts live. Bus station is here and nothing else to see.
To get to the island you have to take bus R1 or R2 (12 pesos) -both go from the township to kilometro 18 on the island, where picturesque public Dolphin Beach is located - just by the road. That's what I did today in the morning and then I started a walk back - partly on the beach, partly by road. Despite the cloudy weather and strong wind generating high waves it was enjoyable walk. I passed by many fancy hotels with elegant beaches... Great day! I returned at 5 pm - just before the rain . Lucky me! :)


Mar 08, 2018 12:00 AM
Last day in Havana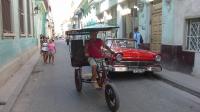 Every narrow street in Havana Vieja (Old Havana) us different and if you wonder alone in the maze of alleys you feel like in the theater... The life is around and nobody bothers you..
That's what I did in the morning. In the Salud street near the church black ladies sells fresh flowers. In Nettuno in fron of the bakery the bakery the people form the line waiting for the fresh bread...
In the midday I said goodbye to my hosts and walked to catch the city bus P12 headinnd to the airport area. The ride cost me 1 peso cubano - like 5 cents + 2 kms walk. Foreigners usually go by taxi paying equivalent of 20-30 dollars. My flight to Mexico was delayed so I landed in Cancun after sunset. ADO bus took me from tbe airport to the city center for 78 MEX. Then I was walking again to my B&B. Welcome to Mexico!


Mar 07, 2018 12:00 AM
To the Cuban Mogotes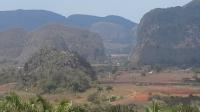 In Vinales, Pinar del Rio province you will find famous Cuban Mogotes from the UNESCO World Heritage list. I never been there so it was good opportunity to organize the day excursion from Havana. Tour offices offer such a tour for 67 CUC (convertibles pesos) - too much for the backpacker. You have a choice of Viazul bus (12 COC each way but difficult to book) or collectivo taxi, which will pick you up from your room - for 20 each way. I took collectivo. Already on approach to Vinales after 2,5 h drive you can see from the view point near Jasmine hotel the great panorama if the nice mountain range. Then you go down to the little town Vinales and can walk or rent a bike/horse to valleys.I went to Dos Hermanos. It was already 5.30 pm wgen I returned. Nice day - The Mogotes are worth a visit!


Mar 04, 2018 12:00 AM
Destination - Cuba!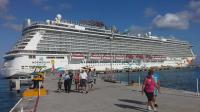 In the morning our ship docked again in the port of Miami. With my light luggage I was one of the first passengers going ashore. Yes there is immigration control, but no customs, so the budget traveller can take with him all stuff from the ship - you know what I mean :) Bye, bye big ship!
Co- passenger was so nice to make the phone call to the shuttle company - I booked my transfer to FLL airport on internet (JiffyJeff) in advance. -Our black van is waiting on the left while you exit the terminal C. Yes, the black van was there and at 8.15 we were already driving with other passengers. They charge 15 USD, but I decided to go with them due to short connection time. By public transport it will take a lot of walking and around 3 hours...
Now I am in FLL airport waiting for the flight to Havana. I have been there for first time some 40 years ago - can you imagine? I expect many changes, but I do not expect internet access. So maybe the next message will be after few days from Mexico...


Mar 02, 2018 12:00 AM
Cozumel - Yucatan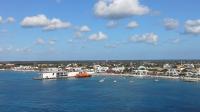 Dear Friends
After Honduras and Belize our ship arrived today to Cozumel port on Yucatan Peninsula. The view of Cozumel from the ship you have on the picture. Everything goes well. Internet expensive... sorry. More soon...


Feb 27, 2018 12:00 AM
Highest peak on Roatan?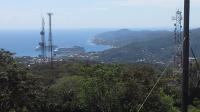 After day at sea our big boat arrived to Coxen Hole on the Roatan Island, which belongs to Honduras. Coxen was the pirate who had here his hideaway... Instead taking an expensive excursion I decided to climb the highest visible mountain Dixie Peak. Nobody was able to tell me if there is a nice view from the top.
The way uphill by bumpy countryside road was interesting because I saw there real life... The peak with radar and radio antennas is fenced, but friendly caretaker allowed me to go in and took some pictures.
My GPS showed there 245 m above the cea level.
Both sides of the island are visible from the top... But for the best view of your ship go rather to Spanish Town, where taxi drivers took all visitors... :)


Feb 25, 2018 12:00 AM
Boarding the ship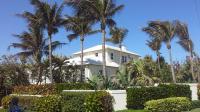 It is again sunny day on Florida. After a little ride around West Palm Beach we are driving to the Port of Miami. My ship is already waiting there... As you already know the internet connection from the ship is very expensive so be prepared that (maybe) the next message from me will be only one week later - unless I will find cheap internet access in the port. Ahoy!


Feb 24, 2018 12:00 AM
Sunny Florida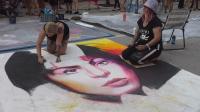 After 10-hours Norwegian flight from Oslo I landed in the evening in Fort Lauderdale, Florida. It is not a huge airport, but I was waiting 1,5 hours in the line for immigration control. I like Americans, but sorry, dear friends it is shame on you! Every passenger in the line is paying on the top of his air ticket the extra fee for that procedure.
As a result it was already midnight when I reached the house of my friends.
Lovely sun woke me up in the morning. 26 deg Celsius! Flowers in blossom, light breeze from the ocean. After minus 6 deg in Gdansk it is like paradise... My friend gave me an interesting excursion through West Palm Beach and Palm Beach located on the long island. I liked most St Edward Catolic Church with its great inner decoration. In the Lantana suburb we had a chance to enjoy Street Paint Festival with few dozens of artists working on the open air (see picture). Lovely, relaxing day!


Feb 23, 2018 12:00 AM
New expedition to America!
I am setting off on a new journey! This time my route takes me to Central America and the USA. I waited until the last minute until the shipping company only five days before the departure of the ship from Miami offered half the price for a single passenger cabin. It was a va banque game, because if all the cabins had been previously sold, there would be no such option. The rest for the veteran of the world trails was already the proverbial pit. And so the plan of another lonely expedition was completed - see the map.
I will reach by ship new, unknown ports in Belize and Mexico, and after returning to Miami I will fly by cheap line to Havana to remind myself of what Cuba looks like 40 years after my first visit. Then another cheap airline will take me to Cancun on Yucatan. And from there, I plan to travel by buses all over the way to Los Angeles, California, stopping along the way in cities where I have not been yet. This bus route is almost 5000 kilometers long, so it will definitely be a challenge. And also a new great adventure! I will finally see Veracruz and the famous Olmek heads! I plan to return before Easter. Please, keep your fingers crossed for me!

=============================
==================================
====================================