You can lose everything, but nobody will take away what you saw and what you experienced...
............
Aug 31, 2017 12:00 AM
Novi Sad - nicer then Belgrade?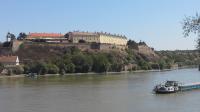 A day tour from Belgrade to Novi Sad - the capital of Vojvodina province. Buses from Belgrade bus station depart almost every hour. Ticket costs 640 RSD each way, but in Belgrade you have to pay extra the departure tax of 170.... The journey takes less then 2 hours. The bus & rail station in Novi Sad is located 2,5 km from the centre - nice walk... Then in the center you will be enchanted by the beauty of the main square, the catholic cathedral and other orthodox churches. Nice pedestriam zones are full of flowers and old houses around are repainted.
But the real pearl of Novi Sad is Petrovardin fortress on the other side of Danube. Free entry and the view is great! Definitely Novi Sad has more charm then Belgrade - at least for me...


Aug 30, 2017 12:00 AM
Belgrade in grey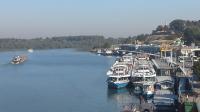 Maybe I expected too much... Belgrade is crowded, smokey and grey like Poland was some 40 years ago. The city is located at the conjunction of Sawa and Danube Rivers. Not far from my hostel I found nice Orthodox Cathedral of St Michael. The former residence of the Princess Ljuboca is just nearby. It is very hot here - up to 30 deg Celsius during the day so it is worth to take a walk to the Sawa riverside. They have there nice promenade...
Kalemegdan fortress (free entrance) is the main attraction of tha capital. It houses military museum but it is also worth a visit because of the great view from the bottom of Victory Monument. little out of the center, but sill in tha walking distance you will find St Sawa orthodox church - they say it is the biggest orthodox church in the world, with 30m diameter copula...


Aug 29, 2017 12:00 AM
New European voyage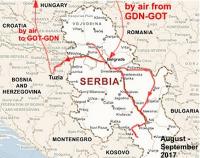 Summer is almost over, and a new, long-awaited travel season begins! I start with a short, one-week trip to the Balkans. In Belgrade I was some 45 years ago as a student, in the time of black and white photography. I decided to refresh now my memories of Belgrade, visiting also several new interesting places in Serbia and Tuzla in Bosnia. The key to this short journey is a low-cost air ticket. From Gdansk I fly to Goteborg in Sweden and next to Belgrade...
Everything was Ok until landing in Belgrade. On transit in Goteborg there is no need to go outof the waiting hall - just go to your next gate. But for selected gates, including Belgrade before boarding you need to go through the immigration - just formality because you are leaving EU.
In Belgrade airport only 2 immigration windows were open - it goes slowly... Then on the upper level I found the bus stop for the bus 72 going to the old town. No ticket machine - you pay 150 SRD to the driver. From the internet I had info it is 90... Well, do not trust internet :). It was already dark when I reached my Petar Drapsin Hostel. The hostel is under refurbishing - why they did not inform me in advance. But they found a room for me anyway.

===================================
===================================
===================================


Jul 06, 2017 12:00 AM
Russian hitchhikers...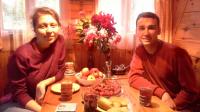 Years ago it was hard to see independent travellers from Russia travelling around Europe. But there are changes... I was hosting two young students from Moscow. They are hitchhikers. They carry sleepinng bags and a tent, which allows them to camp in any place. The weather was not so good so I invited them to my Wojtkówka. We had an interesting evening takking about the world, watching pictures and enjoying vegetables from my garden. Happy journey Yana and Semen!


Jun 23, 2017 12:00 AM
Visitor from Nicaragua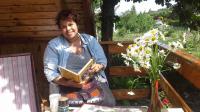 During summer season, where I stay in Poland very often I host in my Wojtkówka the travellers from other countries. Right now it was Helen from Tipitapa in Nicaragua. Helen, the brave lady teaching foreign languages in her country is now traveling Europe. She spent two days in Gdansk enjoing great, sunny weather and serenity of my Wojtkówka. She tried fruits and vegetables from my garden. We were talking a lot about the world and travels, watching pictures from distant places. Happy journey Helen!


Jun 18, 2017 12:00 AM
On the air in Radio Gdansk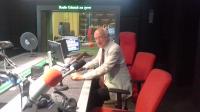 I have been invited again to Radio Gdansk - The most popular FM station in the Northern Poland. This was the live talk about my recent voyages to Patagonia, China and Ukraine, enriched with the music. It took me almost two hours. I liked it and the listeners too. There was a feedback and questions. The only problem is that they do not pay for such a show on the air - no extra money for the next trip :) By the way I came to ghe conclusion that for the first time they invited me to Radio Gdansk some 30 years ago, and I was talking about Iraq. Good score, isn't it?


Jun 17, 2017 12:00 AM
Listening to the Chopin in Waplewo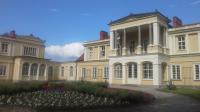 Waplewo Wielkie is the little countryside palace some 90 kms from Gdansk. The palace is surrounded by the old park creating the exceptional atmosphere. Every summer they organize here Chopin Days to memorize the visit of the big composer in Waplewo. I have been here several times listening to the greaat music performed by the famous pianists. This year it was Katarzyna Popowa Zydron. Beethoven, Schubert pieces were very nice but first of all I enjoyed the ballads and nocturnes of Frédéric Chopin. Great day!


Jun 13, 2017 12:00 AM
Lectures, presentations, slide shows...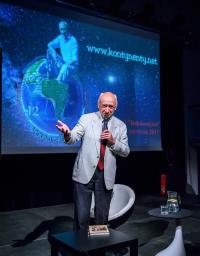 I visited all countries of the world, so it is no wonder that often I am invited to the different place in Poland to give the lecture on specific subject. The choice of possible subjects is wide... Sometimes it takes quite a long time to prepare chosen presentation - it is noc easy to select say, 100 pictures from the collection of few thousands. But I like to share mu knowledge and experience with other people. The fees I am receiving allow me to finance my next journeys...
And - if the audience is imressed - like here - in Tarnow it is also a great satisfaction for the author...
I had enough time to visit the picturesque old city in Tarnow - I will upload some good pictures, but first they should be converted to the lower resolution :)


Jun 12, 2017 12:00 AM
Traveller's Festival in Tarnow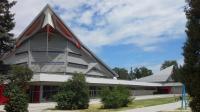 I have been invited to give a presentation about my travelling in the Art center in Tarnow - South Poland.
In the very modern Art Center (see the picture) I was talking 1,5 hours showing my best pictures from 7 continents. I was awarded with a big applause. The in the lobby I was selling and signing my book. Many people wanted to have a picture with me. Why not? But I do not feel like a star....


May 10, 2017 12:00 AM
Snow in Gdansk - hard to believe!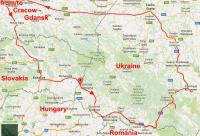 The train from Przemysl to Cracow was on time, then I took a bus 208 from Crocow main station to the airport (there is also suburban train going there, but it costs more).
Waiting in the Cracow airport I met there Polish lady-traveller. Can you imagine - our first meeting was two years ago in Dushanbe, Tajikistan. Both we were applying there for the permit for Pamir Highway. I like such a meetings after years!
In Gdansk it was only 4 deg Celsius when we landed.
But today it is snowing since the morning!
Remembering flowering lilac and chestnuts trees in Transcarpatians I regret that I did not stay there longer :)
I had there really nice time, meeting friendly people and enjoying the nature. Well, one more interesting voyage is completed. Let's think about the next one - to the warm countries, of course