You can lose everything, but nobody will take away what you saw and what you experienced...
............
Feb 05, 2013 12:00 AM
Cabo San Lucas - Mexico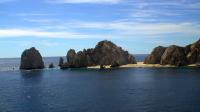 I did not sail before on such a big ship. Can you imagine 3000 people aboard?

I am a small-ship patriot but for such a route around Americas it was not possible to find a cheap small ship. Food is good. We have Philippino steward and in the evenings they offer free shows in the theatre.
We reached today our first port of call: Cabo San Lucas. I have been here few years ago traveling overland through Baja California peninsula.
Now it is a new view of the place - from the sea. They took us to the coast by tenders since there is no jetty
in Cabo San Lucas. I enjoyed again the view of El Arco - the stone arch rising from the sea.
In the marina pelicans are wondering around...
It is hot again and strong sun here - in the evening we are saling further south.


Feb 04, 2013 12:00 AM
A line 200-m long! - in Long Beach.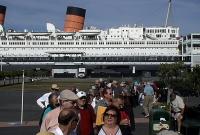 Long Beach is a lovely town located just south of Los Angeles. It has nice boulewards, huge yacht marina
and a old lighthouse with Shore Village around it. Shore Village is a complex of little old architecture
housing Cafes, souvenir shops, restaurants... Nice place...
From Shore Village I saw in a distance two passenger ships: Old transatlantic liner "Queen Mary" converted into
hotel/museum and much larger - my ship. It was a nice walk aroun the bay to those ships.
When I reached "Oueen Mery" (min entry fee 25 USD) I was shocked: there were a 200 -meters long line of
passengers waiting for check-in to my ship.
I saw such a long line only once in my life: In Moscow during the Soviet times there was such a long line
of the people to the Mausoleum of Vladimir Ilych LENIN.
200-m line in America! What should I do? I was waiting 3 hours staying in the sun to be checked.
They did not served any drinks... They said "We have a shortage of staff and our computers are slow today"
In the proud America!
I found my cheap, inside cabin in the aft. My companion was already there.
The ship departed from Long Beach with 4,5-hours delay. The ocean was calm...


Feb 03, 2013 12:00 AM
I am boarding the ship today...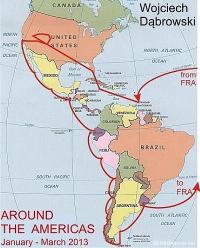 In the morning I am driving the last segment of my car journey through the USA. At mid-day in Long Beach I should embark the ship. It is scheduled to depart a 4 pm.

Dear friends. Can you see on the map where am I? Thank you to those of you who sent me warm letters and wishes - I apprecciate them!
But now - from my experience I know that internet access from the ship is VERY expensive.
So it could be possible that I will not have a chance to write so often in my travel log. Do not worry about me if the messages will come late, please!
The life on the ship is much easier!... Ahoy!


Feb 02, 2013 12:00 AM
On the Route 66. Mojave desert.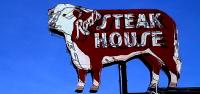 Every child in USA knows what is Route 66 - historic trail to the paradise California where poor people were going to became rich. (Do you remenber Jahn Steinbeck's novel?)
I spent the night on Route 66 - in little Williams, where they still have saloons, stylish shops and old station... It is nice to stop here and took few pictures.
Almost all day I was driving to the west - After Kingman (last chance for inexpensive fuel - 3,09 per gallon) I crossed the border to California. Then there was long drive through the Majave Desert. Wow! It is warm here! Hard to believe after the frost in Colorado!
The desert, surrounded by mountains is completly empty - no settlements. American Army has here Combat Center. It was long and boring drive. I was happy to reach Barstow on the western edge of the desert.
Hard to believe: in 7 days I drove so far 2060 miles x 1,6 = 3300 kms. It was possible because US has a good road system and it is off-season - I did not see any traffic congestions. Tomorrow I have to return the car on the coast of California...


Feb 01, 2013 12:00 AM
Grand Canyon after years...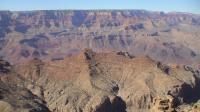 Years ago travel magazine asked med to list the seven wonders of my world. I put Grand Canyon on the first position.
I saw Grand Canyon already twice - last time some 20 years ago, so this was good opportunity to refresh the view of this marvel of the nature.
From Cortez in Colorado I was driving first to the Four Corners - the place where you can find border point of Colorado, New Mexico, Utah and Arizona. There is monument, flags and... Navajo Indian who charges for entry... :)
Then I was driving through empty and picturesque Arizona. Snow disappeared, replaced by the red colors of the desert...
I reached the gate of the Grand Canyon National Park at 3 pm.
I was lucky: it was sunny afternoon and I had enough time to drive along the rim - point to point and to enjoy the views... Great views. Just let you know that they cherge alredy hefty 25 USD for the entry (per car). Good price isn't it?


Jan 31, 2013 12:00 AM
High Passes and Icefall...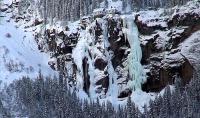 I am still in Colorado. Highway 160 takes me now to the west. Sunny day! Just after departure from Alamosa I started to climb to Wolf Creek Pass. More then 3000 m above sea level. Great views, but very difficult to drive. Up, near the pass I was driving on the beaten snow. They do not used any sand for to improove the safety of the passing cars. Shame on you!
I survived. Down from the Pass there was interesting Chimney Rock (like a chimney indeed!)
Then before Cortez I decided to make a one-hour detour to the lovely mountain village of Telluride. Why? I was reading that there is the highest waterfall in Colorado State - Bridal Veil Fall - 111 m high.
The mountain route offered again greay views. But in Telluride I recognized that in the winter it is not a waterfall but icefall. In the summer you can drive by 4x4 vehicle to the bottom of the fall. In winter I had only a chance to see it from the distance - the road is too snowy and rough! Just let you know that morning offers better light to photograph this nice fall...


Jan 30, 2013 12:00 AM
Black Canyon and... Sand Dunes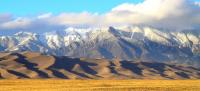 In Europe it is middle of the night and you sleep well, dear Friends, I believe. But I - in Colorado just try to prepare my late lunch after 9 hours of driving across Colorado.
I started early today driving up to the Black Canyon of Gunnison National Park. Let you know that I sleep here on the level of 2000 m above sea level and the canyon is still 500-600 m up.
Upper part of the road was snowy bu I managed to get to the first view point Tomichi and then onward to the tiny Visitor Center where I met the one lonely ranger. I took the walk through the snow to the balcony view point. The view was impressive! In black and white. At this point canyon is 200 deep... But the weather was cloudy. The other view points on the canyon rim were closed for winter...
After few hours of driving via the snowy and foggy North Pass I reached sunny San Luis Valley framed by the snowy peaks.
At the bottom of these mountains there are the tallest sand dunes in America - up to 250 m high! I reached Great Sand Dunes National Park (entry 3 USD) two hour before sunset. It gave me opportunity to take the pictures of the dunes and the mountans in the great ligthing. I hope you will like them. It is time for the rest... Busy but wonderful day!


Jan 29, 2013 12:00 AM
To the snowy Colorado...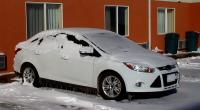 The sunrise here was at 7.30 am. Strong sun was shining into my room. First thing I saw through the window was that it is white all around. Then I recognized that my car is cowered by frozen snow. (see photo) It was snowing in the night. I went to the reception of "Rodeway Inn" for breakfast - it is always included in the room rate.
It is good occasion to recommend you this chain of the US motels. Before I used Motel6 chain, but this year I recognized that "Roadway Inn" offer for the same price is much better. Wi-fi internet is always free (that's why I can write for you every day) rooms have carpeting and have nicer decoration plus usually there are tea-coffee making things in the rooms. And a breakfast consists of 2 boiled eggs, cornflakes, breads, cakes, juice and sometimes yoghurt - it is buffet so you can eat as much as you want (backpackers do!). In motel 6 you are getting in the morning coffee only.
I was waiting till 10.30 am until they cleaned road from the snow. And let's go. First leg was to Moab - little town like from the western famous of the beautiful rock formations. National Parks are around, but even from the road you have great views. Then I turned to the Interstate 70 - this freeway took me to the next state - snowy Colorado. The fuel has the lowest price here: 2,81 per gallon. In Arizona I paid 2,15-2,19.
I stay for the night in the next Rodeway Inn in Delta. I hope that tomorrow the weather will be also good and I will see Black Canyon...


Jan 28, 2013 12:00 AM
One more dream, or even two!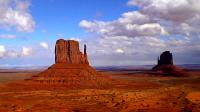 Cold, only 2 deg. in the morning but sunny weather. From Page, where I spent the night it is only few kms by road 98 to the Antolope Canyon. It is in Navajo Indians country and they offer tours to the canyon. It cost 31 USD including transport from the highway to the canyon by 4WD truck (some 6 kms each way).
It was my dream to see this canyon.
But when we arrived to the entrance I was surprised: upper canyon you are allowed to visit is only 400 m long and very narrow! The colors of the rocks are still great!
In the afternoon I drove to the famous Monument Valley. Sun was shinning and my second dream came true: the unusual rock formations near Kayenta (you pay there 5 USD entry fee) are worth a long drive. You probably know them from the movies like "The stagecoach" with John Wayne...
Great day! I am driving north... Hoping there will be no snow...


Jan 27, 2013 12:00 AM
Driving in the snow storm...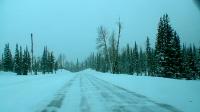 I rented a compact car in Las Vegas and drove north with the intention to visit again the Canyonland. Cedar Breaks Monument is closest. But when in Cedar City I turned to the mountains I came to the conclusion that it will be not easy to get to the parks. It is January and the administration does not care much about the side roads. The scenery was nice with the white snow on the rocks but it was not easy to drive my regular car on the white and slippery mountain road.
When I reached upper part of the road 14 it was already snowing and visibility was poor. It became windy. Stormy. -No reason to drive to the top! I will see there nothing!
Slowly, with a lot of care I was sliding down in the direction of Page. I reached motel after 6 hours of driving. I pray for the weather for tomorrow...