You can lose everything, but nobody will take away what you saw and what you experienced...
............
Sep 13, 2022 12:00 AM
I am sailing, but...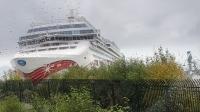 The boarding of the ship in Seward was quick and soon I have been in my cheapest, interior cabin. This is ma third cruise on Norwegian Jevel! During the COVID break ship was nicely refurbished. I found also many well known faces in the crew including Philippino band. In the morning I heared heavy music coming from underground - by cabin is right over the theatre! I complained and the moved me - the old client to the better cabin with the window!
In the afternoon we entered the bay where we supposed to seefamous Hubbard Glacier. Bad luck! The mist at the end of the bay was so thick that our captain decided to turn back. He announced - maybe we will try again on Thursday...


Sep 12, 2022 12:00 AM
Covid antigen test costs 89 USD!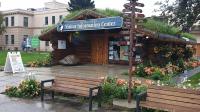 Anchogage in Alaska. In the evening I will be boarding cruise ship in Seward - 3 hours drive away. But the cruise company requires covid test to be done before boarding. Local health emergency department can make it for 150 USD. But I found the other place, where it is less expensive - it is located in the basement of Egan Center on 5th Ave. It costs here still hefty 89 USD! Card payment only. After 20 minutes they will send you result to your mailbox. Thanks God my result is negative! The bus to Seward port departs at 3 pm from Dena'ina civic center in downtown. I am ready for the next adventure - now at sea. But let you know that internet on the ship is extremely expensive, so I do not know when I will be able to upload mext message...


Sep 11, 2022 12:00 AM
Rain in Anchorage...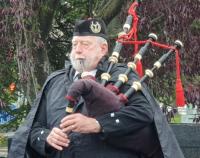 September 11th - it is significant day not only for America, but also for all nations of the world. My host Mark, retired policeman is a bagpiper so in the morning we went to the national monument to play with their colleagues "Amazing Grace". TV was present and I liked the moment despite the today's rain. Since my last visit 30 years ago Anchorage improved his image: new, elegant buildings appeared in the downtown. But the homeless are still present there. Anchorage has 350 thousands inhabitants and this is half of the population of Alaska... I accompanied Mark and Pat to the church, meeting after the service couple interesting people. Immigrant from Tanzania was surprised that I climbed Mt Kilimanjaro in his country (he didn't). My hosts, also well-travelled people organize in the evening the special party for some 20 of their friends - it seems that I - the guy who made 13 round-the-world solo voyages - will be starring. :) I will do my best!


Sep 10, 2022 12:00 AM
Alaska Railroad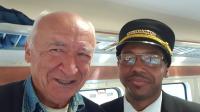 This legendary single-track railway goes from Fairbanks in North Alaska through the mountains ad canyons down to Anchorage and onward to the port of Seward. I was ridind similar lines in Mexico (Barranca del Cobre) and China but today I had a chance to experience it once again. Rain on the morning. My new friend Ada from NY delivered me by car to the depot in Fairbanks. (Why they call the station "depot"?) Train was waiting. Cars are rather primitive (one has observation dome) but clean. At 8.20 am we departed. First twa quarters were boring but later I enjoyed great views - especially near Denali area. My conductor was very nice. The car was almost empty... Serbian steward in the bar gave me free hot water to make my daily soup. Long journey! The train was delayed 75 minutes. So it took me 13 hours to reach Anchorage. What a adventure!


Sep 09, 2022 12:00 AM
Fairbanks and around...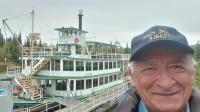 The campus of UA (University of Alaska in Fairbanks is nicely located on the forrested hills. In the complex they put in the modern building Museum of the North. It is worth to see, especially the polar dinosaur department but they charge 16 USD fee for entry. Seniors are receiving 2 dollars discount :). For budget travellers it is quite a money, so in such a case I recommend huge and free exhibition attached to the visitors centre in the downtown. At 10 am and 2 pm you can watch there documentary moovies about Alaska.
Some 30 years ago, when I was here for the first time eith my 12 years old son Adam we boarded old river boat "Discovery" to sail to some cultural attractions. I walked to their jetty on the outskirts of the city to refresh memories. Yes, they still operate - nowwith a big, new boat Discovery III. But the charge hefty 76 dollars per 2- hours excursion. Wow! Back in the downtown I saw many homeless people wandering in the little park on the bank of Chena River. Very sad view!


Sep 08, 2022 12:00 AM
Fairbanks on Chena River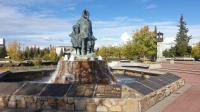 Fairbanks - the biggest vity in North Alaska has only 32 thousands inhabitants. City is spread out, distances are big, so it is difficult to walk around the places of interest. Fortunately they have a bus network and seniors 60+ travel on the bus free. You are showing your ID to the driver entering the bus. Lines are marked by colors. Two most useful: red and blue made a loop around the central part of the town. In the downtown there is a nice square with a monumental fountain - native family stands on the top of the fountain.
I spent my time today visiting Pioneer Village - open park with a samples of old houses made of logs, modern gallery, shops and toy station. Entry is free...


Sep 07, 2022 12:00 AM
160 kms to Fairbanks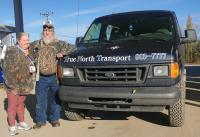 Ha, ha! Little settlement of Delta Junction has public transport to Fairbanks!... The name of the company is True North Transport (!) They own one junk and dirty minibus passenger/cargo version (there is one bench for three passengers behind the driver) and they charge 40 USD per one-way ride. OK, I hitchhiked like 2200 kms on Alaska Highway plus 400 kms to get from Prince George to the beginning of the highway in Dawson Creek. How much I saved (on nonexistent buses) hitchhiking? :). The road was terrible today. No holes in the surface like yesterday but due to permafrost on the road there are natural humps and bumps so my old backbone was protesting every hundred meters... Billie Joe - the driver (see him with his boss on the picture) was driving crazy. But he delivered me directly to the Billie's Backpacker's Hostel. I was staying here some 15 years ago in the winter. It is very cozy, atmospheric place - a place with a soul. Billie is still lovely person and the institution was nicely restored in the meantime. I pay 38 USD per night in the small dorm and there is well-equiped guest kitchen. Let's rest!


Sep 06, 2022 12:00 AM
Through the border of Alaska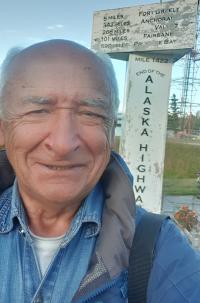 Frost in the night! But later on, when I was flagging the cars on the highway the sun warmer the air... Two hours waiting near Kluane Lake with a grat mountain view. An old Indian going fo work to the forest gave me 90 kms lift. Then I was waiting watching around for the bears. I do carry spray against the bears - the gift from another traveller going opposite direction. Wow! After about an hour 4WD car stopped nearby. This was Chris - very nice American returning to Alaska. Going north we enjoyed great landscapes of gold Alaskan Fall. They expecting snow here within 2-3 weeks! But now it is the orgy of colors and unbelievable clouds on the blue sky. On Canadian side of the border at Beaver Creek no exit control. On American side they checked my visa and put the stamp... OK! The time zone changed one hour back. We were traveling onward via Tok to Delta Junction. It was 5 pm when I saw at the junction of Alaska and Richardson highways monument marking "End of Alaska Highway" I did it, hitchhiking all over the way! One more dream came true!


Sep 05, 2022 12:00 AM
622 kms - too much for one day!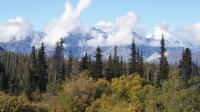 Labour Day. The streets were empty when I was going to the highway at 8 am. Whitehorse town lies down on the Yukon Riverbank. To get to the Alaska Highway you have to climb up to the hill. I took me 45 minutes! I was surprised when after 20 minutes I got a ride. It was not a local but the young Frenchman going by junk car to his field camp. Funny person. We were talking all the way, enjoying the views of snowy mountains rising in front of us. Florian left me at Haines Junction. Next car I found passing petrol pump - Canadian hinter took me after checking my passport but it was only 50 kms ride. He left me in the middle of nowhere with big Lake Kluane on the horizon. After 2 hours waiting I decided to walk down to the lake. 3 kms... Again 2 hours waiting - nobody stopped! Finally I got a lift, but not to the border of Alaska: two funny locals invited me for the night to their house. Sam has white skin and Willy in the native Indian. It was to late, traffic became weak - not possible to hitch onward to the border of Alaska state...


Sep 04, 2022 12:00 AM
440 km to Whitehorse - half of Alaska Highway!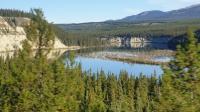 My neighbors from the hotel were leaving before sunrise, in the rain. By car! To the north! Could you take me please? They were afraid
.. Am I looking like a bandit?? I handed them my passport and they eventually invited me to the car... After an hour drive the rain stopped and the weather eas better and better opening great views of the rivers and lakes - like 23 kms long Teslin Lake. We reached the Whitehorse - capital of the Yukon province at 11 am. Lucky me! I am already in the mid of Alaska highway! I have to look around for the hostel!
Later: the little hostel was full. I was forced to pay much more in Midnight Sun Inn.