You can lose everything, but nobody will take away what you saw and what you experienced...
............
Jan 03, 2018 12:00 AM
From Moscow with love...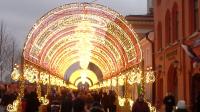 My last day in bright Moscow. To fly back to Kaliningrad on a cheap airline UTair I was forced to go to Vnukovo Airport. Moscow's subway is quite fast and efficient - I took the subway to the end of the red line - station Salaryevo. I took me 30 min on the subway to get there. Once out of the station I crossed the road - there is bus stop for the bus no. 911 going to Vnukovo airport. You need separate ticket for that city bus (55 roubles) so it is better to buy it in subway station (there are same ticket valid for subway and buses). After 15 minutes I have been already in front of the airport terminal.
At the entry first security check. I dismantle my little torch into 3 separate parts and I passed the screening without any problems. UTair has automated check-in stands, but they did not work... Line to the check-in desk... OK, I have the boarding pass. Now documents control... An the second security control: will they confiscate my torch? Ufff... It is OK! After an hour I was alderady on the plane - squeezed because little space for the legs... 1h 40 min flight. Sun in Kaliningrad! City bus to the bus/railway station goes every 40 min (80 roubles) Then I bought the ticket (540 rou) for the 2 pm bus to Gdansk. One hour waiting at the border - not to bad! I am happy to be back in Poland....


Jan 02, 2018 12:00 AM
Moscow - New Year fever!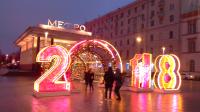 Last evening I spent with my friends from SERVAS organization Katerina and Igor enjoying their tea, the cakes and honey, talking about everyday life, about travels and plans for the future. Very nice people and enjoyable evening! Then I was coming by foot to my hotel in the light... It is hard to find such a rich decorated city in the whole world. Almost at every subway station in the center you can find huge "2018" digits, along Tverskaya Boulevard there are few stages giving in the evening different shows for adults and kids. Everything to make the people happy, to convince them that everything goes well and it will be even better. Days are short so the unusual illumination could be appreciated most of the day... I wanted to go to Klin near Moscow to visit the Tchaykovsky house, but sorry it is closed for holiday. So I plan to take the metro to Sportivnaya station to visit Novodyevichy Monastery.


Jan 01, 2018 12:00 AM
Red Square was empty at midnight, but....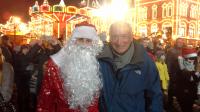 Yesterday I arrived to central Moscow at 5.30 pm expecting that I will be able to enter Red Square before the access will be limited. No way! Four police cordons isolated the square from the rest if the city. The square were perfectly cleaned up from the people. I got the message from police officer: the entry will be open from 6 pm, but only by invitations!
Bad luck! How to get the invitation? My knowledge of Russian helped me. Dima helped me. His friend did not arrive. He gave me this valuable envelope wishing me happy New Year! Long live Russian-Polish friendship! The ilumination of the square was just great. At 7.30 pm they started the show transmited by the first channel of Russian TV. Best Russian artists were singing one by one on the stage. There were also ballet an a lot of special effects... Fantastic!
But... They finished the show at 10.20. And surprisingly police started to push the people out of the square. They are very professional!
All crowd went around the government buildings to the new park on the hill -with a great view of the Kremlin and the river. There we were waiting till midnight to see the "salut" - that's how they call fireworks and to meet the new year. Happy New Year to Moscow and whole world!


Dec 31, 2017 12:00 AM
Waiting for the New Year in Moscow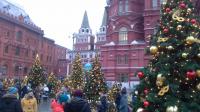 It is foggy since the morning in the capital of Russia with the light, melting snow. I got the message from my friend Valeri Skliarov - the great Russian traveller. He is already waiting for the New Year in Sydney, Australia... It is already 8 pm there. And I am waiting for the improvement of the weather in my Mini Hotel Philadelphia in Basmanny Quarter in Moscow. It is very cozy and well organized place, where the budget single room costs just 1000 roubles per night. The guests have huge and well equipped kitchen with free tea/coffee and big, clean bathroom to use. Food in Russia is still less expensive then in the West: the loaf of bread in the supermarket 150 m away - on Pokrovka street - costs 31 roubles - like half of dolar...
The center of Moscow looks very bright - one of the two most important holidays is coming! (The other one is Victory Day - celebrated on May 9th). We will see...


Dec 30, 2017 12:00 AM
Moscow in December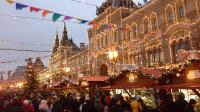 When I was in Moscow for the first time - in the 70-ties I used metro (subway) paying 5 kopeek per ride. Now I pay 55 roubles per ride. For such amount of money years ago it was possible to make 1100 rides, can you believe?
The sky over Moscow was cloudy when I was going to Stary Arbat street, where in the pedestrian zone stands the monument of Bulat Okudzhava - my favourite Russian poet and singer... In the souvenir shops nearby they sell Stalin and Gagarin Tshirts and Red Army hats. I cannot see any Lenin souvenirs - it seems he became less popular.
Near the Kremlin they already opened the big New Year fair... On the Red Square another surprise was waiting for me: half of the square is occupied by the paid attractions like skating ring, mary-go-rounds and the stalls of another fair. See on the picture nicely iluminated GUM shopping center. Somebody advised to be early on the square during the New Year night because police block the entry if they see that too much people want to go in. We will see...


Dec 29, 2017 12:00 AM
Delayed for the flight to Moscow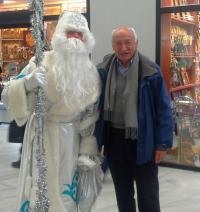 I wanted to meet New Year on the Red Square. Crazy idea - isn't it?
It is easy... First the bus to Kaliningrad, then domestic flight to Moscow. I did it many times... The bus departed from Gdansk on time - at 6 am.
Where we arrived to the empty border crossing we were waiting long time for the immigration officers to collect our passports. I got a bit nervous... The same on the other side. Then the train was blocking Kaliningrad road. When I arrived to KGD I was lucky just to jump to the departing minibus to the airport (80 rou). Traffic jams... In the airport they are screening your all possession at the gate. Russian security have a flash light phobia - not alloved on the planes - they call it fonarik. Yes, I do carry little fonarik to the dark Moscow... Same at the second security post...
When I reached the gate my flight was already closed! No mercy!
Next available flight was in the evening - waiting I had a chance to talk with the Santa (here: Dyed Moroz) promoting in the airport halls coming winter holidays. I landed in distant Domodedovo airport in Moscow at 9.10 pm.
They have fancy airport express train to the city, but it is expensive so I used the old method: bus 300 to Domodedovskay subway station for 100 roubles. And then subway to my hostel for 55.
Here I am - in Moscow! But I expected a strong frost. It is plus 1 deg now! Joke, Mr Dyed Moroz?!


Dec 24, 2017 12:00 AM
Merry Chrismas and Happy New Year 2018!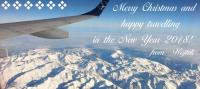 One more year is coming to the end. For me - the passionate traveller it was very good year: six interesting voyages were completed. I wish to all my friends happy travelling in 2018.
And have also Merry Chrismas with the ones that you love!
Wojtek


Dec 21, 2017 12:00 AM
Delayed flight... and finally home, sweet home!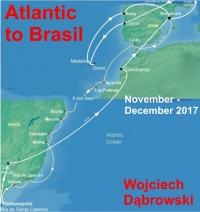 LOT flight from Barcelona to Warsaw was delayed by one hour. And this was enough to lost connection to Gdansk.
They rebooked me for the next flight and finally I reached Gdansk in the late evening. Sorry, no snow in my city, but minus 1 centigrade. When I was boarding my first return flight in Florianopolis there were plus 33 centigrades!
OK - one more interesting voyage is completed. Now it is time to rest, to make laundry, to publish new travel reports. And to prepare the plan for the next trip.... :)


Dec 20, 2017 12:00 AM
Flying home for Christmas...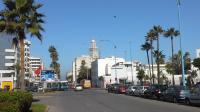 Can you imagine - the hotel reception woke me up at 4 am! Hurry, hurry - the airport shuttle is waiting. They want to save money and pack to one shuttle bus these passengers who depart at 6 am and me - who departs at 8 am. As a result I was in the Casablanca airport already at 5.30 am - very sleepy.
Casablanca... "You must remember this, the kiss was just a kiss and sight was just a sight..." - This lovely song from the old movie is one of my favourites... Bye, Casablanca!
I am flying home for Christmas! I do hope that all three flights one by one will be on time and in the evening I will land in my frosty Gdansk. Just keep the fingers crossed, please! :)


Dec 19, 2017 12:00 AM
Half day Casablanca, half day Rabat...
The reception of Le Zenith push you to take a taxi when you want to go to the distant city center. For the budget traveller there are 2 other ways: bus 9E for 5 dirham from Camelia stop or the long tram (they call it METRO) for 8 dir. from Facultes Terminus. In both cases you should cross carefully the highway. Use maps.google to find details :)
So I took 9E bus for less than a dollar to the palm fringed boulevards of Casa an I walk 30 minutes to see the Casa's main attraction - the Mosque of Hassan II. When I was in Casa for the first time in the 80-ties
there was olny empty place. During my second visit in 2005 the mosque was ready with its highest (210 m) minaret in the world. Today I resfesh memories, but didn't go inside. They open mosque for visits at 9 am, 11 am and 14 pm. I was there at 12.....
I crossed old medina by foot to get to Casa Port railway station. Round trip ticket to Rabat cost me 74 dirhams - less then 10 USD. And in Rabat - the capital of Morocco I walked again sunny streets after 33 years or so. No changes are visible here - little Kasba Oudaja still has a charm and the guards on the horses still stay at the gate to Mausoleum of Mohammed V. Only on the opposite side of the river - in pirate's Sale there is much more modern buildings...
I returned after dark. Tired but happy - this was another sunny and interesting day. It is much safer here then in Brasil and the people are very helpful, especially if you speak French - this was also good opportunity to refresh my French abilities :)