You can lose everything, but nobody will take away what you saw and what you experienced...
............
Sep 12, 2017 12:00 AM
Marshrutka to Dagestan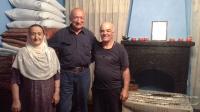 In the morning I said goodbye to Grozny. From south bus terminal (avtovokzal) there are minibuses (marshrutka) to Makhachlala - the capital of Dagestan. The problem is that they are departing only when they are full. You are coming and you have to wait. Fortunately I was waiting only 40 minutes. Then it was 2,5 hours and only 150 roubles to pay. It is 32 deg Celsius today! In the old minibus they do not have a/c. Heat and dust!.
In Makhachkala I was forced to change bus terminal northern to southern. City bus 43A goes there. Then I was waiting for the departure of the second marshrutka going to the Kubachi in the mountains. Great views on the way... But it was already dark when we reached this mountain village. No hotel or guest house here. Where to go? I was lucky to be invited for the night by the lovely local people. Thank you Abdulhalik & Pierdaz!


Sep 11, 2017 12:00 AM
Chechnya - Lovely Grozny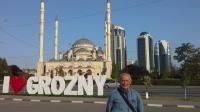 Bye-bye Vladikavkaz! In the morning I took marshrutka (minibus) to Nazran in Ingushetia.(50 rou). Just nearby they built in the middle of nowhere new capital of this tiny republic: Magas. There is no much to see except the memorial tower and ornate buildings of the administration. There are impressive fountains in between. Can you imagine a/c waiting cabinson the bus stops?
Then there was 2-hours drive by another marshrutka from New Avtovokzal to the capital of Chechnya - Grozny.
Imagine brand - new city with a group of 6 skyscrapers and the big morsque... A lot of flowers around and for 100 rou you can take the elevator to the 29th floor to see the panorama of Grozny. Elegant ladies in Muslim dressing - no terrorists... You can even take the pictures inside this ornate Kadyrov Mosque. I love Grozny - it is written in front of city hall. Why not?


Sep 10, 2017 12:00 AM
Russia - how they make you lawbreaker...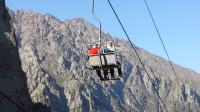 The local driver we tralel with yesterday was so sweet and enthusiastic: I will take you tomorrow to Ingushetia, you will see there the old, traditional stone towers! We agreed to pay for that another 3000 rou.
At 8 am he was already waiting at the gate. We started new trip. First - on the main road heading to Tbilisi, enjoying the sun an mountain views. Then, in the village of Chmi he turned left to the bridge on Terek river. We crossed the river, nobody was there. Ome 80 m onward I saw monumental gate with the sign "Ingushetia". The soldier opening the gate asked for the passports and... the drama began. He took the passports away and told us we must wait for "nachalnik". 20 minutes later nachalnik came and announced that we broke the low because we - the foreigners entered border zone without special permit. Our sweet driver said that he didn't know about because crowds of Russians are going up and down through the gate without any permits. I said that we are sorry for that and we will be happy to go back.
No, no, no! You will be investigated! They took us to the room. The soldier with big suitcase of equipment took all fingerprints and couple of pictures. We responsed long list of questions from two officers. 8- pages protocol was written and printed. It took 3,5 hours... They said that now we are in FGB database of the people who broken Russian law.
What was the point? The border of Ingushetia is on the river. The driver took us 80 m further - to the post in the gate. There we were informed that foreigners need a permit. - Next time you will be punished! - they said and let us go... Very frustrated we returned to Vladikavkaz and the unhappy driver took us 120 km away to the primitive mountain resort of Tsey. They have there two chair lifts going up the valley to the level of 2445 m.
Round trip journey cost me 200 rou - like 4 USD. It is great deal - wha a views!


Sep 10, 2017 12:00 AM
Dear Russians...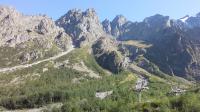 I am in the FSB base. I am not feeling comfortable, dear Russians. I came here to enjoy the beauty of your country and the friendliness of the people... You should rather inform local taxi drivers how far they can drive the foreigners... 80 m by public road can make your foreign guest the lawbreaker - treated like a criminal...


Sep 09, 2017 12:00 AM
Dragavs - the icon of Osetia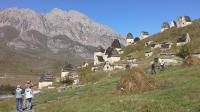 I pay 1500 rou for the big room with bath. Strong sun is shining since the morning and it is enough to go out of the hotel to meet the driver offering half-day tour by car. But you have to know Russian - lucky me!
The price is 3000 rou for 6 hours tour.
We went first to the mountain village of Fiagdon to see the monastery, then paved road turned to gravel and we started to climb to the pass. Great views on the way includind snowy top of Mt Kazbek. Can you imagine that I did not see today any other foreign tourist?
In the next valley we visited Dargavs. This is unique place - in the ancient times during epidemy ill people decited to separate themselves from the rest of population. They built a colony of small stone houses in the very picturesque place - They call it City of the Death and it is like the icon of Osetia. Skulls and bones are still visible through the stone windows. Great place, great day!


Sep 08, 2017 12:00 AM
Kaliningrad to Vladikavkaz...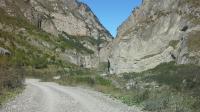 The bus departed from Gdansk at 6 am. The ticket to Kaliningrad costs only 42 zlotys. It was raining a bit. After 2,5 hours we reached Russian border. The officers are lazy there so the bus departed late from Russian post. In Kaliningrad I took airport bus (80 rou) and after 40 min ride I was already in KGD airport. What a surprise! They opened the new terminal! And the staff is more kind...
UT air plane was already waiting. We departed to Moscow on time. Not bad service, but if you want to eat or drink something more then a water you have to pay extra???? 150 rou for the cup of coffee/tea.
In Moscow Vnukovo I was waiting only 30 min more for the delayed flight to Vladikavkaz. 2 h 5 min flight - it was already dark when we landed in Osetia. How to get to the city. Let you know that they do not offer any public bus - you have to take a taxi for 21 kms ride - it cost me 400 rou after bargain. Welcome to Russian Caucasus!


Sep 07, 2017 12:00 AM
New voyage to the East...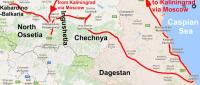 One more voyage! The Russian Caucasus region was fascinating me since a long time. Unfortunately, the complicated internal situation and the ongoing unrest prevented me from going there for many years. Now the situation improved, so it's time to pack my backpack and set out. I will fly from Kaliningrad through Moscow to Vladikavkaz. And then it will be only a local transport all the way to Makhachkala in Dagestan, from where I plan to return to Kaliningrad - again by air. I hope the weather will be good. Please keep the fingers crossed, my friends...

============================
============================
============================


Sep 05, 2017 12:00 AM
Bosnia to Poland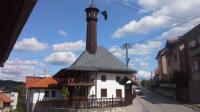 My host - Ahmed - the manager of Chardak Guest House was so kind to wake me up at 5 am and took me by his car to Tuzla airport. He charges 10 euro for such a service, but regarding the distance - 16 kms this price is reasonable. On the way we were talking about islam in Bosnia. This is "soft" version of islam, left here by Turks. Many people consider themselves to be Muslims, but the do not pray 5 times a day and go to the mosque once or twice per year... Not too bad!
Tuzla airport once was the biggest military air base of Yugoslavia. Now it is tiny, undeveloped airport used by low-cost airlines. Little-space, chaotic. In the check-in line it was difficult to find tourists. Most of passengers were Bosnian workers going to Scandinavia...
We started on time. 2,5 hours later the plane landed in Goteborg. No mercy! -even transit passengers must go out of the lounge and experience once again strict security control. 4 hours to wait. Let you know that near gate 18A there is quiet spoce where you can rest or even sleep on the 4-seat benches.
Last flight to Gdansk... Another interesting trip is over. I have now full two days to make laundry and to pack my backpack again! :)






Sep 05, 2017 12:00 AM

St Kitts - not St Maarten

Well, surprise...
Due to the effects of the hurricane our ship changed the route.
Today, after 7 days in the ocean we reached the island St Kitts.
Everything goes well - I have many new friends on board.
The internet price is killing, so be patient - more news soon! :)


Sep 04, 2017 12:00 AM
Tuzla - Bosnia - where I am?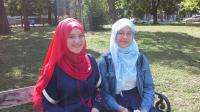 It took me yesterday 5 hours by bus (1700 dinars) to get from Belgrade, Serbia to Tuzla, Bosnia & Herzegovina. At the border we did not wait too long and before dark I found my Chardak Guesthouse, where the room with shared bath costs 12 euro - but payable in local currency.
No currency exchange at the border. Here they are giving a bit less then 2 mark for 1 euro.
Tuzla in the past was a mining place for salt and coal. But first of all it is a country where instead of croses on a churches you see many minarets. Many young ladies also wear Muslim dress...
In the centre of Tuzla they have nice pedestrian zone crossing the old town, nice fountain in the market and... many houses asking for restoration. After yesterday's rain the sun shines again. The street cafes are full and noisy since the morning (so when do they work?!) It is not easy to find the tourist information office in the side street of the main pedestrian walk, but once you will be there the offer not only free wi-fi, but you can also use their computer to che k your e-mail box. Bosnia seems to be more expensive then Serbia.
I am ready for tomorrow's flight home...