You can lose everything, but nobody will take away what you saw and what you experienced...
............
Jan 22, 2021 12:00 AM
Dancing Friday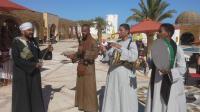 Sunny day with a blue sky. No wind.... And what a surprise! The management of our hotel invited a group of local Arab musicians. At a lunch time they performed traditional music and dances on the open terrace. Local foobd was also served and we had really good time.
Unfortunately it was my last day in Hurghada... Tomorrow I will be flying back to Europe.


Jan 21, 2021 12:00 AM
They take care...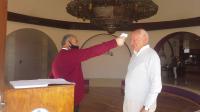 The sun is bright but from the morning we experience strong wind... The guests in the hotel I stay do not wear the anti-covid masks, but for all staff it is obligatory to wear them. In addition three times per day, when we are entering the restaurant our temperature is checked, and registered in the big notebook (in Arabic!). Apart from the dozen of foreign tourists there are Egiptians in our hotel. For breakfast they eat fool - made of red beans and kofta - little meat cutlets. The rest of the buffet is European... The food they serve is fresh and tasty.
It is nice that they offer a lot of fruits and vegetables, brought from the fertile Nile Valley.


Jan 20, 2021 12:00 AM
Grand Aquarium Hurghada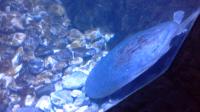 They say that it is 7th aquarium in the world... In the past I admired most the one in Osaka, then those in Florida and California so maybe it is worth to see the one in Hurghada? It is located only 1,5 kms from my Mercure Hotel - 25 min walk... The institution was empty... The clerk in the ticket window asked for hefty 32 USD entry fee. More than in America! OK, I paid and passed through the security screening. The trail marked by arrows lead me through the artificial jungle with little waterfall, snakes and turtles the cages were alive. I didn't expected that this is zoo + aquarium with african ostriches, pelicans an flamingos. Of course the main attractions are the glass tunnels under big tanks (2) where you can see stingrays turtles and sharks sailing over you.
Worth to see but overpriced!


Jan 18, 2021 12:00 AM
Glass bottom boat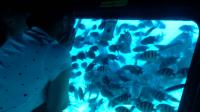 Red Sea is famous for its underwater attractions so when you are in Hurghada it is a must to snorkel and to take a ride on the glass bottom boat over the coral reef. I did. Travel agencies an hotels offer such a tour with hotel pick up for 30 USD. Now I know that going directly to the Hurghada Marina you can have the same tour for just 15 USD.
Right at the south entrance of marina you will see a fleet of the yellow Seascope boats. We departed at 11 am. The sail along the coast is spectacular - imagine that old ex-soviet cruise ship "Albatross" is waiting here for the better times... After 20 minutes of introduction on the deck they invited us to thd lower deck where we were sitting in front of huge windows. On the other side of the windows there were corals nnd color fish. Well, not too much... The swimmer attract them giving some food. Then there was snorkeling opportunity... Is it worth the money? It depends of what you saw before. For me, after snorkeling in Australia and Polynesia it is a tourist trap. But for the people who are snorkeling for the first time it coul be great experience....


Jan 16, 2021 12:00 AM
Hughada city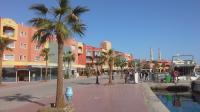 Hundred years ago here was only wide, empty desert. Then little village of the fishermen. Now it is a huge resort city... It was interesting to walk around - just to recognize that there is not much to see, except the 800-meters long coastal promenade in Marina of Hurghada. There are beaches in the town but all of them are private and you have to pay an entrance fee to get there.
Marina promenade became the front window of Hurgada. There are many colorful cafes and restaurants, souvenir shops and services. But it is hard to see any folklore - you will not see any arabic script... Only a year ago there was a crowd of tourists. Now the promenade is almost empty because of pandemic. North from the promenade you will see the minarets of central (Mina) mosque. The doors of the mosque are closed...


Jan 14, 2021 12:00 AM
In oriental style...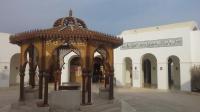 My hotel is different. It is not like most of the beach hotels here. They remind the concrete blocks with the rows of balconies... "Mercure" is a low-rise complex. The administration-shopping-restaurant part is designed in the oriental style - see picture. The hotel pavilions are spread out in the garden with palms and flowers. They are 3-storey white buildings. I like it! I slept very well until 8 am after a tiring previous night on the plane. Weather is changing today, but iit is still warm...


Jan 13, 2021 12:00 AM
Landed in Hurghada!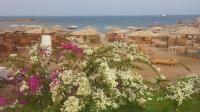 I had a hard time with my long legs on the old,cramped 767. They (Azur Air) reduced distance between the rows to take more people. The plane was 100% full. Fortunately it was only 4 hours... We landed in Hurghada empty airport at sunrise time. First they allowed to disembark people with ready PCR tests. Then the rest should pay 30 USD for the on-site test (it was hidden cost the tour agency did not mentioned). Then passport control and you are free to go down to the car park, where numbered buses are waiting. They will take you to the hotel of your choice, transfer is included.
25 deg Celsius, tropical flowers around...
They dropped me at "Hurghada Mercure". This beach hotel is more cozy than big blocks accommodating thousands of guests. "Mercure" was opened just a week ago after the long pause. Let's have a rest!


Jan 12, 2021 12:00 AM
Flying in pandemic time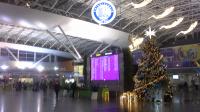 No snow in Gda?sk till today, but in the airport of Gdansk, which experiences more "continental" climate it was white around when I was boarding my first flight to Warsaw. Little, turbo-prop airplane was half-empty. People do not travel, even in their own country... But there is a in-flight service: they offer sweet bun, waffer and a bottle of mineral water! In Warsaw I was waiting more than an hour for the connection to Kiev. My backpack was heavier then 8 kg allowed but nobody took care. On little embraer jet it took us 1,5 hour to reach Kiev KBP airport. Transit desk near the gate will not check you in for the charter flight - you have to go to the mmain hall!
How about pandemic restrictions? Ukraine is open for tourists, but you have to declare where you will stay and you have to show the insurance paper. Oops! I managed to convince young immigration officer that it does not apply to the transiting person like me.
Main departure hall was nicely decorated for Christmas (orthodox's celebrate their Christmas in January). Airport hotel is closed due pandemic. So now I have to wait in the hall till midnight to check-in. Fortunately there are not much passengers waiting. Good night from Ukraine!


Jan 11, 2021 12:00 AM
The sunny beach is better then nothing...

I am running away to sunny Egypt again! The original plan was completely different: in mid-January I was supposed to fly to the Canary Islands, where I had Fuerteventura to see. Meanwhile, low-cost airlines canceled three of the four purchased flights, and the Spanish government wanted me to come with a fresh PCR test, which costs over EUR 100 in Poland. I was forced to change my plans. Through a Ukrainian agency from Lviv, I arranged a cheap holiday in... Hurghada, where I have not been yet. You know that I like to to overland and to explore but coronavirus blocked such options. It is better to enjoy sunny beach than to stay in the mask in the grey and cold Europe! :)


Dec 31, 2020 12:00 AM
Happy New Year!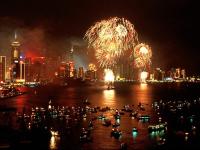 I am waitimg impatiently for the bloody year 2020 to escape.
I am still locked. No dancing, no meeting with the friends.
Let's the New Year 2021 will bring us return to normality, open borders, exciting and free travelling!
Have a happy new year!