You can lose everything, but nobody will take away what you saw and what you experienced...
............
Apr 02, 2019 12:00 AM
I saw Matterhorn!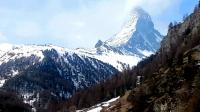 It was 7 am and still dark when I was sitting already in the train. The forecast was pessimistic: clouds in the afternoon. We started the journey to Lausanne then I saw a great sunrise on Geneva Lake. Around 9.30 I disembat train in Visp. Red mountain train was waiting there to take me up to Zermatt - well known Swiss mountain resort. The route (about 2 hours by train) was very picturesque. In Zermatt in front of the station I was disappointed: Where is the famous Matterhorn? They buit so many hotels and pensions that you have to go some 800 m up the valley to see legendary pyramidal mountain. Yes, it was still visible and I must say that - impressive.... An hour later the peak was covered by clouds.


Apr 01, 2019 12:00 AM
Geneva from the hills....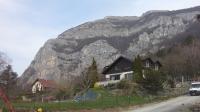 Yesterday evening till 11 pm I was showing my travel pictures from all over the world talking about most exotic places. My listeners were excited... Today it is time to say goodbye to them, but maybe I will see them in Poland this summer...
Flix bus to Geneva was delayed almost one hour. I boarded at 11.25 am. The views from the window on the way to Geneva were nice, only 15 min waiting on the French Swiss border. In the afternoon I was happy to see again my friend Mike. He prepared tge surprise. We boarded his car and he drown me back to France (no border control on the side road) - to the top of Saleve Mountain. It has nice cliff from Geneva side and few viewpoints some 600 m above the city. Geneva is visible, Jura Mountains on the horizon and a big part of Geneva Lake. Unfortunately it was hazy today so the pictures are not the best. On the other side of Saleve there is a view of Mont Blanc. Of course it is in the distance... We took the walk to the cable car station and back - good exercise! :) Tomorrow I plan to go by train to Zermatt.


Mar 31, 2019 12:00 AM
Alps - what a wonderful world!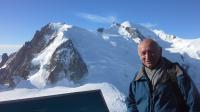 Chamonix, where I stay with very friendly Mr Kacper lies in the narrow valley. On right side the highest mountain in Europe - Mont Blanc is towering the valley followed by other, lower snowy peaks. On the left you will see Mt Brevent - only 2525 m high, but with great view and cableway going to the top. The choice was difficult, I wanted to see as much as possible. Tickets foe cableways are expensive (like 65 euro RT to the famous Aiguille du Midi. So the budget traveller can survive. At the end of ski season they still sell ski passes giving unlimited usage of local cableways, buses and more. Buy it!
I woke up early beiing before 8 am at the cableway station. Sunday. No people in the line! In two stages I moved from 1035 m - Chamonix Level to 3842 m. Cold here and 65% less oxygen in the air - but what a view from few terraces on different levels! You are close to the Mont Blanc!
Back in Chamonix I went to the terrain mountain railway operating to Montenvers in the glacier valley on altitude of 1913 m. Take a left side window seat for the views! Wow! From the final station gondola will take you down to the valley. Then you have to walk down 500 stairs to touch the glacier (and 500 up on the way back!). They cut the grotto in the glacier - it is some 100 m walk with the old photos gallery and ice chair to be photographed on.
Back in Chamonix I too the bus to Brevent cableway. First stage it is gondola stage to the altitude of 2000 m. Then you took the car to 2525 m to enjoy 360 deg. panoramic view of the Alps. What a wonderful world!


Mar 30, 2019 12:00 AM
Geneva in the sun!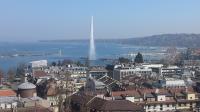 This was very pleasant meeting of the top travellers. I met Mike years ago on the expedition ship going to the Antarctic. Then we were travelling toogether in Brazil and Tibet... Today Mike was my guide in Geneva, where I have been last time some 25 years ago. We had a beautiful sunny day to enjoy the Leman Lake. The famous fountain 140 m high and to stroll around the old town. The view from the tower of St Peter cathedral is excellent. Thank you Mike for yoyr hospitality and such a wonderful time! In the afternoon I am taking a bus to Chamonix... to Mont Blanc...


Mar 29, 2019 12:00 AM
I am flying to Geneva
The miles collected by me in the LOT frequent flyer program expire after 3 years. So it was to fly for free (not exactly - you must pay airport taxes) I decided to fly to the Swiss Alps invited by my friend Mike - the great Swiss globetrotter to stay with him in old Geneva. The round trip ticket "cost me" 10000 miles, but this is the ticket from/to Warsaw so I started a day in the express train going Gdansk to Warsaw Central station. They serve one free tea/coffee or minwater aboard and this takes only 3 hours. Then I took the city bus 175 to Chopin Aiport - only 20 minutes today, but in case of congestion it could be even 40 min.
I am waiting now in the departure hall for my flight and pray for the good weather in the Alps...


Mar 26, 2019 12:00 AM
Memories of Australia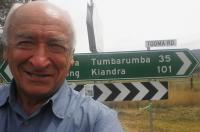 It was just a month ago when I was drivivg the car to Tumbarumba. Funny name isn't it?


Mar 23, 2019 12:00 AM
Memories of New Zealand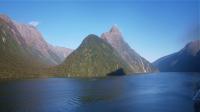 Calm waters of Milford Sound from the deck of the ship.


Mar 22, 2019 12:00 AM
Memories of Indonesia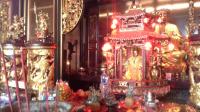 Altar in the Chinese temple in Semarang. It is nice temple, but surrounded by very poor streets and dirty canal.


Mar 20, 2019 12:00 AM
Memories of Tonga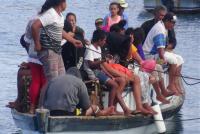 Sorry, I cannot upload more pictures to my gallery till the end of March. So enjoy the pic in my travel log. This is inter-islan overloaded boat.


Mar 13, 2019 12:00 AM
Home, sweet home!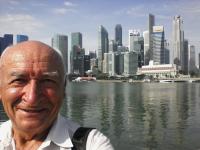 After 13- hours flight from Singapore to Warsaw I was running to the new gate to catch the domestic flight to Gdansk. The problem was that arriving from non-Schengen area you must go through the passport and security control and there were lines...
Ufff... they were waiting for me... An hour later I landed safely in my Gdansk. Only 1 deg Celsius, wet snow falling. Did I arrive too early?
But It is nice to be home after such a long journey!