You can lose everything, but nobody will take away what you saw and what you experienced...
............
May 12, 2013 12:00 AM
Enjoying spring flowers in Wojtkówka...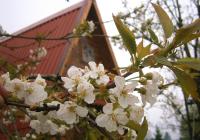 Lovely, warm spring arrived finally to my Wojtkówka with all its colors... Fresh green is all around and first trees are already in blossom. That's why I am coming back to Poland every year in May...
I have a lot of work on the open air, but such a views are worth the effort.
Dear friends - I uploaded the flowers from Wojtkówka for you - to share my joy. Welcome to Wojtkówka! (Next travel only in September - I believe :)
Wojtek


Apr 21, 2013 12:00 AM
Flight over Siberia...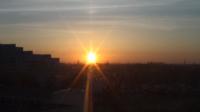 Terminal 1 of Tokyo Narita airport is well organized. The staff smiles so nice... But those are last nice smiles I saw on this voyage... Once you are on board of Airbus 340 the smiles are rare and not as nice as in Japan :).
It was a long flight over the Northern Siberia. 11,5 hours in the air. I was watching once again "Les Miserables" on the private screen.
But if you want to drink a can of coke between the meals you have to bring your credit card and pay!
It was lovely sun shining when I landed in Gdansk. Spring!
What a day.
And what a voyage came to the safe end!
Welcome to Gdansk!


Apr 20, 2013 12:00 AM
By the rough ocean to Tokyo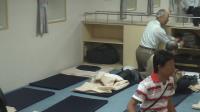 Horrible night! This time I got the mattress no. 93. The big room of economy class was full again. 120 people in one room! Some 20 cm distance mattress to mattress. The ocean was rough and it was hardly rocking our little boat.
I was just sliding many times to my neighbour - the old Jap. -Sumimasen - excuse me!
Tokyo appeared at 3 pm in the haze and light rain.
My friend was waiting for me ashore - thanks a lot Mirek!
Can you imagine that his wife Mag is baking here in Japan very tasty Polish bread?! We spend the evening talking and watching my pictures from Ogasawara. Lovely family!


Apr 19, 2013 12:00 AM
Once again around the island - goodbye Ogasawara!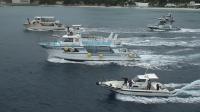 No more rain in the morning so I decided to go once again around the Chichjima expecting better light for the pictures from the well-known view points. I took a piblic bus for 200 y to the Kominato junction and then started to climb. I did it, but sorry - no sun today.
Back in Oshima I visited a shinto religion temple on the hill and then it was the time to pack up and go to the pier where Ogsawara Maru was waiting. Saying goodbye to all friends I boarded again the ship as the only westerner...
Departure was very spectacular: they were drumming and waving flags. The cavacade of 7-8 motorboats on the full speed accompanied the ship to the open sea. And kamikadze-divers were jumping from this boats to the see - still waving their hands.
Bye-bye beautiful islands of Ogawawara!






Apr 18, 2013 12:00 AM

Another stormy day on Chichi

Tropical storm in the morning. Locals are happy because they suffer from the lack of the sweet water... Me - not... I have still places to see on Chichijima...
When the rain stoped in the afternoon I decided to go to the trail anyway and... I returned almost completly wet. But do not worry - it is warm here!
Internet connection in Papaya is dead - I write from tho other place...
"Ogasawara Maru" is already in the harbor and I believe that tomorrow in the afternoon I will be forced to say goodbye to all my new friends from the Laughing Islands.
If the morning will be sunny I still want to go to the cliffs to take better pictures for you. Can you make any magic, please???


Apr 17, 2013 12:00 AM
50 sharks making love on the public beach!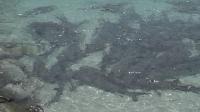 After yesterday's kilometers of hiking it was relaxing day. The sun over Hahajima was still shining so I took the walk to the little cave in the settlement /take a key from the tourist office/. It is rather a kind of WW2 shelter - not worth to see. Then I went to the sandy public beach and... hard to believe: I saw more then 50 whitetip reef sharks laying in the shallow water just 2 m from me! I have this recorded, sharks were 1 to 1,5 m long... Some of them were moving slowly and coming back to lay on the others...
I asked local guy what they do and he responsed: they are making love!
Wow!
In the noon I said goodbye to all my friends from Hahajima and boarded "Hahajima Maru" to Chichijima. Some of this people came especially to the jetty to wave their hands. Thanks to all!
I had a pleasure to meet captain Aki and to make a souvenir picture with him. Visibility was good on approach to Chichi so I had a chance to photograph another phenonena of the nature: the Heart Rock. Hope to show you this red heart in the grey cliff on return!


Apr 16, 2013 12:00 AM
Great view from the highest peak...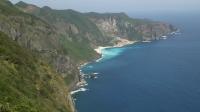 Today I had the last chance to climb Mt Chibusa - the highest peak in Ogasawara group of islands. Yesterday I experienced serious tropical storm. How will be the weather today? Thanks God the sun was shining since the morning and at 7.30 I was already on the trail. In fact there are two trails to the top of Chibusayama - how they call it here. Left one is shorter but steep. The right one - longer and offers more panoramic views. I took left one up and the right - down. I reached the summit after some 1,5 hours of non-stop climbing in the dense tropical forest. From the level of 463 m there was especially good view of the hardly accesible eastern coast. On the west side the settlement was visible too and the chain of little islands too. It is not true what they write that you can see whole island from Chibusayama - the far north is not visible. But it is still great panoramic point.
I lost one day due to the rain so despite the morning effort I decided to go in the afternoon to the far north of the island - to the abandoned village of Kita-mura. Once 600 people was living there... I rented from the tourist office car with local driver to drop me there. According to the published tarrif it cost 2200 y for 12 kms of up and downs. Kita is nice bay with stoney beach but nothing except little pier remained. I returned walking and visiting attractions like empty Higashi port, Ww2 cannon, Big Bay and Long Beach. Legs are very heavy after such a day :-)
But what a day!






Apr 15, 2013 12:00 AM

Tropical storm over Hahajima

I woke up in the middle of the night. Thunders? Yes, and heavy rain! In the morning I noticed also strong wind. It was blowing till 1 am. At 3 pm I put my windbreaker on me and went for the walk. Soon the rain stopped and I had a chance to visit lokal cemetary on the slope. Interesting place. Rolf, the Jap-naturalized German who decided to spend his life here in 19th century is buried there. There is small but interesting museum in the village with his bust in the front.
Then I managed to climb Mt Shonensaki - the hill overlooking the village. At the upper part you have to use chains to climb safely to the top. There is a great view of the village, Oki port and Mt Chibusa. If the unpredictable weather will be good, tomorrow I want to climb this mountain - the highest in Ogasawara.
People are nice to me - I have been to the school to see how they teach here /luxury!/ and charming Asako from the shop promised me a loaf of bread for tomorrow... let's hope...


Apr 14, 2013 12:00 AM
The view from Mt Kofuji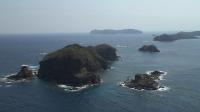 Sun!! Take your breakfast and go! Not so simple. At check-in to the hostel or guesthouse in Japan they ask you if you want meals. If you agree you will be charged for breakfast extra 700-900 y. But let you know first what you are signing for: this will be traditional Japanese breakfast - each day you will get the soup, then the piece of smoked, dry fish, some vegies and unlimited rice. Enjoy!
After 3 days I had enough. Now I buy products of my choice. Yesterday I bought the whole stock of the bread from local shop: 6 slices :-)
Ok. No buses or taxis on Hahajima so I started a walk to the south of the island. It is only 5.5 kms to the southern end but the road and trail goes all the time up or down so be prepared for a good exercise!! If you want to make side trips from the main trail to the beaches on the western coast it will cost you even more effort. Let you know: the beaches on this side are stoney ones. The first one with some sand is cozy /only 10 m wide/ Horaine.
I was well sweaty when after a long walk through the thick tropical forest I reached Minamizaki Beach on the southern tip of Haha-jima. Nice place, but the greatest view was from Mt Kofuji - the peak overlooking this beach. Wow! The blue of the ocean, the chain of small, rocky islets, dense, green forest, white croissant of the beach - this was so far my best panorama on Haha! Enjoyable!
Lets walk back...


Apr 13, 2013 12:00 AM
To Haha-jima!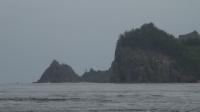 It is not big distance from Chichi to Haha - only some 50 kms' but the only possible access is by sea. They have little charming boat "Hahajima Maru" with departures coordinated to the "Ogasawara Maru" sailings to/from Tokyo.
When I came at 8.15 am to the little terminal on Chichi there were only six passengers waiting. This gave me the idea how remote is the destination I am sailing to. I bought one-way ticket for 4570 y, took a picture of polite ldy-clerk, cleaned my shoes /they protect their environment on such a way/ and boarded the ship.
We blowed the horn and departed exactly at 7.30. That's the accuracy of Japan... On board they have even announcements in english! (Nothing like this on Tokyo-Chichi route). And downstairs there is even sleeping space on the floor if you want to sleep during 2 hours and a quarter of sailing... Wooooo... this was another cloudy day and I was unhappy to take dark and hazy pictures. Bad luck! But we met one jumping whale on our way /in the distance/.
Haha reminds me Fatu Hiva on the Marquesas: it has also steep, green mountains rising from the sea. In the well-sheltered, but tiny harbour a lady from Anna Beach Youth Hostel was waiting for me and the second passenger. We are the only guests in the hostel. It is rather primitive with its shared bath and lack of guest kitchen but if you are YHA member you pay only 3360 y per night. Welcome to Haha!