You can lose everything, but nobody will take away what you saw and what you experienced...
............
Jun 27, 2020 12:00 AM
Pandemic time, but strawberry time...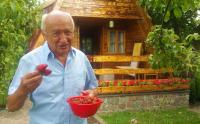 It is strawberry time in my Wojtkówka, where I am perfectly isolated. I spend the long days there working in the garden, picking and eating fresh vegetables and... dreaming about new travels.
How can I live without travelling?
So first emergency plans are ready: in mid-September I would like to drive by small car around Latvija and Estonia. I need a nice pilot to share the work and the cost. Are you ready?
Then I think about Italian Lipari Islands aat the beginning of October, if the low-cost carriers will fly to Sicily... Then... Let's be optimistic!


Jun 21, 2020 12:00 AM
Peony' time...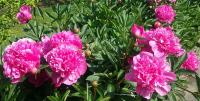 Days are long now, so working whole day in the garden in the evening I am quite tired. But everything around grows very fast (weeds too :) At the moment my peonies are in full blossom - see the picture - what a smell!
I eat a lot of chive and fresh, green salad, fighting with the plague of snails.
Not enough time to write, but it will change...
From time to time I have visitors - mostly from Poland. It seems that international visitors coming usually via Couchsurfing and Servas are afraid of coronavirus.
Do not be afraid, Wojtek awaits you in Wojtkówka! Wojtkówka is perfectly isolated :)


May 11, 2020 12:00 AM
Apple trees in blossom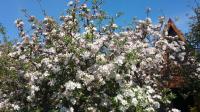 Apple trees are in blossom in my Wojtkówka. On the sunny day it is the great pleasure to be there and to enjoy the view and the smell. As you can see on the picture my cottage is hardly visible through the cloud of the flowes. I have a lot of work, returning in the evening to my flat very tired. But I like it! Let's hope that there will be no more frost in the night!


May 04, 2020 12:00 AM
Constitution Day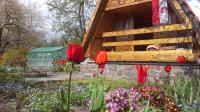 Yesterday we celebrated in Poland Consitution Day. I spent the day in my "Wojtkówka" - can you see the national flag on my cottage? There is more and more fresh spring green in my garden and plum and cherry trees are already in blossom.
It is the nice time. But I am still waiting for the message about opening of the borders...


Apr 25, 2020 12:00 AM
Spring works in my dacha
Spring arrived to Gdansk! So as soon as I finished my forced two-week quarantine, I happily started working in my Wojtówka. And as you probably guessed, there is a lot to do there - especially for only one pair of hands :)
After several days of solid work beds in Wojtkówka are ready. I've also planted all the vegetables that are sown in early spring. Now it is time to wait for the warming usually coming after St. Sofia day to plant tomatoes, cauliflowers and flowers into the ground. Unfortunately, drought has been going on in Gda?sk for over a month and I often have to water my vegetable garden. This clear blue sky is very pleasing, but rain is also needed... Let's hope!


Apr 23, 2020 12:00 AM
My name day in Wojtkowka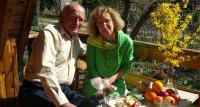 On April 23, I celebrated my name day and it was a sunny, beautiful day this year, so I could invite my closest friends to Wojtkówka (one by one, because the restrictions related to the prevailing epidemic exclude collective celebrations). I haven't seen many of them from the beginning of the year, which is why they were extremely nice meetings. In the photo I am with my dear friend Ela, who is so nice and looks into Wojtkówka during my long journeys.


Apr 09, 2020 12:00 AM
Last day in the cage!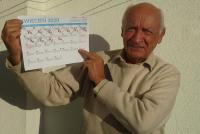 I have a lot to do at home, but forced not to go out I feel like a tiger in the cage, walking from window to window... I treat my obligations seriously... Fortunately it is the last day of my quarantine. I feel good. Tomorrow I will be free to go out (but not too far - they say, and staying far from the other people). The number of victims of koronavirus is still growing... Too bad...


Apr 04, 2020 12:00 AM
View from the window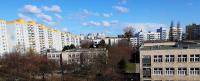 Yesterday police came twice to check if I stay at home on the quarantine. They are calling me from their car and ask to flag the hand in my window. OK!
Only 6 days left - then finally I will be able to go to my Wojtkowka.
Sun is shining today. What I can enjoy is a view from my window - can you see the deserted school building on the right side? And in the middle there is a kindergarten where my boys were growing many years ago.
Let's hope!


Mar 31, 2020 12:00 AM
Snow in Gdansk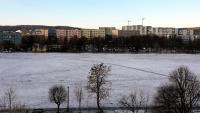 Few days ago in the South Pacific I experience strong sun and the temperatures above 30 deg. Celsius.
It was snowing today here in Gdansk - see the winter landscape on the picture...
I am staying home without posibillity to go out. The police every day is coming to check if I am at home.
But I need to walk, walk, walk...
What can I do?


Mar 27, 2020 12:00 AM
At home, sweet home...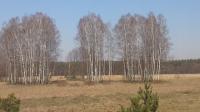 Lovely, sunny day! The little railway station in Kostrzyn has two levels - I almost missed the proper train :) First train took me to Krzyz, second to Chojnice, third to Tczew and the last one - to Gdansk. This was quiet new to me route through the nice forests and fields of Pomerania region - through the great landscapes of Northern Poland.
Only few people travelling on the trains. Nobody uses the propection masks. But the virus must be somwhere around - according to the radio in whole Poland we have already more than 1000 coronavirus cases, 14 people died.
Streets are not empty in Gdansk, but much less people...
After the high stress of the last days I am happy to be finally in home.
Unlucky 13th voyage around the world is copleted. I still was able to see some interesting places and to meet interesting people.
But who knows when it will be possible to travel again?!