You can lose everything, but nobody will take away what you saw and what you experienced...
............
Aug 01, 2019 12:00 AM
Welcome to Wojtkówka!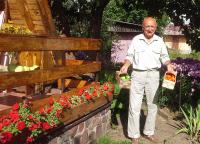 Mid - summer in Gdansk... In my Wojtkówka flowers are in full blossom, I am harvesting beans, tomatoes, cucumbers and califlowers. You are welcome to Wojtkówka dear friends!


Jun 07, 2019 12:00 AM
An old friend in Wojtkówka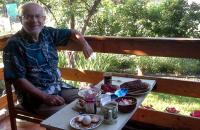 I hosted in Wojtkówka my old friend - Artur Anuszewski from Torun. He is also experienced traveller, with more than 100 countries visited. Artur is also the member of "Seven Continents Club" - www.kontynenty.net/k7k.htm
In the past we travelled together in the South America - Artur is a good companion, professional geographer with great knowledge about the world. It was a pleasure to chat with him on the terrace of Wojtkówka. Artur is currently planning a voyage to the Black Africa. Happy journey and thank you for your visit!


May 31, 2019 12:00 AM
First Servas visitors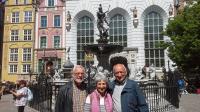 As you know since long time I am the member of Servas organization if the open doors. Today I was hosting the first visitors of 2019: Jutta and Jurgen from Bavaria. We took a long walk through the Gdansk's old town and in the evening in my Wojtkowka there was a time to exchange travel stories and to discuss the plans for future travels. We had a good time and my guests appreciated the fresh reddish, cucumber pickles and the bread with green onions. Thank you for your visit Jutta and Jurgen!


May 29, 2019 12:00 AM
Marriage of the travellers
I have been invited by the couple of Polish travellers: Joanna ans Pawel to attend their marriage ceremony. It took place in the historic Oliva Cathedral Church. It wals really great event! I think thet more than 200 people - family members, friends, travellers came to the cathedral bringing flowers, gifts and best wishes for their new life... I wish you a lifetime of happiness, joy, and lots of memories. Congratulations on your wedding!

=======================
============================


May 29, 2019 12:00 AM
Dressed up! :)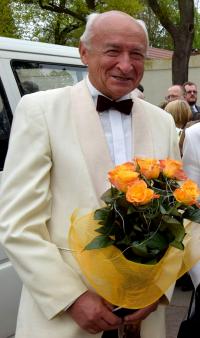 The marriage ceremony of Joanna and Pawel was extraordinary event and to honor them I attended dressed up...
Looking at this picture can you imagine me - the bacpacker, travelling the world in the old blue jeans?...


May 15, 2019 12:00 AM
Flying home...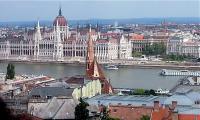 From Kalvin Square in Budapest where I stayed to the Budapest airport there is direct bus 100E for 900 Ft every 20 min. The stop is located not on the square, but in the Ulloi Street. Alternatively you can use subway and bus 200E. Both go to the Terminal 2 in the airport. Budapest is the important hub for wizzair so they are pretty well disorganized... They built a kind of giant tent outside of the terminal and there are 8 different gates to their planes. It was cold to wait there in the long line, imagine how it looks like in the winter. My flight to Stockholm Skavsta wad 30 minutes delayed. Furtunately in Skavsta I had 2 hours waiting for the connection to Gda?sk. Oho! Skavsta airport is giving you only 30 minutes of free internet - than you have to pay!
I landed in Gdansk on time - one more short but interesting journey is completed!


May 14, 2019 12:00 AM
Budapest after years...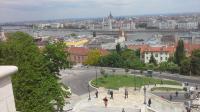 From Budapest Kelenfold railway station subway train took me to the centre if the city - Kalvin Square. The ticket cost 350 forint - slightly more than an euro. Then I found my hostel, where I slept in the single room without window for 15 euro.
Budapest changed little. I crossed the Sabadszag bridge and climb the Gellert hill for the great panoramic view of the city and the river from the bottom of Liberty Monument. Then walk down and climb up again to the Royal Castle - new view. And on the next hi?l there is Fishermans Bastion with a bgrat view of the parliament. Some 52 years ago I was taking from here black and white pictures - still have them home... Memories... Nice Budapest...


May 13, 2019 12:00 AM
Long live Hungarian Railways!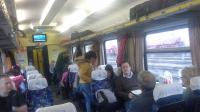 Hungarian Railways made me really happy. I discovered that they offer free countrywide transportation to the people 65+. Only if you choose the trains where all seats are subject of reservation you have to pay 550 ft (like 2 USD) to have your seat booked. So practically the seniors can travel end to end of Hungary for free! This is the first such a case I experienced travelling around the whole world...
Today in the morning I boarded the intercity train to Budapest. The 2nd class carriage has comfortable airplane chairs, is clean and offers free internet connection - fast enough to upload this text and few pictures.


May 12, 2019 12:00 AM
Pecs in Hungary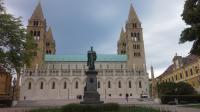 Pecs is the fifth biggest city in Hungary, the capital of Baranya County, it lies close to the Croatian border. I never been here before. It is surprisely nice with the two Ottoman mosques (one of them was converted to act a a church) and a huge cathedral. For the first time I had opportunity to see the cathedral with four towers. Of course there are more churches, nice theatre and other public buildings including synagogue, city hall and ornate county hall... On sunny Sunday people promenade along Kiraly street converted into pedestrian zone. I stay in the private, atmospheric Green Garden apartament in the silent street, close to the old town - well worth 20 euro I pay here for night. Tomorrow I plan to take a train to Budapest.


May 11, 2019 12:00 AM
The castle and by train to Hungary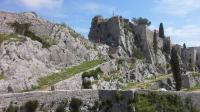 Few people know that apart from the Roman monuments and the blue Adriatic just 15 kms from Split there is medieval Klis castle pictured in the " Game of the Throne" Bus 22 go there and I had a chance to see picturesque ruins. Just let you know that they charge 60 kuna entry fee - discounts for kids only...
But today was mainly the day on the road - first 5 hours by bus to Zagreb. Then a secret train which goes once a day (16.28) from Zagreb through Hungarian border. I disembarked this Budapest train on Hungarian border station Gyekenyes changing to the almost empty Pesc train (after border control). Welcome to Hungary!