You can lose everything, but nobody will take away what you saw and what you experienced...
............
Sep 22, 2022 12:00 AM
I am finally at home, but infected by omicron!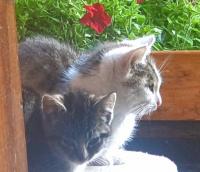 It was almost midnight when I reached my home in Gdansk. One more exciting voyage is completed! But I was feeling since Frankfurt somehow weak and experienced fever. On the next day somebody brought me the self-test from the pharmacy. Aha - I have omicron, decpite 3 covid vaccinations! Oh, no! - I will try to avoid flights via Frankfurt in the future!
It was necessary to see how is my "Wojtkówka" so I went there anyway. The young cats were waiting for me. There is still a lot of flowers and many vegetables to pick. But first I need a solid rest!


Sep 20, 2022 12:00 AM
Involuntary stay in Frankfurt
No luck. It was one hour after sch duled arrival when our jumbo-jet open the door near the apron of Frankfurt airport. I was running with the hope from wing Z to the gate A22 (quite a distance) but when I reached the gate nobody was already there. Desperation! In the Lufthansa service desk they rebooked me for the evening flight departing only at 8.30 pm. Seven hours waiting! After 10 hours spent on the night flight. They gave me the voucher wirth 15 euro for the meal, but the prices in the airport are so high, that it means almost nothing. You have to pay 3,50 for half liter of min water and twice more for the sandwich! This was very interesting, fascinating journey but the final... Shame on you Lufthansa!


Sep 19, 2022 12:00 AM
In Vancouver again...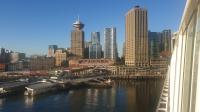 Sunny morning in Vancouver! I took a solid breakfast and started to pack my small backpack... At 9 am I was already ashore. They even do not check the passport! You are giving them the filled arrival form and you are free to go to the brigth, shinning downtown... There is a little risk - you sign that you are not bringing to Canada any food. But It is long way home so I prepared on the ship few sandwiches - nobody asked...
From the elegant terminal on the Canada Place ther is only 200 m or so to the "Waterfront" subway station. One of the lines (small, automated trains have no human operators) will take you directly to the airport. It cost the senior 3 Canadian dollars. Bad news in the airport! My flight to Frankfurt will be delayed for more than an hour! And this means, that I will be loosing connection to Gdansk! As you can see even now the airlines do not operate well!


Sep 18, 2022 12:00 AM
Captain Vincente...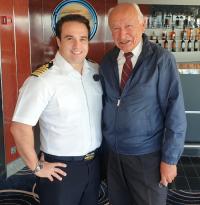 Today we are sailing all the day through the Gdand Inside Passage, passing small and big green islands. Watching for the whales (I saw one humpback, but only for the short moment) and sunbathing. At 10.30 I had a chance to meet our captain. He was responsing passenger' questions. Imagine that he is from Uruguay! I asked him how many countries he visited. Not too many, especially in Africa. I introduced myself and chef engineer took our pictures. Nice souvenir!
In the afternoon we went for some 3 hours to the open ocean, and later we took the course through the narrow passage. On the right side it was already a huge Vancouver Island. In the last evening I was listening to the pop standards perfectly played by the musician from the Philippines. And later on I met Katarina and Julien - fantastic Russian - French gymnastic duo performing in our theater. As you can see - the last day on the ship was very busy! :)


Sep 17, 2022 12:00 AM
Ketchikan - the capital of salmon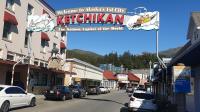 What a lovely, sunny weather! In the morning we were sailing through the Great Inside Passage - between small and big islands, watching playing little orcas and enjoying the views.
In the afternoon we docked in Ward Cove - just 7 miles from the historic port of Ketchikan - named the wirld capital pf salmon. But Ketchikan was also important during the Gold Rush Era. Now the township has also industrial face as an important transport hub for Alaska. I walked again old, colorful part of the city with many shops and bars. Sunny weather allows me to take good pictures. Tomorrow we will have full day at sea and after tomorrow I will land in Vancouver for flight to Europe. This fantastic journey is coming to the end!


Sep 16, 2022 12:00 AM
Skagway - Alaska Gold Rush city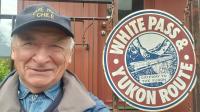 No rain today! We dock in the beautiful landscape of the Skagway Bay, surrounded by snowy mountains. Skagway is nicely restored with many houses from the Gold Rush era. You can visit saloons, shops and of course station of the famous White Pass Railway. Thousands of prospectors took this railway going to the goldfields of Klondike. Many jewellery stores offer gold, diamonds and other gems - all for the tourists! Not for me - I was happy yo find town library offering weak free wifi connection to send you this message. I am doing well! I have new friends on the ship and I enjoy the beautiful nature of Alaska :)


Sep 15, 2022 12:00 AM
Endicott Arm to Juneau...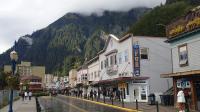 Early wake up. At 7 am I was already on the deck and our ship was entering narrow fjord -they call it here arm. Steep walls both sides, low clouds and the mist. We were sailing slowly more than an hour to rech the dead end of the fjord where the Dawes Glacier is located. It was cold outside, but fantastic view of the glacier and minor icebergs floating around.
Than we sailed to the capital of Alaska - Juneau. Wow! So many changes since I have been here with my son 30 years ago! Juneau is much nicer and still small. I took the aerial tram 550 m up to the Mt Roberts. Nice view from there (if no rain). The only point offering free internet is library located on the top floor above multi-storey parking!


Sep 14, 2022 12:00 AM
Icy Strait Point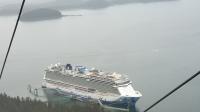 In the morning we reached beautiful bay dotted by small islands. In the past they built here the cannery to prcess famous Alaskan salmons and other fish. Nowadays cannery was closed and converted into tourist attraction. Nice place, but it is cloudy again and raining from time to time. They built here two tiny jettys so passengers from two ship can go ashore. Then they built in the thick, natural forest a gondola skyway to the top of the hill for the great views of the bay. Normally it cost 49 USD with the native dancing show included, but I was lucky to get it as a bonus!


Sep 13, 2022 12:00 AM
I am sailing, but...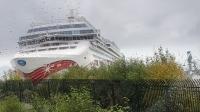 The boarding of the ship in Seward was quick and soon I have been in my cheapest, interior cabin. This is ma third cruise on Norwegian Jevel! During the COVID break ship was nicely refurbished. I found also many well known faces in the crew including Philippino band. In the morning I heared heavy music coming from underground - by cabin is right over the theatre! I complained and the moved me - the old client to the better cabin with the window!
In the afternoon we entered the bay where we supposed to seefamous Hubbard Glacier. Bad luck! The mist at the end of the bay was so thick that our captain decided to turn back. He announced - maybe we will try again on Thursday...


Sep 12, 2022 12:00 AM
Covid antigen test costs 89 USD!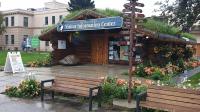 Anchogage in Alaska. In the evening I will be boarding cruise ship in Seward - 3 hours drive away. But the cruise company requires covid test to be done before boarding. Local health emergency department can make it for 150 USD. But I found the other place, where it is less expensive - it is located in the basement of Egan Center on 5th Ave. It costs here still hefty 89 USD! Card payment only. After 20 minutes they will send you result to your mailbox. Thanks God my result is negative! The bus to Seward port departs at 3 pm from Dena'ina civic center in downtown. I am ready for the next adventure - now at sea. But let you know that internet on the ship is extremely expensive, so I do not know when I will be able to upload mext message...