You can lose everything, but nobody will take away what you saw and what you experienced...
............
Jul 19, 2018 12:00 AM
Chopin on Motlawa River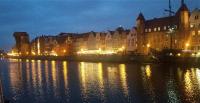 Little river of Motlawa is crossing Gdansk's old town. On the bank of the river once there was the power station. In the 90-ties the building of the station was converted into the elegant philharmonic hall. Every year in July each evening there is a concert of the piano music. The solists play mostly the music of Frederic Chopin.
Yesterday I enjoyed again the concert performed in the unusual scenery by young pianist Anrzej Wiercinski. My fredds Ela & Jacek joined me and we had unforgettable evening... See the evening view of Motlawa...


Jul 18, 2018 12:00 AM
Travellers in Wojtkówka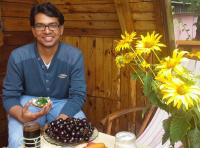 It is the peak tourist season in Gdansk and I am receiving quite a lot travellers from all over the world. Few days ago I hosted a young lady from Kamchatka. Last visitor was Mr Kaleesh from India. Kaleesh is a young engineer, working as a researcher for international companies. He is very knowledgeable, inteligent and social person so during his visit we found many interesting topics to talk about. Originaly he is from Chennai (former Madras) in India, so he was also interesting source of information about his home country. He is a vegetarian so he enjoyed my simple food, fresh fruits and berries :)


Jul 16, 2018 12:00 AM
Giving lectures in Warsaw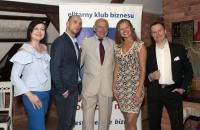 I was forced to leave my blooming Wojtkowka for the short time and go to Warsaw, invited by the Businessmen's Travellers Club to give a lectures and slide-shows about my travelling to the seven continents. It was also good opportunity to offer to the audience my book. Everybody was happy - me too, because I gain extra money for my next voyage :)


Jun 19, 2018 12:00 AM
In Kaliningrad again...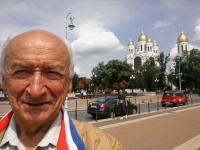 It is only 4 hours by bus from Gdansk. I came here to arrange my next voyage to Russia. Because in Russia it is not possible to arrange everything online :) I have nice weather, local ladies are worth to enjoy and the things go well...
Kaliningrad is hosting FIFA World Cup - the city is nicely decorated, there are volunteers on the squares and imposing fan zone. But the holes in the streets and sidewalks remained :) It is also very difficult to find a public toilets.


Jun 03, 2018 12:00 AM
Travellers are welcome to my Wojtkowka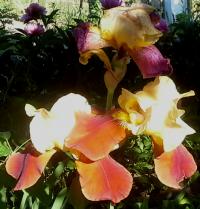 Summer arrived already to my garden. Flowers are in blossom and there are fresh vegetables to enjoy. I have a lot of work on the beds, but I like it! First travellers already announced their arrival.
Dear friends of GS - you are welcome, like every year to come for the cup of tea, fresh berries and the travel stories to my summer cottage! I will stay there till mid-August. It is walking distance from Gdansk airport and direct city bus from Gdansk railway station... See you in Gdansk!


Jun 01, 2018 12:00 AM
Sofia to Athens to Gdansk
What I like most in today's Sofia? The beautiful and working fountains! They are in many places in the center of the city, but probably the nicest one is in front of The Palace of the Culture.
I took a walk there yesterday in the evening enjoying also the lazy atmosphere of Boulevard Vitosha with many street cafes and restaurants.
Today I am flying back home. First Sofia to Athens on Wizz - the flight was one hour delayed, but Athens airport is so good organized that I was still on time at the gate for the second flight : Ryanair Athens to Gdansk. Ryanair plane was more comfortable, offering more space for legs even in lower class.
Well... Another short, but interesting voyage is completed! Let's think about the next one! :)


May 31, 2018 12:00 AM
Hot day in Sofia
Sofia is very compact - easy to walk along the main axis starting at central railway station and going up - through the Marie Louise and Vitosha Boulevards... In the middle you can turn left to Alexander Levski and University.
It is also bit strange: they built nice metro, but you cannot buy tickets paying by credit card. The huge Alexander Nevsky orthodox church was built to honor 200000 Rusians felt in the Russian-Turkish war. They liberated Bulgaria... Entry is free, interior is a bit disappointing: dark and not as rich as Russian orthodox churches are. To feel more authentic atmosphere go to Sveta Nedela cathedral, where Bulgarians are coming to light the candles and to pray...
Wine is good and cheaper thanin Romania: 1,5 l of cabernet will cost like 2 euro. It is also worth to try Kiselo mlyako - thick Bulgarian yoghurt - 0,5 l pack costs quarter of euro...
I am enjoying nice weather, walking the parks, taking pictures of the fountains and the monuments. Tomorrow itwillbe the tim to say goodbye o Sofia...


May 30, 2018 12:00 AM
A long way to Sofia...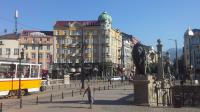 The beautiful dawn was on the eastern sky when I was marching 3 kms to the Brasov station. Romanans still sleep at 5.30 am and I did not see any bus on the street. The train to Bucharest departed on time and after 2,5 hours I disembarked at Gara de Nord Bucharest station. The next target was Autogara Militari bus station. City trolleybus 62 goes there and it took me 40 minutes to reach athe terminal. Filix bus goes from Bucharest to Sofia. It is hard to believe, but you can ride 7 hours to Sofia paying for that (in internet) just 12 euro!
Yes, there is border control on the way, but we spent there only half an hour before crossing Duna river on the narrow and old bridge... Welcome to Bulgaria! The most picturesque part of the bus jounney was the last hour when we were passing the mountains with many bridges, tunnels - mountain landscapes were great...
Sofia, visited again after 41 years looks nicer! I found my accommodation near the Lion's Bridge - see thd picture.... It is evening and I appreciate cheap and good Bulgarian wine... Time to rest after hot and busy day. Good night!


May 29, 2018 12:00 AM
Two castles in one day...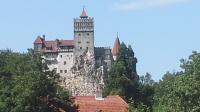 Brasov could be a base for short trips to the interesting castles in the area. In the morning I took junk bus from Autogara 2 to Bran castle known also as Dacula Castle. It took me 7 lei and more than an hour to get there. This medieval castle is very impressive and picturesque. But now I know that it is very compact and small. Hunedoara castle I visited last year seems to be bigger. But Bran has nicer lacation... They charge 40 lei entry fee there.
In the early afternoon I returned to Brasov to take nexf minibus from Autogara 1 (next to railway station) to famous mountain resort Sinaia. Romanian king Carol I built there in 19th century beautiful castle. If fact it is the palace... Be prepared for the serious 40 min walk up from the station or take a taxi... The location of Peles Palace in the mountain valley - far from the town noise is fantastic. Paying 30 lei entry fee you have a chance to see rich decoration of the interiors - it is definitely worth the money and the effort. I had today wonderful, sunny day. Tomorrow I must get up at 4.30 to catch the train. Uuuuuu....


May 28, 2018 12:00 AM
By train to Brasov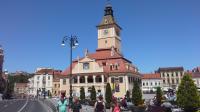 If you plan to travel by Romanian Railways CFR it is worth to buy tickets in advance on-line on their site. You will get special internet discount!
The train was comfortable, with indivifdual seats in the 2nd class but the staff was rather rude - they need a training!
After 2,5 hours on the train I disembarked in Brasov. 250000 people live here. The old part of the city has picturesque location at the bottom of the huge Tampa Mtn - cable car goes to the top. I spent whole afternoon walking around the walled old town, enjoying views of the St Nicolas orthodox cathedral, huge and famous Black Church (closed on Mondays) and market square, Then I climbed for the views the citadel hill - citadel ic closed but the pictures are worth thd effort.
Trying to find cheapest pension I booked one high on the slope of Mt Tampa. Buses do not go there, so I am forced to climb several times every day. That's budget traveller's life! :)